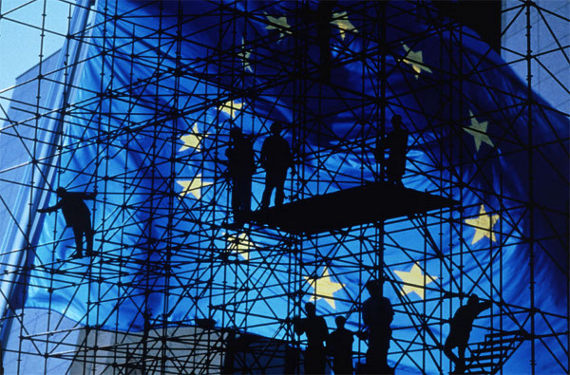 Europe's solar sector has been handed a somewhat unwanted Christmas present in the form of a fresh set of duties on solar imports from Asia.
The European Commission yesterday revealed the results of an investigation launched earlier in the year at the behest of SolarWorld into whether Chinese firms have been circumventing European trade anti-dumping and subsidy duties by 'transhipping' product via Malaysia and Taiwan.
The commission's conclusion was that some companies had indeed been doing this, with modules imported into the EU from non-cooperating companies and companies found to be circumventing in Malaysia accounting for 9% of total consumption of modules and from Taiwan 7%. Cells imported into the EU from non-cooperating companies in Taiwan account for 3% of total EU consumption. Its response was to announce anti-dumping and anti-subsidy duties of 53.4% and 11.5% respectively for Malaysian and Taiwanese firms found to have been enabling Chinese firm to circumvent other duties.
It's only proper that companies who have been helping Chinese firms cheat the system are punished, but there could also be a potentially significant impact from the duties on Europe's solar sector itself.
According to the commission, import duty payments on modules found to have been non-compliant with EU trade requirements will be backdated to May 2015 when the investigation was launched. Importers will be invoiced for the funds, regardless of whether or not they were aware that the products they purchased were in fact of Chinese origin.
Simple arithmetic would suggest that the bill for 64.9% duties on 16% of the modules imported into Europe since May this year could be quite a large one – many millions of euros. Potentially the most exposed market is the UK, which has been by far Europe's most active end market this year.
None of the industry groups contacted by PV Tech have so far been able to get a handle on exactly who will be hit and by how much by the new tariffs. Endeavours by our team to get further information from bodies such as HM Revenue & Customs in the UK have also proved futile, with a spokesman for the ministry saying only that the UK had "implemented the required controls", without elaborating further on precisely what that means.
But it seems as though the impact could be serious, with James Watson, CEO of SolarPower Europe, going as far as to say that the matter was "threatening to be a much bigger deal than expected". He said SolarPower Europe and others were seeking clarification from the commission on what the latest duties mean, adding: "At face value it still seems like there will be some considerable impact in terms of retroactive fees and picking exempted suppliers going forward."
The UK Solar Trade Association's Sonia Dunlop said: "We are looking into this matter urgently and hope to provide members with guidance on this issue as soon as possible in the new year."
With more and more countries in Europe now scaling back support for solar such as feed-in tariffs, the anti-subsidy and anti-dumping duties that have been in place since 2013 were already proving to be significant cost impediments to a flourishing solar market in Europe.
The latest duties, while as yet an unknown quantity in terms of the additional financial burden they place on the sector, will likely only intensify that situation. And there's more potentially in store, with SolarWorld seemingly keen to keep the pressure up on the commission to shut down other transhipping routes such as India and Thailand.
The only glimmer of hope for the industry is that the European Commission will bring about a swift conclusion to its recently launched interim review looking into whether Chinese cells should be removed from existing trade measures. There is also the dim prospect that the 15 months the commission is expected to take to conduct its expiry review of the whole regime of Chinese solar trade tariffs will take much less time and result in their being scrapped, though that is by no means a given.
Ultimately, the commission would appear to have created another obstacle to solar deployment in Europe and left the sector with little to be merry about this Christmas.
Additional reporting by John Parnell and Liam Stoker