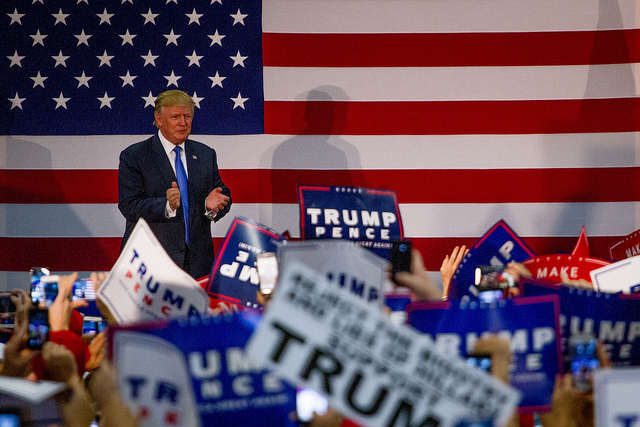 As the news sinks in about the newly-elected US president Donald Trump, who shocked the world by narrowly beating Democratic challenger Hillary Clinton, industry stakeholders are taking stock.
Remaining decidedly neutral, the Solar Energy Industries Association (SEIA) congratulated the real estate billionaire on his "historic" win.
"We congratulate President-elect Donald Trump for his victory in this historic election," said interim president Tom Kimbis in a statement. "The solar industry, born in America, is creating thousands of jobs and billions of dollars in investments across American communities. SEIA's 1,000 member companies – the great majority of which are small businesses – will continue to innovate and provide clean, competitive, reliable, and affordable energy for all Americans."
Despite Trump asserting that solar "doesn't work so good" he also branded it expensive, as well as pledging to rid the country of its current clean energy federal incentives that help deploy the technology.
Clean energy entrepreneur and SunEdison founder Jigar Shah was a reassuring voice amid the scepticism and confusion, asserting the popular argument that the economics of clean generation sources will continue to be enough to carry them forward.
I think resource efficiency solutions have achieved irreversible momentum, question is the pace of deployment https://t.co/dTH5YMgG6F

— Jigar Shah (@JigarShahDC) 9 November 2016
"With renewable energy providing a majority of new electricity in 2016, we look forward to continued pro-growth targets to unlock Climate Wealth Solutions," he added.
Solar optimism
"With renewable energy providing a majority of new electricity in 2016, we look forward to continued pro-growth targets to unlock Climate Wealth Solutions," he added.
Vishal Shah, managing director at Deutsche Bank asserted a similar optimism: "Though headline news generally negative with statements made by Trump on renewables, we do not see any meaningful impact on near-term fundamentals in both the US and global solar and other clean energy markets. That said, we acknowledge that until there is clarity on specific policies from the new administration, stocks could remain under pressure. Prefer CAFD and other yieldcos in the near term."
Milan Nitzchke, president of lobbyist group EU ProSun echoed a similar thought in a statement that reaffirmed the strength of US solar.
"Even a new elected President Trump will not ignore that a safe and cost-efficient US electricity supply can only be build based on a significant share of solar. It's a simple economic insight and matches with Americans strong desire for independence. Therefore US PV market can be expected to continue to grow during the next years.
"After all the electoral results show dramatically that a lot of people in a complicated world are more than willing to follow radical taglines – and this is also true for big parts of Europe. Everything that sounds as business as usual is rejected. It's more than urgent for politicians to take that serious in order to promote positive and progressive change instead of leaving the playfield to negativists."
Amit Ronen, director of the George Washington Solar Institute held a similar view:
"Nine out of ten Americans support solar energy regardless of their party affiliation. The economics of solar remain strong and will only improve each year. So the U.S. could very well reach Clinton's ambitious goal of installing half a billion solar panels by 2020 even without her in the oval office," he told PV Tech.
"Although President-elect Trump recently claimed erroneously that solar panels only last 10 years and have a 28 year payback period, hopefully the awesome responsibility of being President of the United States will force him to rely on more fact based decision-making.
"Even though Trump recently denied his well-documented denial of climate change, key questions on the future of the Clean Power Plan, the Paris Agreement, and subsidies for fossil fuels will create a period of uncertainty that could slow the growth of disruptive technologies like solar."
Stocks crash
Regardless, solar stock reacted by plunging dramatically on the breaking of the results, with SunPower, First Solar and SolarCity down a respective 13%, 6% and 5% in the early hours of trading yesterday morning. SunEdison was down 2 cents, or almost 9%, at 16 cents. According to stock market watchdog investors.com, IBD's 21-company-Solar-Energy industry group was down 8% at a nearly four-year low.
Climate concerns
"The outcome of the US election clearly implies potential
Aside from solar and other renewables treading carefully, the wider issue of climate change remains, as the new president has dubbed it a "hoax". But on the fringes of the Paris agreement becoming international law less than 72 hours ago, the involvement of one of the world's biggest carbon emitters is suddenly questionable.
"The US has joined the Paris Agreement and must continue to meet its climate obligations. Leaving this important international agreement will damage our credibility with important overseas partners and would be a major setback in the fight against climate change," said Kelly Stone, ActionAid policy analyst, speaking at the UN climate talks in Morocco said in response to the election result.
The agreement also requires governments to develop climate action plans that will be periodically revised and replaced with intensified plans. It's unlikely that a Trump administration would budget such actions by the federal government, given his stance that climate change is a fabrication perpetuated by the Chinese.