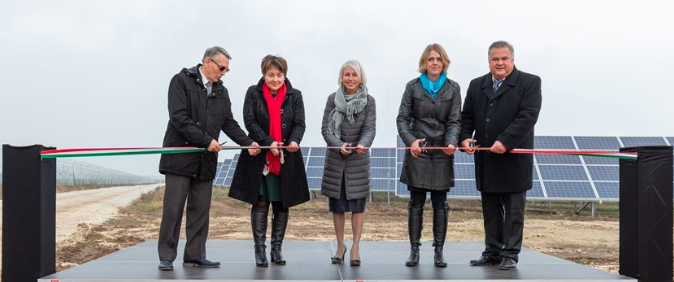 Hungarian utility MVM Group has competed Hungary's largest solar project standing at 20MW capacity in Felsőzsolca.
Other larger PV projects are under development in Hungary including plants 11.6MW, 21MW and 41MW capacities.
The MVM Group plans to build 110 solar power plants under seven projects with a combined capacity of more than 100MW in Hungary over the coming years.
The new Felsőzsolca Solar Power Plant, costing nearly HUF9 billion (US$32 million), is MVM's first such project and was built across 45 hectares of land. The utility financed 65% of the project from its own funds, with the remaining 35% coming from the EU. The project was implemented by MVM's subsidiary, MVM Hungarowind.
Nearly 74,000 multicrystalline solar panels were installed at the power plant, which will generate 21GWh of electricity per year on average, equivalent to the annual electricity consumption of around 10,000 households.
Dr Edit Juhász, undersecretary of state for National Financial Services and Utility Services, said: "The development of energy generation based on renewable sources greatly contributes to the security of energy supply in Hungary, but one of the fundamental goals of domestic energy generation can also be fulfilled with its help, i.e. to meet the European Union's and international climate protection and climate policy objectives. The photovoltaic power plants to be built in the country will fully fit into our energy goals relating to the establishment of a climate-friendly energy sector."
"The Hungarian energy policy aims to provide clean, smart and affordable energy for all, thus helping to create a decarbonised economy and to strengthen the security of supply and competitiveness. This includes greening the electricity sector, spreading local energy generation and the possibility of introducing digital solutions in vast numbers," added Dr Barbara Barbara, undersecretary of state for Climate Policy.