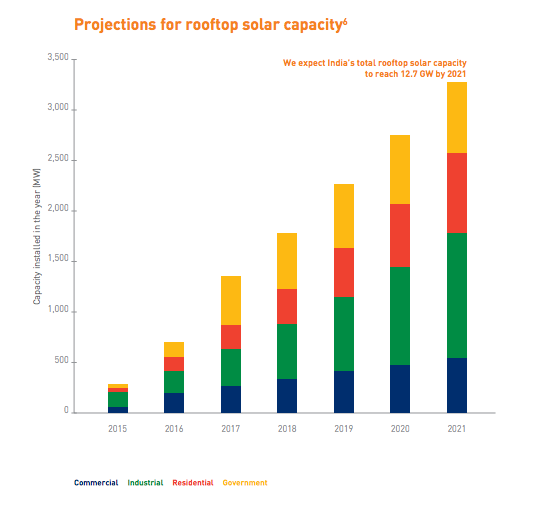 India has reached 1,020MW of solar rooftop deployments, having added 513MW over the last 12 months, according to consultancy firm Bridge to India.
Growth over the last year was at 113% and a similar trajectory is expected in the coming year, with the country adding more capacity than in all other years put together, as reported in the latest 'India Solar Rooftop Map'.
Importantly, in contrast to prime minister Narendra Modi's goal of 40GW rooftop by 2022, Bridge to India forecasts that just 12.7GW will be installed by 2021.
While the boom thus far has been in utlity-scale, rooftop is expected to grow at a faster rate than large-scale in the next five years, spurred on by costs decreasing by 12% per annum over the last four years.
Of the capacity additions so far, 22% has been through power purchase agreements (PPAs). Developers CleanMax, Amplus Solar, Cleantech Solar, Azure Power, Rays Expert and Hero Future Energies were cited as some of the leading companies offering PPAs.
Bridge to India reported that growth in the market is linked to improving economics, especially as commercial and industrial (C&I) consumers can reduce their power bills by between 20-30% by adopting rooftop solar. C&I consumers dominate the market with 63% of installed capacity with grid parity having been acheived for C&I customers in 17 out of the 19 largest states in India. In states such as Maharashtra and Haryana, the difference in tariffs between grid power and rooftop solar can be up to 30%.
The states of Tamil Nadu, Maharashtra and Gujarat have the highest installed capacity meanwhile the government continues to progress on its own buildings with more tenders.
Vinay Rustagi, managing director, Bridge to India, said: "Rooftop solar has been a side-story in the Indian solar sector so far, but that is beginning to change now. The sector is growing rapidly and beginning to realise its potential thanks largely to increasing cost competitiveness of rooftop solar power vs grid power.
"The government has announced attractive policies such as net metering, subsidies for select customers and cheaper debt financing for the sector although there is huge scope for improvement on every front. There is also substantial rooftop capacity being created in the government sector itself."
In conclusion, Bridge to India said there is a "bright future" for India's rooftop sector.
Yesterday, Delhi Discoms BSES touted their own progress in solar rooftop based on net metering schemes.