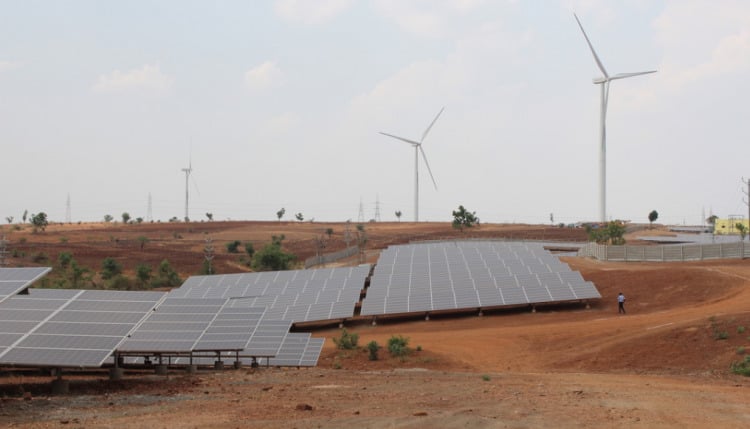 UPDATED: Solar Energy Corporation of India (SECI) has gone ahead with an auction for its 1.2GW hybrid ISTS-connected wind and solar tender, despite it being undersubscribed and attracting just two technical bids.
Japanese giant Softbank's unit SB Energy put in the lowest tariff of INR 2.67/kWh (~US$0.0379) for 450MW, while Indian conglomerate Adani's unit Mahoba Solar bid at INR 2.69/kWh (~US$0.0382) for 390MW:
| Bidder | Tariff (INR/kWh) | capacity (MW) |
| --- | --- | --- |
| SB Energy (Softbank) | 2.67 | 450 |
| Mahoba (Adani) | 2.69 | 390 (technical bid for 600) |
Vinay Rustagi, managing director of consultancy firm, Bridge to India, told PV Tech that running an auction between two bidders was "somewhat of a farcical exercise", but he added that the Ministry of New and Renewable Energy (MNRE) and SECI will likely be happy to see a result and will want to move on after all the recent under-subscriptions and cancellations of various PV tenders.
Rustagi said: "Ultimately until the government relaxes the ceiling tariff enough, bidding environment would continue to remain challenging."
Anmol Jaggi, founder of advisory and EPC firm Gensol Engineering, said: "The National Wind-Solar Hybrid policy issued earlier this year by the Ministry of New and Renewable Energy provided a framework for promoting large grid-connected wind-solar PV hybrid systems for efficient utilization of transmission infrastructure and land. With significant capacity additions in renewable, the Hybrid Policy aimed at better utilisation of resources, promoting new hybrid projects as well as hybridisation of existing wind/solar projects.
"We are delighted that the nation's first solar-wind hybrid auction conducted by state-run Solar Energy Corporation of India has attracted a highly competitive tariff of INR 2.67 per unit. As developers didn't bid at INR 2.6 per unit, the government was kind to increase the tariff ceiling to INR 2.7 per unit. Developers had a small play between 2.6 per unit and 2.7 per unit and this could be the best compromise reached. Our belief is that this highly competitive tariff will definitely provide an impetus to large grid-connected wind-solar PV hybrid systems thereby ensuring efficient utilization of available transmission infrastructure and land. In addition, it will further reduce the variability in renewable power generation and help attain better grid stability. On the technology front, this tender marks an innovation in making Renewable Energy mainstream energy. The enactment of the policy and completion of the auction marks the first big step towards building a sustainable future for India."
MNRE has said it plans to release a 7.5GW tender for solar in the remote region of Ladakh this month.
Updated with comment from Gensol.