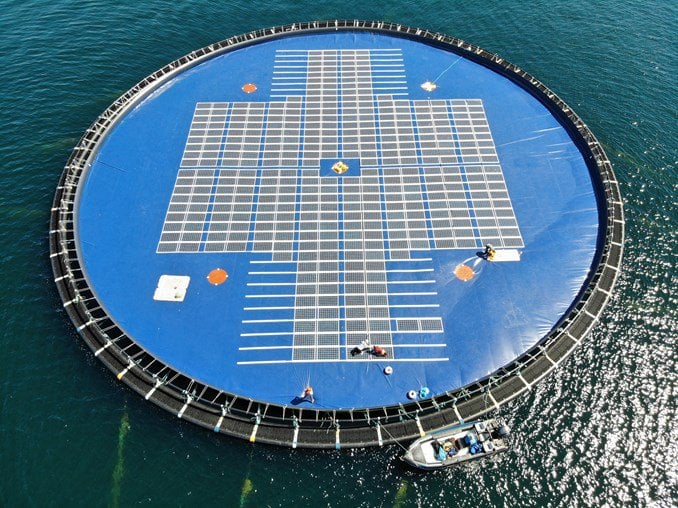 BayWa r.e. and Ocean Sun were amongst players promoting their floating solar feats at an Intersolar 2019 session, held to check the pulse of the still-embryonic technology.
From solar boats to waterlily-like membranes, reservoir covers and co-location with hydro, a mishmash of distinct approaches to floating solar took centre stage at an afternoon debate in Munich.
BayWa r.e.'s Edgar Gimbel explained his firm had decided to go its own way for a project in the Netherlands after concluding existing blueprints were not designed with electrical systems in mind. "With the systems we saw it wouldn't have been possible for us to bring all those MWs to customers," the technical director said.
BayWa r.e.'s response was to devise a 2MW farm split into rows of square-shaped solar boats, with inverter units along the side and a 1,600kVa transformer station floating at the heart of the complex. Installed over two weeks and grid-linked in April, the plant's design has ensured O&M walking aisles are more solid and coverage of water surface is kept to a minimum, Gimbel said.
The technical director had to field questions from the packed Intersolar room. An audience member wanted to know what would happen if the lake dried out, while another inquired about capex costs. To the latter, Gimbel offered IRR estimations for the project in the 5-8% region.
Ocean Sun's pitch
The floating solar debate took stock of how far the segment has come in recent years. As noted by moderator Frank Haugwitz, Intersolar's head of conference development, the World Bank found last year a capacity jump from 2014 (10MW) to 2018 (1.1GW), spearheaded by Asia.
Ocean Sun, another name vying for a share of the nascent market, also took the floor in Munich. CTO Børge Bjørneklett told attendees the firm's 2MW floating project in an Albanian reservoir will boost performance by 10% via the cooling effect of its circular membrane. He showed a video he claimed proved the installation – commissioned by Statkraft – can withstand winter storms.
At an earlier Solar Media event this year, Ocean Sun revealed efforts to bring down panel costs, at the time estimated to account for a third of all expenses. CTO Bjørneklett's presentation in Munich suggested the concerns extend to the environmental front. "The impacts of membranes like this on marine life must be investigated in every location. More research is needed," he remarked.
Floating vs. land: The researcher's view
The Intersolar session also had time to examine floating solar's technical potential, beyond the claims made by frontrunners.
There to shed light was researcher Minne de Jong, who shared figures on how floating installations fare on four key fronts – temperature, irradiation, mechanical movements, bird soiling – against ground-mounted counterparts.
According to de Jong, testing by his employer Solar Energy Application Centre and Singapore's SERIS had revealed floating panels can in some cases remain up to six degrees cooler than on-land peers. Irradiation findings were more mixed, however: observations in the Netherlands had identified instances where cloud formed on land and not on water but also the opposite scenario.
De Jong listed a further two shortcomings for floating solar – displacement through wave motion, "severe" bird soiling – leading an audience member to remark that the technology's strengths and weaknesses seem to cancel each other out, especially given costs.
"Constructions costs are indeed higher," was de Jong's reply. "How the business case works will need to be investigated as the market matures."
A future of hydro alliances
Where BayWa r.e. went for solar boats and Ocean Sun for circular platforms, Israel's M.G. Lightning has opted for full reservoir covers. At the session, consultant and engineer Mike Green said the small-scale installations under development could recoup costs within seven-and-a-half years, thanks to lower evaporation, regulation of drinking water and other benefits.
Green was also unequivocal about the challenges created by the approach, not least siphoning residual water before it floods panels. "Module removal is not an easy option and to an extent, just walking through the cover can be a challenge," the consultant pointed out.
The later presentation by Multiconsult's Bente Brunes illustrated the alliances that floating solar's future may entail. Her firm, she told the Intersolar session, succeeded years back in rebuilding a ruined hydropower plant in Liberia and was now exploring, with development money, whether to add floating (25MW) and ground-mounted PV (10MW) extensions.
Brunes noted the mounting appetite for floating-hydro alliances; she urged developers of these hybrids to ensure both technologies work together in a way that benefits grids. "If we don't start looking at this now we will face much harder challenges," she said. "I'd like to have a storage battery for this project, especially to help the Liberian grid with its many issues."