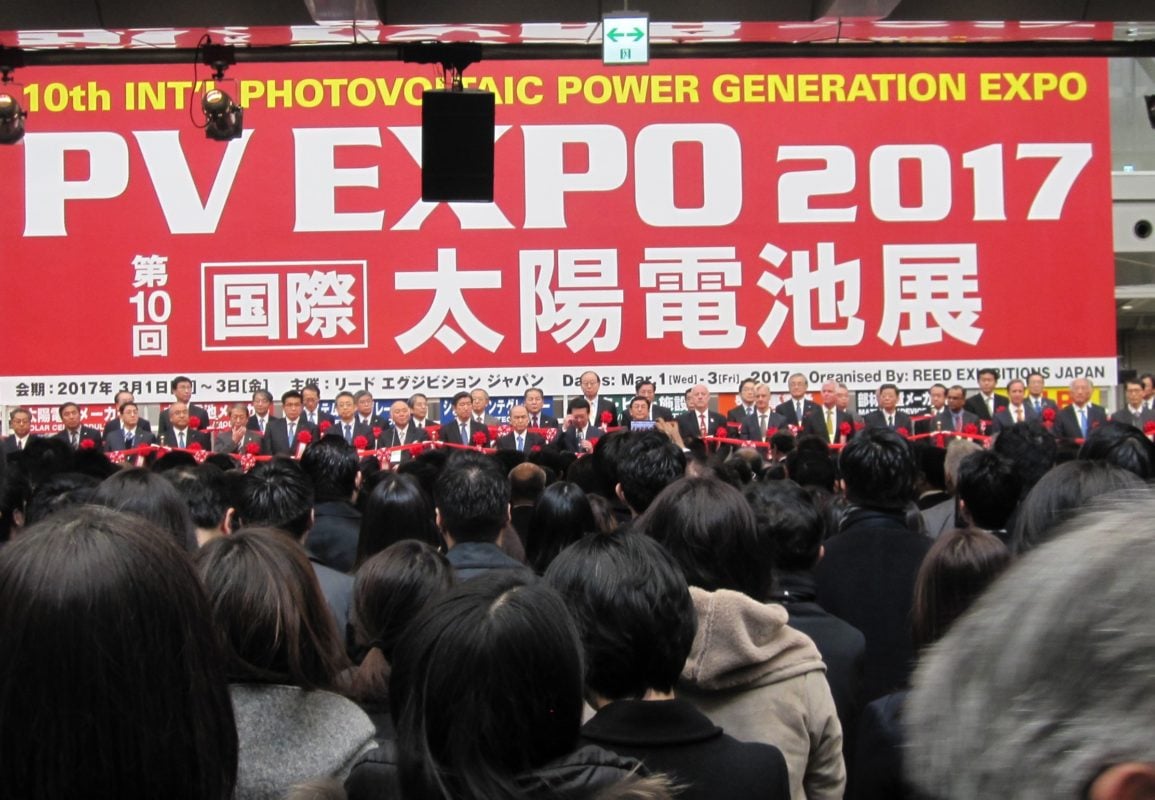 Japan is set to lower its levels of feed-in tariff (FiT) payments once again, while a multi-gigawatt pipeline of unbuilt large-scale PV projects will be "cancelled" at the beginning of April.
On the opening day of World Smart Energy Week, incorporating the PV Expo show in Tokyo, Toshimitsu Fujiki, a director at Japan's government Ministry of Economy, Trade and Industry (METI), confirmed that a "new FiT system" will be in effect from the beginning of the new financial year, 1 April.
While Fujiki did not allude to how much would now be payable for the power generated at various scales, drops of 10% and 11% have not been uncommon in the past couple of years, with the average FiT payment currently standing at around ¥21 (US$0.19)/kWh. Japan's renewable energy FiT has primarily fostered solar development rather than other forms of generation such as wind and biomass and Fujiki said that in 2016, the Japanese government paid out ¥2.3 trillion in tariffs.
"There are great possibilities [for renewable energy] but we must reduce costs," Fujiki said, referencing recent tenders in Abu Dhabi that secured project development at just US$0.03/kWh as an example of what might be achieved.
METI will hold briefing seminars around Japan in order to educate and discuss with stakeholders how to introduce more renewables into the energy mix while reducing the taxpayer burden. The METI official said repeatedly that one important aspect of this was the concept of "local production and local consumption". This could refer to self-consumption of PV, particularly in non-grid connected systems, as well as local consumption of PV. Fujiki ruled out the prospect of widespread build-out of more transmission lines to carry the power, emphasising the "local" dimension of the idea.
"We have to think of better ways to utilise existing [transmission] lines. We have to study this," Fujiki said, adding that METI was likely to create new agencies to support self-consumption policies and sector coupling.
Confirmation of tenders and cancellation of unbuilt projects
Some 57GW of large-scale PV projects were registered for the FiT in the first two or three years of the scheme's introduction after 2012, with would-be developers taking advantage of relatively relaxed rules on what constituted a project's planning documents.
PV-Tech has reported extensively on this 'pipeline', with many non-PV firms jumping into the industry and putting forward plans to build facilities. In some cases it has been suspected that after taking the rights to build solar farms at FiT rates of as much as ¥42 per kilowatt, developers have intentionally waited for equipment prices to keep dropping to maximise their profits.
Following much speculation on the fate of these several dozen gigawatts of projects, Fujiki of METI confirmed today in a keynote address at the expo's conference that as of 1 April, projects unbuilt or without concrete plans to go ahead in place will lose their rights to the FiT and will be cancelled. In the most recent edition of PV Tech Power, Solar Media's technical journal for the downstream solar industry, Japanese industry analyst Dr Hiroshi Matsukawa of research group RTS PV estimated that as much as half to two-thirds of that 57GW pipeline is likely to be axed.
Fujiki also confirmed that as part of the ongoing streamlining of renewable energy policy, Japan will introduce tenders and auctions for PV projects over 2MW in size as of this year. RTS' Matsukawa also said in that PV Tech Power article that he believed these would be annual auctions of 500MW at a time.
Energy efficiency, Zero Energy Homes, hydrogen and negawatts
Fujiki's keynote address focused also on energy efficiency measures in Japan, stating that huge strides have been taken in improving energy efficiency in factories and service industries, with Japan's economy still reliant on heavy industries such as chemical processing and steel.
Of immediate interest to the PV industry is the increasing focus on residential energy efficiency, most notably in the creation of Zero Energy Home (ZEH) standards. These net-zero energy houses would as a matter of course include PV and energy storage as well as double-glazed windows and other forms of insulation.
Fujiki said many housebuilders had described ZEH as a difficult goal to attain, but he said it was "critical" that such steps were taken, with the government expected to make all new homes net-zero energy dwellings by 2020.
Also being put forward are "negawatt trading schemes", including demand response and the aggregation of distributed energy resources into virtual power plants (VPPs), which Fujiki said detailed regulations have been in the process of drafting at METI since last October.
Finally, Japan is also betting big on hydrogen fuel cells, with the country's car manufacturers being the world's first to produce commercial hydrogen vehicles including Toyota's Mirai, with several hundred miles' fuel range. Only 92 hydrogen refuelling stations so far are in operation in Japan, but they have already become commercialised, Fujiki said. In addition, over 170,000 hydrogen fuel cells for households were installed last year at private residences in Japan, Fujiki said.