The latest release of PV-Tech's unique PV ModuleTech Bankability Rankings report confirms the exclusive status today afforded to just four PV module suppliers (JinkoSolar, LONGi Solar, Canadian Solar and First Solar), in being the only companies to have AA-Rating module bankability status within the industry today.
This article discusses why these four module suppliers continue to operate in a league of their own, when it comes to bankability ratings/scores, and why recent reporting and guidance from this grouping validates the methodology underpinning the PV ModuleTech Bankability analysis that the PV-Tech research team developed based on over a decade of module supplier tracking.
The full list of PV module suppliers gaining A or B Grade ratings is also revealed for the first time below within this article, highlighting the relatively small list of module suppliers in competition today for large-scale utility projects globally.
The full Q4'19 report release – containing unprecedented company-specific analysis across all key manufacturing and financial metrics forecasted to the end of 2020 – is available now from PV-Tech. Details on how to access this service can be obtained by registering interest by emailing PV-Tech using bankability@pv-tech.org now.
Q3'19 reporting & 2020 guidance further validates PV-Tech methodology
During the past few months, the PV ModuleTech Bankability Rankings methodology was outlined clearly across a series of six PV-Tech articles that explained how PV module suppliers can be graded (from the top AAA-rated to the lowest/highest-risk C-rated). The concluding piece can be viewed here, with hyperlinks embedded that discuss all aspects of the methodology.
Since we unveiled this benchmarking tool, we have received different forms of validation from stakeholders within the industry, no more important than downstream developers, EPCs and financial backers of utility projects.
While this is reassuring – and will likely go some way in making the PV ModuleTech Bankability Rankings the benchmark within the industry for module supplier bankability – I recall flagging in an earlier piece on PV-Tech that the true value in the ratings would come in tracking future performance of the suppliers occupying the top-grades of A and B.
Indeed, I cannot emphasize this point enough. Anyone looking at module supplier short-lists for 100-300 MW solar sites in the future is as interested in how the company rates today, as it is 12-18 months from now when site delivery is complete. (Not to mention ongoing operations during the lifetime of the project!)
Therefore, it is fair to say that validation is best proven as things evolve and should be constantly done to ensure the listing is always as accurate as possible. The Rankings system was designed exactly to allow module-supplier-selection at minimal risk to ongoing company and industry specific factors, by evaluating a host of manufacturing and financial trends that are indicative of bankability 'stability'.
The list of 13 module supplier companies (making up the full A and B listing for Q4'19) was compiled during the week of our recent PV ModuleTech 2019 meeting in Penang, Malaysia, a month ago, and is now being revealed for the first time in public here.
Between then and now, we have had many of the companies on the list reporting Q3'19 performance and some of them giving guidance for 2020. Therefore, with the Bankability Rankings service released in the past quarter, this is the first real litmus test.
Before I talk through this, let's have a look first at the 13 companies meeting A and B Grade rating status for Q4'19.
Introducing the PV ModuleTech Bankability Rankings Pyramid
Since we completed the methodology for all the companies, I have been presenting this type of output in the form of a simple table. However, with the classification of module suppliers so fragmented (basically just a few at the top, and the vast majority in the 'speculative/risk' C Grade categories), the ranking is much better viewed in as a pyramid chart, with hierarchies clearly shown.
Therefore, here is the first such chart, specific to the Q4'19 PV ModuleTech Bankability Rankings output. We will update this part of the whole-industry analysis each quarter on PV-Tech, every time a new quarterly report is released.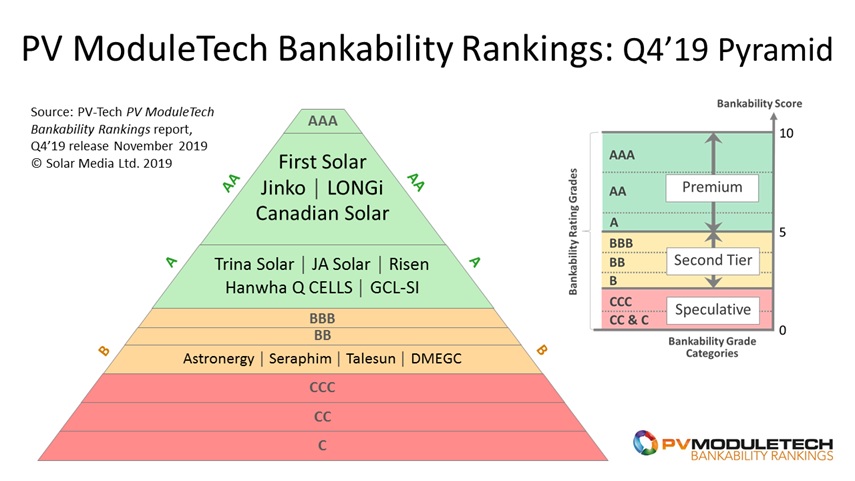 Now, let's have a look at the top AA-Rated module suppliers, and see if their Q3'19 reporting and 2020 guidance supports their inclusion in this category now.
First to review is JinkoSolar, which released its Q3'19 results in the past few days. Jinko gave customary one-quarter ahead forecasting (Q4'19), but then bucked the trend of recent years for public-listed PV module suppliers, and revealed its guidance for the full-year 2020. In the past few years, listed PV companies have been highly cautious in terms of guiding anything more than a quarter out or at most restricted to the fiscal year they are subject to (for most now, calendar years).
The write-up of Jinko's Q3'19 results can be found on PV-Tech: JinkoSolar targeting 20GW of module shipments in 2020. Indeed, the title of this article speaks volumes, but is just part of the story that reflects categorically that Jinko is a AA-Rated module supplier from a bankability standpoint now, and will continue to be so for at least the whole of 2020.
The company is not simply raising the bar again for global shipments (dominated now by any non-China dependency) to unchartered levels at the 20-GW mark, but margins are improving (gross and operating) and most importantly, the outlook for margins in 2020 is excellent.
This firmly supports maximum volume of shipments, as the single driver in the company staying financially stable; sales-generation firmly rules at Jinko today, regardless of the dynamics arising from its vertically-integrated mono-conversion being largely at the end of a 3-year transition phase during the first half of next year.
Pending recognition of projects early in 2020 is also acting as an upside for the company, helping its cash position (alongside extremely frugal capex allocations supporting the 15-20 GW integrated mono capacities from ingot to module).
Canadian Solar's Q3'19 results were equally impressive, with the PV-Tech write-up here mirroring the positivity going into 2020: Canadian Solar targeting 15GW of solar module capacity in 2020. Canadian remains probably the most technology and in-house/OEM adept multi-GW module supplier in the sector today. It has been uniquely positioned from a technology standpoint, and potentially now stands to gain from either multi or mono outsourced product availability (especially wafers and cells), depending on the prevailing price to buy in components. This will continue through 2020, and is supporting the in-house module capacity expansion to 15 GW.
All the fundamentals for Canadian that have kept the company AA-Rated in recent times were evident again during Q3'19 metrics and its forward looking growth plans for 2020.
A common theme running across all the AA-Rated companies (and which cannot be said about any other grouping in the Bankability Ratings tables today) has been their significant investments into capacity and technology over the past 12-18 months; while other companies have been cash-starved or simply technology-laggards by nature, that are always behind the curve from the market leaders and rarely have premium ASPs or best-in-class costs.
This leads into First Solar. While technology-differentiated to the rest of the industry, the company has invested heavily in capex/technology during the past couple of years, and the Q3'19 results were the first major confirmation that this decision has been highly successful.
Here is a case of premium ASPs with best-in-class costs, while being largely sold-out for the next couple of years with shipment volumes doubling in quick-time. Again, the title of the PV-Tech write up following Q3'19 reporting says it all: First Solar sold out through the second quarter of 2021.
The final company in the AA-Rating group – LONGi Solar – has yet to report full Q3'19 results, but all the signs are positive here leading up to this. In fact, the company is now the first billion-dollar annual capex spender in the PV industry, and the expansion plans (measured in 5-20 GW increments through the value-chain) have now been fast-tracked into 2020, from the previous 2021-plus timelines.
Have a read through a recent piece here on PV-Tech: LONGi approves 10GW of module and 5GW of new solar cell capacity expansion plans; and also this from Q2'19 reporting, LONGi posts record quarterly revenue as mono wafer shipments increase 183%.
In contrast to the four AA-Rated bankable module suppliers discussed above, the piecemeal flow of recent output from most of the other PV companies has been in stark contrast. Many are still talking about an industry 'downturn', yet 2019 will see about 125GW of modules shipped ahead of a blistering 2020 that is set to be in the 160-170 GW range. Some are still blaming policy issues in China, yet the country will still see 30-GW levels installed this year, and back to the 40-50GW band during 2020.
Therefore, it would seem that the inclusion of our four AA-Rated PV module suppliers is looking entirely justified today, and is a reflection of why investments into capex and technology, coupled with non-China market-penetrations tactics, can pay off handsomely so long as costs are kept in check.
While it is too early now to say that we have a runaway group of four in the industry, it is clear that these companies are the four leaders when it comes to utility-scale global deployment today and will be during 2020.
What about the others in lower rating categories today?
This is very much a mixed bag now, with some having inclusion somewhat based on track-record, and others in the process of rapid and aggressive growth, and trying to be seen in the same light as the leading-four covered above.
Many people have wondered about two of the companies that are not in the AA-Rating group, but are multi-GW global module suppliers and are remain key players on the global stage: JA Solar and Trina Solar.
A full analysis of the companies will only be complete when each emerges into its post-China listing phase. Only then will expansion plans and market-growth strategies be understood clearly.
However, what is shared by each is that their existence today is firmly transitory, between US exchange delisting and China-based relisting. Companies going through this (often multi-year) transition phase tend to be characterized by similar operating characteristics that in part explain why neither company is firmly based in the AA-Rating grouping now.
Typically, this holding period for companies is driven by a cash-preservation mantra that permeates across all parts of the business: cash-preservation to reduce debt, to return to profitability, to boost valuation estimates when relisted, or to satisfy regulatory requirements pre-listing for example. And a natural consequence of this is lack of R&D investment and a definite slowdown in capex.
It just so happens that the period when JA Solar and Trina Solar are going through this phase overlaps with the most dramatic change in manufacturing technology and capacity expansions ever seen, and an end-market that will have more than doubled in the time between delisting and relisting status.
During the past couple of years – and all through 2020 – having static capacity available and being devoid of cash to invest, has been a key differentiator in the industry and has been behind the most dramatic shake out of PV module suppliers seen over the past decade.
However, both JA Solar and Trina Solar have demonstrated they can adapt to the PV industry over the past couple of decades, and critically, invest in technology where and when needed. However, it may not be until 2021 that the results of this are seen fully for JA Solar and Trina Solar, although we do know that things can move very quickly if the right decisions are made in terms of capex and sales channel priorities.
For now though, to be AA-Rated, you either need 10-GW plus utility-specific module shipments levels (coupled with moderate-to-good financial performance) or 5-10-GW shipments (again all non-residential) with strong financial scores; or ideally both! This explains largely why companies shown about as A-Rated are not included alongside the AA-Ratings ones today.
The other company worth highlighting today is Risen Energy. If there was a single PV module supplier to 'watch' during 2020, it is definitely Risen. For years, the company excelled in winning utility-based module supply and build-related business outside China. In fact, Risen was one of the early movers in shifting money outside China into projects, and driving module shipments through this channel. From a sales perspective, the company has been one of the leaders for some time outside China.
The only piece of the jigsaw for Risen however was on the manufacturing side, and really committing spend levels to new production lines, having state-of-the-art cell/module facilities, and having an R&D business that was set up to industry-leading and not simply following.
This is now being put in place by Risen, and our forecasting through 2020 for the Bankability Rankings by company suggests that – all going well – Risen may well be in the top-group module supplier category alongside the other four during 2021.
Have Tier-1 type listings now become obsolete?
Having a bankability rating system that works for downstream utility-based PV stakeholders was in part driven by the repeated request to PV-Tech over the past decade that other tier-based lists (which have been supplied by many third-party agencies for years) were too loosely defined. One only has to look at the 50-plus module suppliers today claiming to the top-tier; or some of the companies claiming this that are financially-distressed or not even making their own product!
But replacing a substandard listing is barely justification for doing anything well. What ultimately matters is that the findings (and understanding this in detail for any module supplier) help drive decision-making by investors, and allows mitigating risk from a number of different angles (financial, supply, technology, etc.).
To test the validity of our PV ModuleTech Bankability Rankings, we will constantly be testing this against as many PV module suppliers' ongoing operations. This is critical to making the Rankings list the most credible and reliable means of benchmarking any PV module suppliers, in terms of meeting the ongoing demands of global utility-scale developers, EPC and investors.
What is included in the PV ModuleTech Bankability Rankings report service?
The PV ModuleTech Bankability Rankings report for Q4'19 provides, for the first time, a comprehensive tool to benchmark and understand the industry's leading PV module suppliers for global utility-scale short-listing and final selection.
In creating a useful quarterly deliverable tool for developers, EPCs and utility-scale site investors, we had to look what was actually of value for PV module supplier due-diligence and short-listing. Just for the record, it is interesting how little information there has been supplied to the sector until now, with many relying on in-house due-diligence or non-sector/industry independent-engineer related reports.
Previous tier-1-type lists were known to have many flaws: over 50 companies included, no information on in-house production or technologies available, nameplate capacity for module only that was often incorrect, no indication of regional split of manufacturing capacity through the value-chain, partial-at-best information on financial indicators, no forecasting mechanism at the company level, no useful benchmarking facility, no indication of global shipment levels by country or crucially by segment (residential vs. utility for example), etc.
Ultimately however, it is having detailed knowledge at the company level across the relevant financial and manufacturing metrics that matters for decision-making when choosing module suppliers and their respective technology credibility; not to mention visibility 12 months out based on accurate forecasting.
In fact, it is vastly more important to have comprehensive understanding of 10-15 potential module suppliers for a 100-200MW subsidy-free build plan for 2021, compared to having extremely basic and vague information for 50-plus companies (40 of which will never be in the running for this business).
The higher the ranking of the company, the more information decision-makers need, especially when it comes to final decision-making for selection across companies such as Jinko, Trina, JA Solar, Canadian or Risen, for example.
Simply knowing also why a company is 'B' grade rated (and not 'A' graded) is often sufficient. Furthermore, understanding why a company falls into any of the speculative (high-risk) C categories could be of value and often goes some way to explaining too-good-to-be-true pricing offers (or indeed questions over volume shipment commitments).
To learn more about subscribing to the PV ModuleTech Bankability Rankings report, please register interest by emailing PV-Tech at bankability@pv-tech.org now.