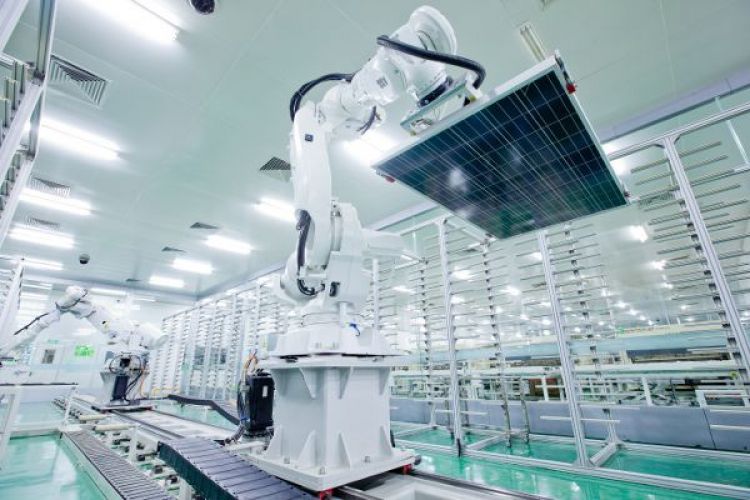 JinkoSolar is currently on track to regain the position of number one module supplier by volume in 2023, fulfilling a three-year goal that saw it almost single-handedly drive the industry's technology transition from p-type to n-type.
This article discusses why Jinko's (forecasted) second 'phase' as number one module supplier in the industry has many similarities to its previous stint as leading supplier, but may end up being more dramatic in years to come, with the company potentially in the driving seat until the next major shift in technology impacts the sector.
This article requires
Premium Subscription
Basic (FREE) Subscription
Unlock unlimited access for 12 whole months of distinctive global analysis
Photovoltaics International is now included.
Regular insight and analysis of the industry's biggest developments

In-depth interviews with the industry's leading figures

Unlimited digital access to the PV Tech Power journal catalogue

Unlimited digital access to the Photovoltaics International journal catalogue

Access to more than 1,000 technical papers

Discounts on Solar Media's portfolio of events, in-person and virtual
Or continue reading this article for free
Ten years of module-supplier musical chairs
In the ten years covering 2013 to 2022, four companies have enjoyed the marketing kudos that comes from having the shipped the most PV modules in a given year: Yingli Green, Trina Solar, JinkoSolar and LONGi Green Energy.
While companies are (rightly) at pains to point out that shipped volume is not the most important operating metric by any means, secretly those close to the top of rankings crave the prospect of being called 'number one PV module supplier'.
JinkoSolar is no different in this regard. The company was the leading module supplier (by calendar year annual shipment volume) for four years, from 2016 to 2019, having displaced Trina Solar back in 2016 and then relinquishing the accolade to LONGi in 2020. For the past three years, LONGi has been the leading module supplier by volume. And for most of this 'LONGian' reign, Jinko has been plotting how to regain the top position.
Trusting in technology investments fully vindicated
Six years ago, JinkoSolar's confirmation as leading module supplier for 2016 was revealed to the sector within an article I wrote on PV Tech in January 2017: Top-10 solar module suppliers in 2016.
Highlighting Jinko as the leading module supplier for 2016 was not a tough call. During 2016, Jinko increased its module shipments by 47% year-on-year and had prioritized a global brand image by improving local sales and marketing efforts; meanwhile, the previous leading module supplier (Trina Solar) was somewhat in limbo and consumed by its decision to delist from the Nasdaq exchange in the US.
However, back in 2016-2017, there was another key difference between JinkoSolar and Trina Solar: in-house capex-driven technology investments through the value-chain. Ultimately, this shaped the fortunes of JinkoSolar and Trina Solar for the next few years, and was a topic that I found to be fascinating at the time, as it showed why technology-differentiated capex (not R&D per se) can literally change an entire industry.
I am not going to dwell too long on what was special about Jinko's 2016-2017 growth phase. I wrote a detailed article on this in 2017 on PV Tech, titled JinkoSolar poised to hit 10GW annual shipment target, but what next? If you want to get a good perspective on what Jinko was doing leading up to its stint as the number one module supplier, have a read through this piece now before continuing with this article.
The article I wrote back then was actually stimulated by a rather ceremonial landmark achievement occurring at the same time: Jinko being the first module supplier to hit 10GW of module shipments in a single year (2017). When you get further on within this article, you might indeed conclude that JinkoSolar has a somewhat 'logarithmic' focus on when to peak within the industry!
For now, let's return to what I think Jinko was plotting while the sector as a whole was being wowed by the arrival of the first Chinese-listed module-supply powerhouse, LONGi Green.
Before doing this – and for those having bypassed the articles I wrote about Jinko back in 2017 – I will summarise what I thought was special about the company's rise to power and subsequent leadership during 2016 to 2019.
Investments were not simply focused on shipping modules, but building out an ingot-to-module value-chain that had a joined-up technology roadmap.
Cell production was prioritised as the key differentiator in being a technology leader.
A critical decision was made to almost instantly eliminate the legacy mainstream technology (multi c-Si) and move everything (ingot/wafer and cell/module) rapidly to p-mono PERC.
Capex (based on this technology differentiation) was significantly increased in order to ensure module shipment growth was 'next-mainstream' technology specific.
In so doing, Jinko became the first solar module supplier that backed up getting to number-one status (by shipment volume) by investing in technology and capex: unlike the trajectories of prior supply leaders – in particular Sharp, Suntech and Yingli – that got to number-one and then failed to invest adequately in driving technology change.
Trusting in n-type TOPCon
Moving mainstream cell production from p-type to n-type substrates is as inevitable as moving from p-type multi to p-type mono. However, it needed one major module supplier to drive this change, and there is no doubt whatsoever that JinkoSolar has assumed this role.
The key point here is driving 'mainstream' production: not simply having an R&D line or accumulating world records in collaboration with research institutes. Furthermore, driving technology change means doing this from a full value-chain (ingot, wafer, cell and module) perspective.
The past few years has seen a plethora of technology announcements and claims within the PV industry. Not to detract from these as a whole, but JinkoSolar's TOPCon achievements in production over the past couple of years completely eclipses any other technical undertakings within the solar industry, and by some margin. This is illustrated in the following graphic.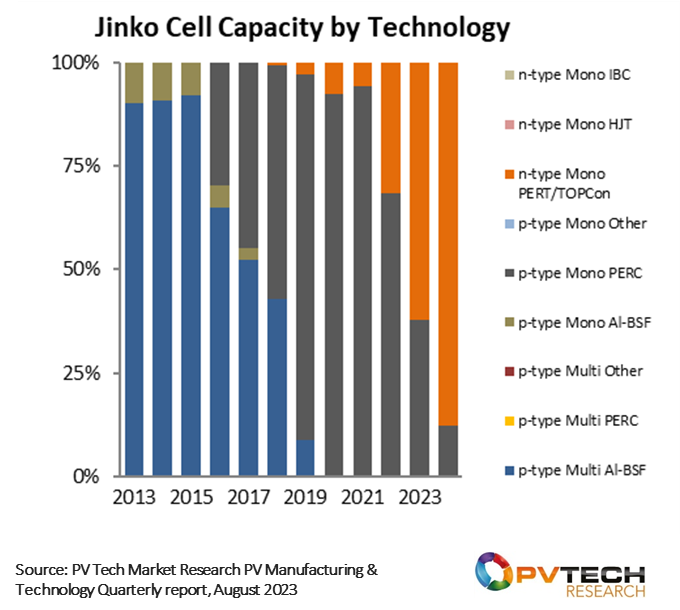 The above graphic shows in-house cell capacity of JinkoSolar by cell technology, but a key feature has been moving its entire ingot-to-module value-chain accordingly. The only other company that comes close to this type of full in-house shift is JA Solar. Other companies have largely left the wafer supply to other producers, or have rather stumbled upon TOPCon as an industry requirement (to be competitive), rather than this being part of a clear and committed forward-looking strategy.
In my opinion, it is Jinko's massive investments in capex over the past few years, completely focused on moving the industry to n-type TOPCon as the mainstream offering after p-mono PERC, that have been instrumental in allowing the company to move into pole position this year, and likely remain the global module supplier by volume during 2024 and 2025 at a minimum.
First to 10GW, but (logarithmic) Jinko likely eyeing 100GW in 2024
While the real news now is the fact that JinkoSolar has essentially succeeded in making n-type TOPCon the next mainstream technology after p-mono PERC, what Jinko will likely inform the world in four to five months from now will probably get way more media coverage; namely, the company's (as yet unannounced) plans to be the first module supplier to be targeting 100GW of module shipments in a calendar year, and with that landmark set to be achieved in 2024.
In reality, the company will likely guide (rather ad-hoc) about 90GW of module shipments for 2024, when reporting its Q3'23 results during November 2023, and then firm up official 2024 guidance during March 2024 with a 90-95GW range for module shipments. Internally however, have no doubt that 100GW of module shipments will be the only working number that forms the basis of sales bonus uplifts during the year!
To be honest, whether JinkoSolar ships 90GW, 100GW or 110GW in 2024 is somewhat academic. Whatever this volume is, the company will exit 2024 having driven the PV industry north of 500GW annual production and with n-type TOPCon accounting for more than 80% of all modules shipped in 2024.
This momentum will likely be enough to see Jinko through 2025 and possibly even 2026, simply by adding more n-type ingot/wafer capacity and TOPCon cell capacity (matched with modules) and making sure the company is compliant with any specific import conditions (or Chinese-owned entity auditing) that may exist during these years.
Being the leading module supplier from 2027 onwards is now the key question for Jinko's executive management team to address. Will mainstream TOPCon evolve into some kind of hybrid variant with a different name (but fundamentally a single-junction n-type cell architecture) that will simply be the basis of various upgrades to the current TOPCon process flow? Or will a major module competitor have a tandem structure that makes the terawatt-plus of single-junction cell capacity in operation within the industry by then on a path to obsolescence.
Regardless what happens after 2027, Jinko's move to leading module supplier in 2016 and (likely) again in 2023 is confirmation of how technology-differentiated capex investments (at the billion-dollar level) can result in large market-share gains, while acting as a catalyst for an entire sector as they play catch-up in order to remain competitive.
Can the Western world be next to drive technology change?
Because Chinese-owned companies have driven the PV industry from multi to mono, from mono to mono-PERC and from p-type to n-type does not mean that China will be in control of the next wave of technology changes out to 2030.
While there is no shortage of aspiration within Europe to make its mark on PV manufacturing technology, all eyes now are on the US and how the Inflation Reduction Act stimulated investments in manufacturing can make a difference.
The US thrives on technology innovation. It is the one place on the planet where entrepreneurial innovation is supremely championed; where start-up's are nurtured and generously capitalised; and where the dream of one company (or one person) changing the world holds firm.
From a solar perspective, this largely boils down to what the ingot/wafer and cell stages of the c-Si value-chain look like going forward. And how this has come to the fore in our preparations leading up to the forthcoming inaugural PV CellTech USA 2023 conference in the San Francisco Bay Area on 3-4 October 2023.
Since we made the call at the start of the year to launch PV CellTech as an annual U.S. specific manufacturing event, it has been fascinating to see how much is going on behind the scenes in terms of making PV manufacturing in the U.S. differentiated and meaningful on the global stage.
While the media has been awash with companies simply announcing a desire to add module assembly capacity (sometimes with rather vague aspirations to follow up with cells and wafers), there is no shortage of plans at the ingot/wafer and cell stages that could make capacity additions here more important than simply having a domestic industry to satisfy non-Chinese supply-chain auditing.
PV CellTech USA 2023 has become the must-attend U.S. manufacturing event of the year. Check out the agenda at the event portal. Hope to see many of you on site at the event, and getting your thoughts on Jinko beyond 2027, whether you agree with me about TOPCon dominance for the next few years, and who you think will make PV manufacturing in the U.S. something to celebrate ten years from now.