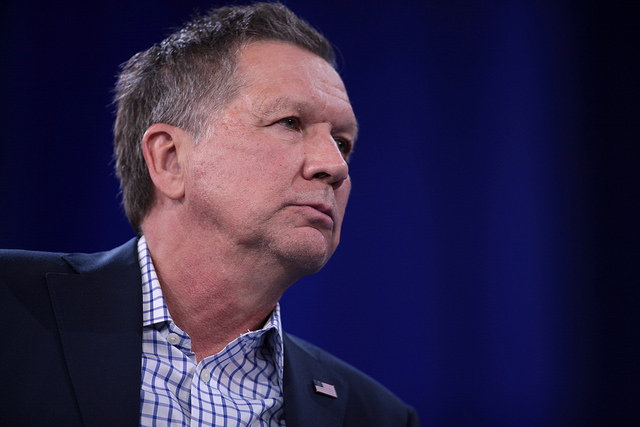 Ohio governor John Kasich has stuck to his guns and vetoed a bill that sought to make compliance for investor-owned utilities (IOUs) with the state's energy standards voluntary, as opposed to mandatory, for a further two years.
HB 554 was successfully vetoed on Tuesday, to the delight of the clean energy industry. The renewable portfolio standards will now go back into effect on January, after a two-year suspension that began in 2014. Ohio utilities will then be required to procure 12.5% of their energy from renewable sources by 2025.
"Ohio workers cannot afford to take a step backward from the economic gains that we have made in recent years, however, and arbitrarily limiting Ohio's energy generation options amounts to self-inflicted damage to both our state's near and long-term economic competitiveness," the Republican said of his decision in a statement.
Mixed reaction
The move was commended by clean energy advocates including the Sierra Club, Ohio Consumers' Council and the Solar Energy Industries Association (SEIA).
"SEIA applauds Governor Kasich for his principled stand in support of clean and cost-competitive solar energy, and for his decision to create a vibrant renewable energy sector in Ohio," said Sean Gallagher, vice president of state affairs for the SEIA. "Through his veto of HB 554, the governor has secured a strong clean energy economy for the Buckeye State and created thousands of new jobs. We look forward to working with Ohio residents and businesses to build a robust solar energy industry in the state."
Not so happy were the utility interests who were behind the bill. The legislation was specifically rolled out by legislators backing the American Legislative Exchange Council (ALEC), championed by Bill Seitz, who worked with industry lobbyists and fossil fuel-funded interest groups on a report that led to the creation of the bill.
"It is apparent that Gov. Kasich cares more about appeasing his coastal elite friends in the renewable energy business than he does about the millions of Ohioans who decisively rejected this ideology when they voted for President-elect Trump," Seitz said in a statement.
Not giving up, the Cincinnati Republican vowed to try again to scrap the state's energy standards.
"We will do our part by launching a full scale effort next session to totally repeal these [former governor Ted] Strickland-era mandates, with veto-proof majorities next session, we are optimistic of success."
Seitz added that Trump and his "amazing cabinet of free market capitalists" would hopefully prevent future "overreach of Al Gore-style policies" that are a waste of taxpayers' money. Indeed, supporters of the bill opposed the standards, citing high compliance costs.
The bill passed the House and Senate last month, but not with large enough majorities to override a veto. However, lawmakers could return to Columbus and reconvene if desired to override Kasich's veto. For now however, failure to comply with the standards will result in fines. Under the law, utilities can build their own renewable sources or buy credits.
According to data from the US Energy Information Administration, renewable energy supplied only around 2% of Ohio's net electricity generation, as of April 2016.