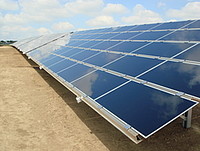 Germany-based renewables firm Juwi plans to construct three utility-scale solar projects with a combined capacity of 90MW in teh US state of Colorado via its US-based subsidiary.
Two of the three projects are already under construction and are scheduled to be commissioned by the end of the year. Juwi will also be responsible for both EPC and O&M of the projects.
The largest project will be the 37.8MW PSEG San Isabel Solar Energy Center in southern Colorado, in Las Animas County. It will require 120,000 modules and will cover 121 hectares. A 25-year power purchase agreement (PPA) has been signed with utility Tri-State Generation and Transmission.
On Monday, PSEG Solar Source announced it had acquired the 37.8MW facility from Juwi with an investment of over US$60 million, which increases the capacity of PSEG Solar Source's portfolio to 315MW.
Diana Drysdale, president of PSEG Solar Source, said: "Over the last few months, we have substantially increased our portfolio of cost-effective, community based solar solutions and brought the benefits of renewable energy to communities across the country."
Juwi is also currently building the 36.3MW PSEG Larimer Solar Energy Center north of Fort Collins, to include 117,000 modules across 117 hectares. A 25-year PPA has been signed with Platte River Power Authority.
Juwi will begin construction on the third 15.9MW facility, named Victory Solar and located near Denver in Adams County, later this year. This project has a long-term PPA with Intermountain Rural Electric Association.
Juwi chief operating officer Stephan Hansen, said: "We have a proven international track record in developing, constructing and operating utility-scale solar parks. In the US, Juwi has realized large-scale PV projects in thirteen states. Juwi is very well positioned to further participate in the flourishing US-solar market."