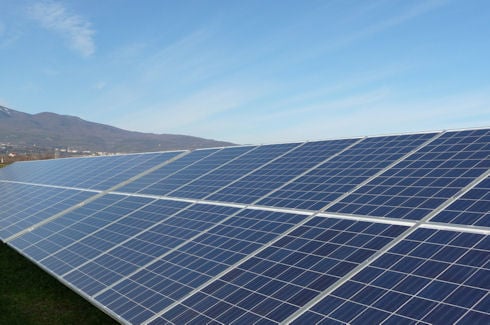 UK solar developer Island Green Power (IGP) has revealed it is to break ground on a trio of solar farms in Australia – some of the country's largest – in the next quarter.
London-headquartered IGP, which in December 2015 revealed it was looking to export its development experience overseas, has partnered with Overland Sun Farming to develop the three utility-scale solar farms in the state of Victoria.
Each solar farm is anticipated to be at least 100MW in size making them the largest in the state, with the combined capacity of all three set to reach 320MW.
Melbourne-based Overland is currently developing a portfolio of utility-scale projects across the eastern Australian states of Queensland, New South Wales and Victoria and Brett Thomas, the firm's managing director, said solar was the country's "next great energy opportunity".
"We could see that Victoria's north west region was a fantastic opportunity for solar farming, it has the best solar radiation in the State and there is plenty of clear flat land. Now that these projects have completed the planning process and executed grid connection agreements, we can move from talking about solar projects in north west Victoria to building them," he added.
Construction is slated to start in Q2 2017 and all three are expected to come on stream by 1 January 2018.
Ian Lawrie, managing director at IGP, lauded the combined teams' experience in developing utility-scale solar projects.
"The local governments in Mildura and Swan Hill have been extremely supportive of these projects, which will represent a AU$500 million (US$383 million) investment in the region, and generate more than 200 jobs during construction," Lawrie added.
Both Overland and IGP also hinted that further announcements would be forthcoming later on in the year as the two look to ramp up construction of similar assets in other states.
Eco Energy World plans 280MW solar farm in Queensland
London-headquartered solar developer Eco Energy World (EEW) also plans to build a 280MW solar farm near Bouldercombe in Queensland.
Energy produced will be distributed throughout Queensland as well as New South Wales, Victoria and South Australia. The AU$500 million ground-mount farm would cover 506 hectares with 900,000 PV modules.
EEW chairman Svante Kumlin said: "In a second construction phase, energy storage will be added on enabling this plant to operate 24 by 7, fully replacing retiring fossil fuel energy generation."
Construction will start as early as Q3 this year, creating 130 jobs. Once fully operational, the plant will employ up to six full time staff as well as other part-time positions.
EEW chairman Svante Kumlin said: "We believe Queensland has huge potential for solar energy with its high irradiance, good infrastructure and availability of land. The Bouldercombe solar farm, will be able to supply clean energy not only to Queensland but also other states due to its unique location and technical design."
EEW said it is planning 1GW of farms in Australia over the next two years, having secured planning consent for around 200MW. It plans to start construction of its first project, a 150MW solar farm at Aramara, in March this year. EEW has already developed solar projects in Europe, including 20 utility-scale projects in the UK.
Last week, prolific UK solar investor Foresight Group also made its maiden solar purchase in Australia, acquiring a 25MW solar farm in Queensland from an Australia-based subsidiary of Spanish developer Elecnor.
Meanwhile, the Clean Energy Council said that Australia is projected to have a 'huge year' in large-scale solar in 2017, but continued to express concern over what it described as a 'political circus' surrounding renewables policy making.
Additional reporting by Tom Kenning.