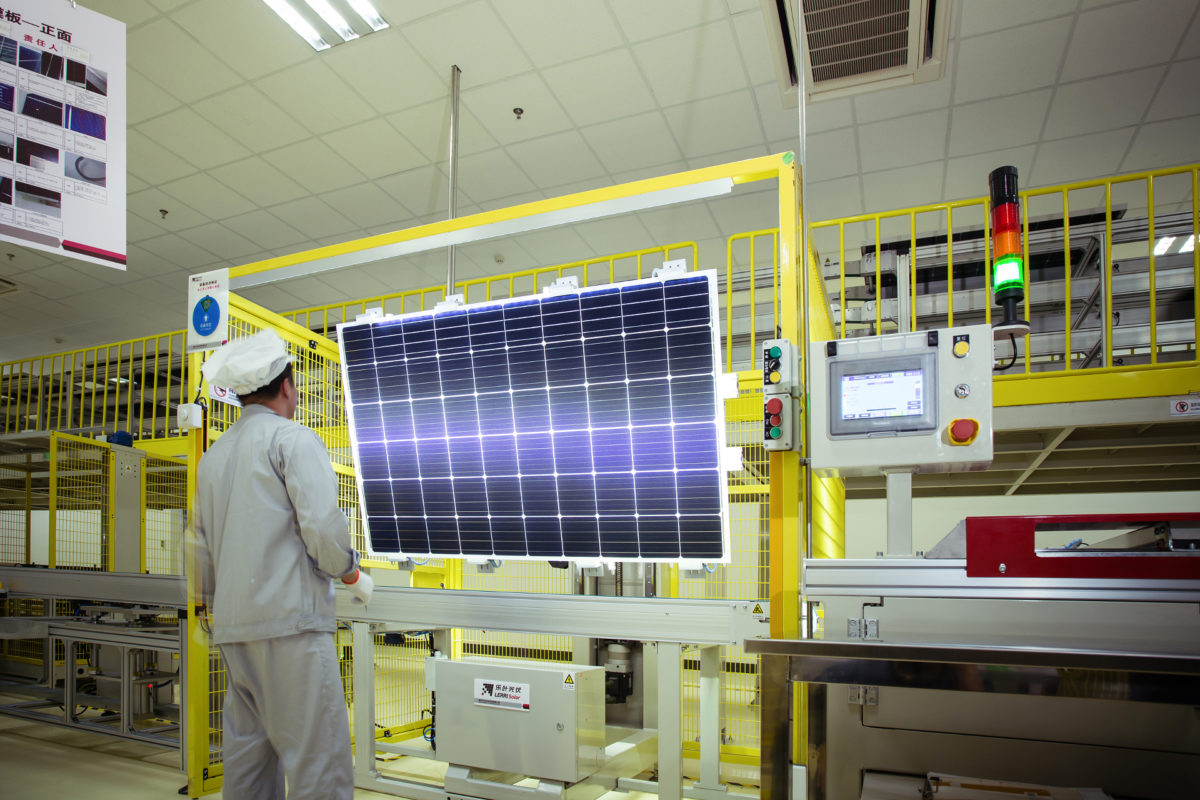 Leading monocrystalline wafer producer and 'Solar Module Super League' (SMSL) member LONGi Green Energy Technology continued to ride the industry wave in the transition to high-performance mono-based products in 2018, with overseas mono-module sales volume of 1,962MW, a year-on-year increase of 370%.
LONGi reported full-year 2018 financial results that set several new financial and product-related shipment records for the company.
LONGi reported full-year revenue of RMB21,987 million (US$3.27 billion) in 2018, up 34.38% from the prior year, a new annual revenue record for the company and one of only a handful of PV manufacturers that increased revenue over the prior year.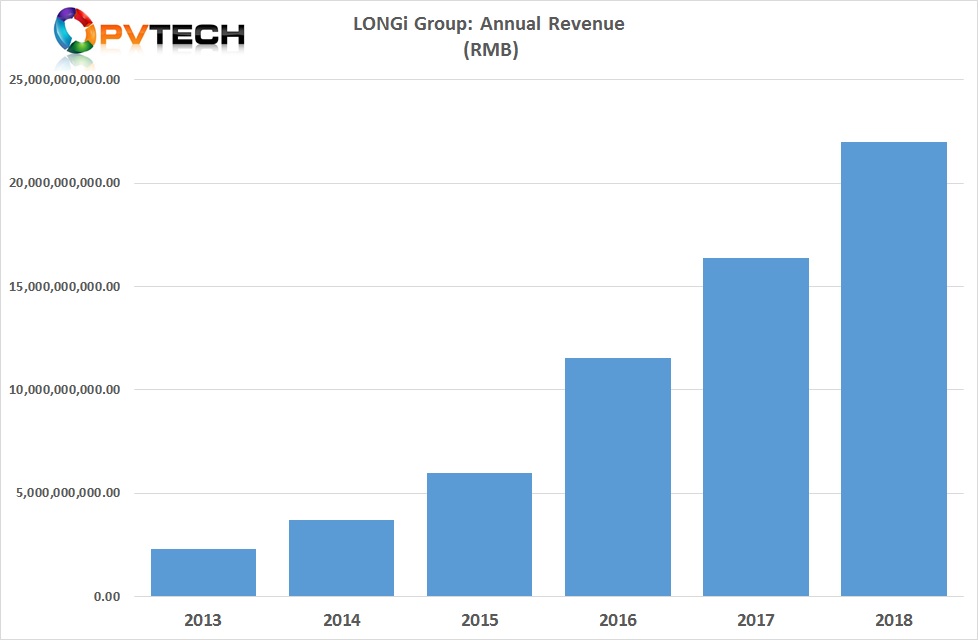 Increased mono product shipments were the cornerstone of the record revenue, which has been set in over seven consecutive years.
The company also reported record revenue for the fourth quarter of 2018 of RMB7,316 million (US$1,086 billion).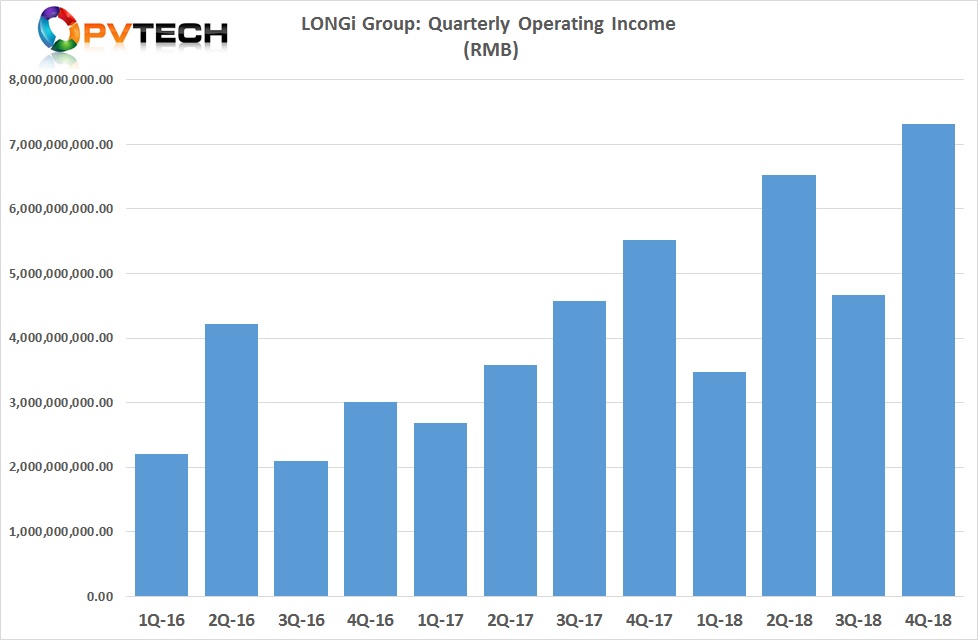 In 2018 the company achieved 3.383 billion (pieces) of monocrystalline wafer shipments, a year-on-year increase of 59% compared with 2017.
This included 1.966 billion wafers being sold to external customers, providing revenue of approximately RMB6,115 million (US$908 million), an increase of 6.31% from the previous year, despite significant monthly ASP declines. Mono wafer gross margins average 16.27% in 2018.
Mono module shipments reached 7,072MW, a new record high, while module sales almost reached 6GW (5,991MW), also a new record.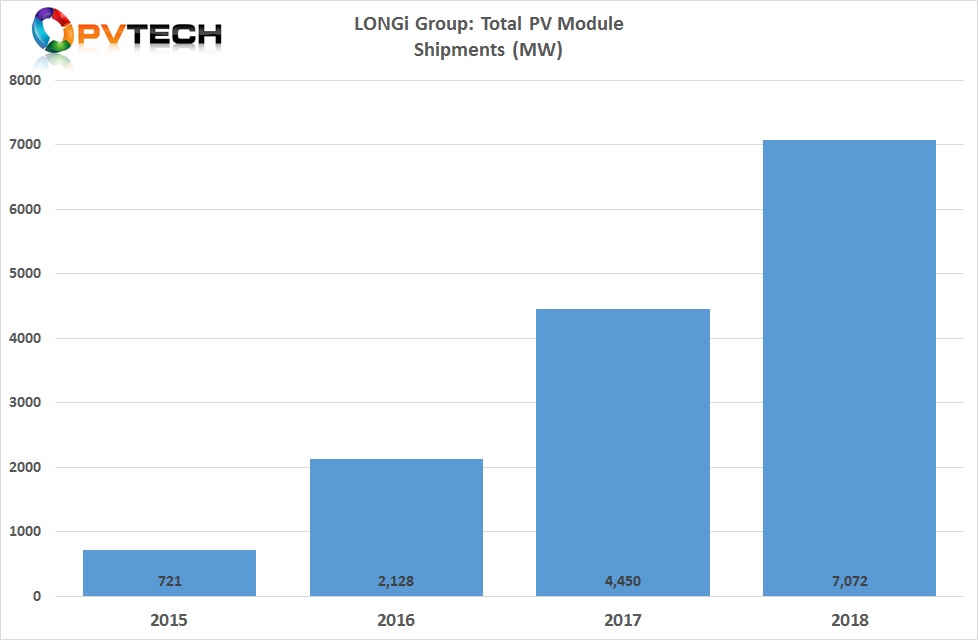 The increased mono product shipments and sales contrasted with the decline in downstream PV installations in China as a result of the '531 New Deal' as the global PV industry transitions to high-efficiency mono products.
On a regional basis, combined product sales actually increased in China in 2018. LONGi reported a 21.48% increase in sales in China, compared to 2017, resulting in revenue of RMB11,481 million (US$1.704 billion).
The company also benefited from an increase in PV power plant electricity generation revenue (US$118.3 million) as well as EPC revenue of around US$101.2 million in 2018.
The Asia Pacific region was the second largest market, generating sales of RMB3,414 million (US$506.9 million), up 43.81% from the previous year.
Coming from a smaller sales footprint in the Americas, LONGi module sales increased 103.9% to RMB1,433 million (US$212.8 million) in 2018.
Sales in Europe were RMB764.4 million (US$113.5 million) in 2018, an increase of 239.8%, compared to 2017.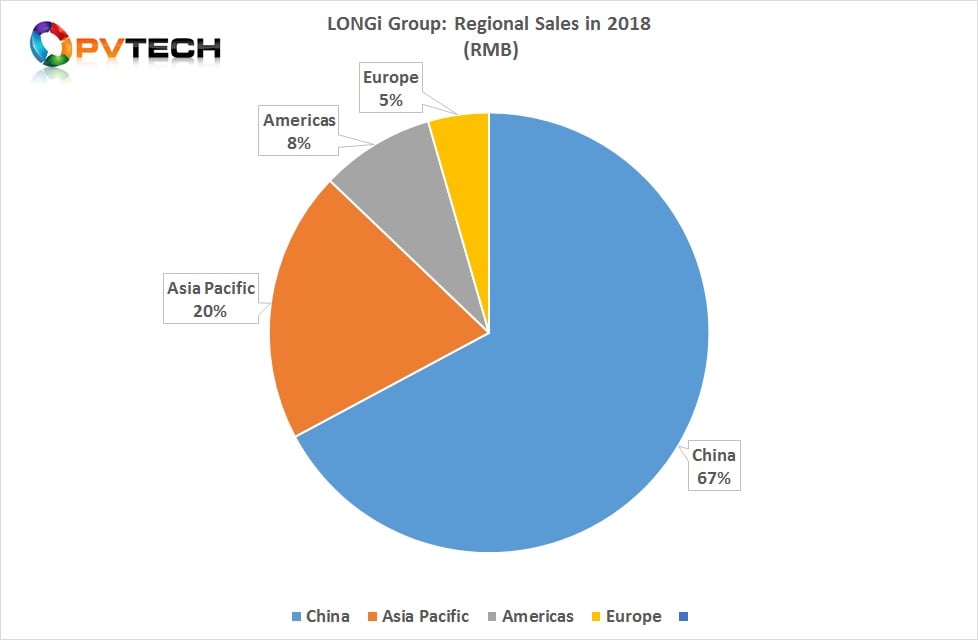 However, LONGi was not immune from the product (wafer, cell and module) ASPs declines due to the impact from the 531 New Deal. As a result, annual net profits declined 32.36% to RMB 2,557 million (US$ 379.8 million) in 2018.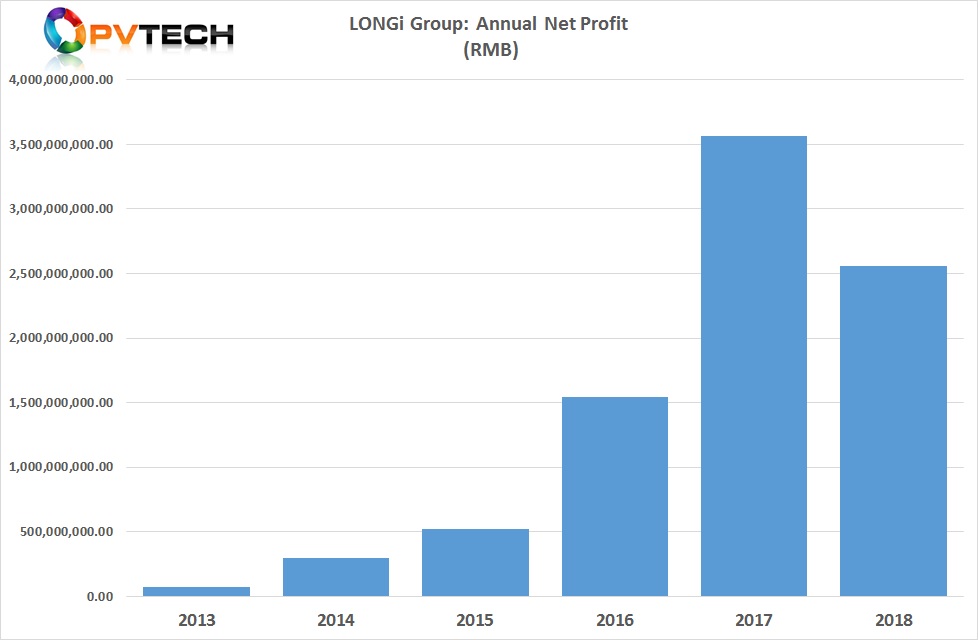 The profit decline was limited, due to the significant increase in product sales, manufacturing scale and cost reductions as well as technological advancements and product upgrades in the year but also hampered by the impact of provisions for inventory depreciation.
LONGi reported that the average unit non-silicon cost of pulling mono ingots decreased by 10.49% year-on-year. The average unit non-silicon cost decreased by 27.81% year-on-year, while the average conversion efficiency of mass production PERC cells reached 22.2%, and the average power output of mass production mono-PERC (60-cell) modules reached 305Wp to 310Wp.
On a quarterly basis, profits were only higher in the first quarter of 2018, compared to the previous year. However, profit levels were the highest in the fourth quarter of 2018 (RMB 866.7 million (US$ 128.7 million) in 2018), after setting a low in the previous quarter.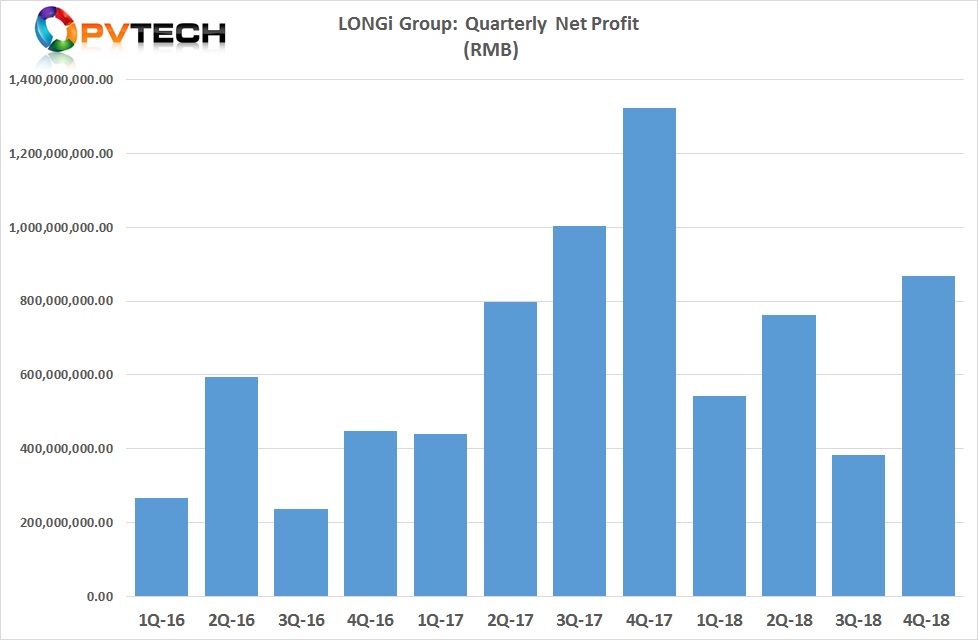 Manufacturing update
By the end of 2018, the company's monocrystalline silicon wafer production capacity had reached 28GW. Monocrystalline solar cell capacity stood at 5GW, while monocrystalline module production capacity had reached 8.8GW at its subsidiary, LONGi Solar.
By the end of 2019, the capacity of ingot/wafers is expected to reach 36GW, cell capacity is planned to reach 10GW and module capacity is expected to reach 16GW.
LONGi also outlined its production capacity planning for the next three years (2019-2021), which includes achieving 65GW of mono ingot/wafer production capacity by the end of 2021.
Monocrystalline cell capacity is planned to reach 20GW by the end of 2021, while the capacity of mono modules is planned to reach 30GW by the end of 2021.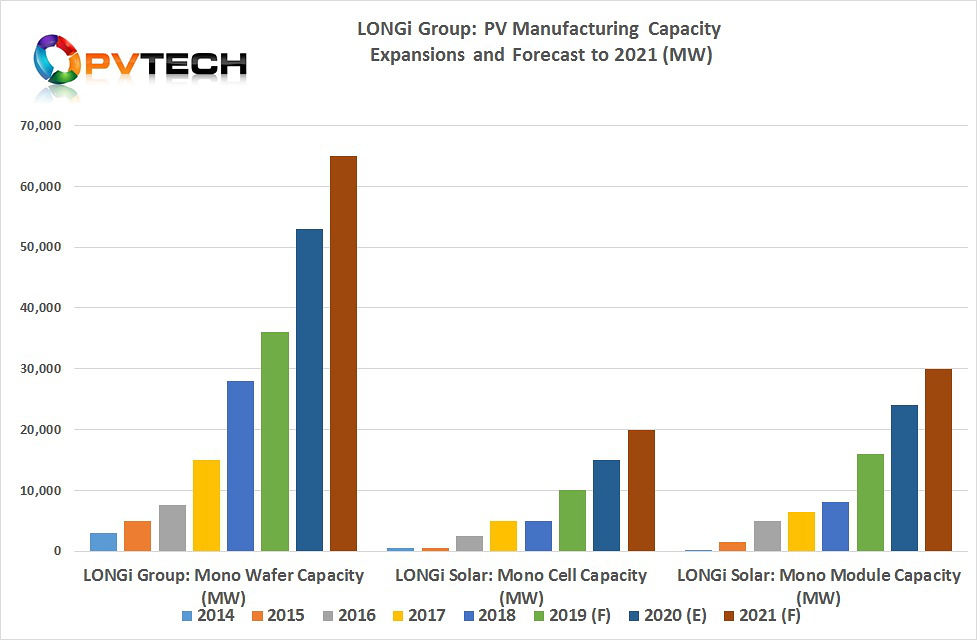 The company also set a new industry record in relation to R&D expenditure, the second consecutive year of doing so. LONGi reported R&D expenditure of RMB1,230 million (US$182.74 million).