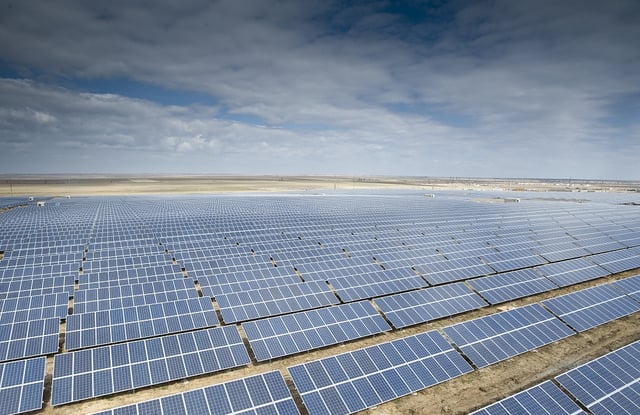 The US arm of the international cosmetics giant L'Oréal has announced plans for two large-scale solar projects in Arkansas and Kentucky.
The decision to develop two of the respective states' largest solar plants comes as the company makes a move to cut carbon emissions by 60% from its 2005 baseline as part of its sustainability strategy, 'Sharing Beauty with All'.
1.5MW Florence, Kentucky project
The project in Florence, Kentucky will be the largest commercial solar array in the state at 1.5MW, comprised of 5,000 PV modules, spanning just over six hectares. It will be developed in partnership with Scenic Hill Solar that will begin construction on the project later this year. The array is forecasted to cut CO2 emissions in Kentucky by approximately 1,195 tonnes per year, according to EPA Greenhouse Gas Equivalencies, and will power the company's largest US manufacturing site.
"With this project, our facility becomes an emblem of sustainable manufacturing," said Eric Wolff, L'Oréal's Florence plant manager, in a statement. "We're proud to be leading the way for commercial renewable energies in Kentucky."
1.2MW North Little Rock, Arkansas project
The project in North Little Rock, also in partnership with Scenic Hill Solar, will rank the third largest commercial array in Arkansas at 1.2MW. The 4,000 panel array is scheduled to be operational by mid-2017. L'Oréal first installed a solar array at its North Little Rock plant in 2012, which now supplies the equivalent of 100% of its outdoor lighting needs at 18,000 kWh per year.
"We are very excited to continue on our site's sustainability journey," said Eric Fox, L'Oréal's North Little Rock plant manager, in a statement. "This next phase of our on-site solar installation not only paves the way for expanded low-carbon manufacturing, but also can serve as a catalyst for continued investment in renewable energy technology in the Natural State."
Corporates in sustainability
The projects set L'Oréal on target to achieve an 80% CO2 emissions reduction and it plans to achieve 100% renewable electricity for its manufacturing in the US through these commercial projects and the purchase of additional renewable energy certificates (RECs). The two projects combined will produce around US$7.5 million worth of clean electricity over the next 30 years, according to Scenic Hill CEO Bill Halter, who also described the cosmetics company as models for other manufacturers.
L'Oréal CEO Frederic Roze said that the company is committed to becoming a sustainability leader in the US. Indeed, it has been a long-time leader in solar energy, having been deemed by the Solar Energy Industries Association (SEIA) as one of the top 25 companies for US solar capacity.
In other news this week, tech leader Apple committed to go 100% renewable in its worldwide operations.