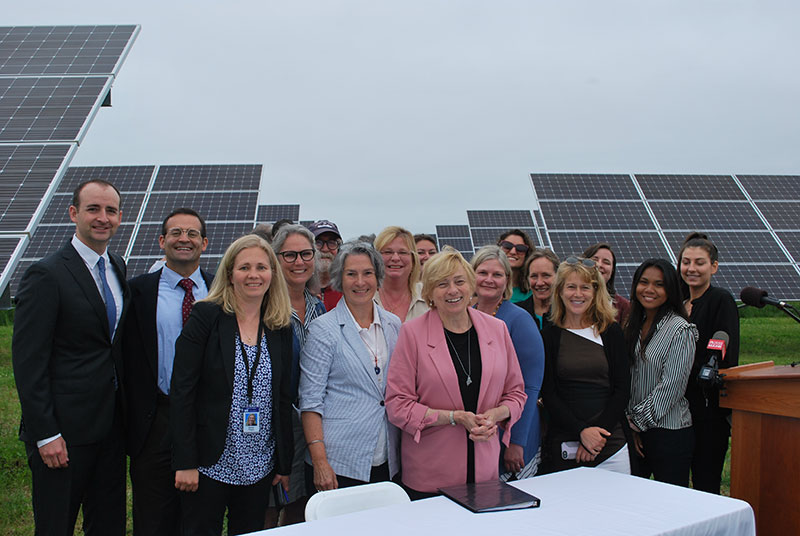 Maine Governor Janet Mills has signed into law three bipartisan bills that will help spur the state's renewable-energy market and overall energy mix.
These new laws feature the establishment of the Maine Climate Council, which will be tasked with developing action plans to cut Maine greenhouse gas emissions by 45% by 2030 and 80% by 2050 and an increase in Maine's Renewable Portfolio Standard from 40% today to 80% by 2030. Another law will help establish new solar incentive programs.
Mills noted: "With the signing of these bills, Maine is ushering in a new era of clean energy and climate leadership. The Maine Climate Council will develop comprehensive action plans to meet our ambitious emissions reductions goals and the renewable energy legislation will spur clean energy development and investments that will increase production of homegrown, renewable energy and create good paying jobs for the people of Maine. Maine is once-again leading on clean energy."
Along with an increase in the RPS to 80% by 2030, the new law, LD 1494 An Act To Reform Maine's Renewable Portfolio Standard, also sets the goal of a 100% RPS by 2050. The bill also requires the Public Utilities Commission to procure long-term contracts for new clean energy generation, which may be paired with advanced energy storage.
Reacting to this news, Sean Gallagher, vice president of state affairs at SEIA, said: "For too long Maine has lagged behind on solar because of backward policies that singled out solar customers and tacked on unnecessary fees. Over the past few months, the Maine Legislature reversed these harmful policies and just this week set the industry up for success with aggressive new targets that are now signed into law.
"Solar will undoubtedly play a major role in meeting the state's 80% renewable energy target by 2030 and 100% by 2050. Codifying these goals sends a strong signal that the nascent solar market in Maine is about to take off, bringing clean energy, jobs and new investments along with it. We commend the Maine Legislature and Governor Mills for getting back on track and jump-starting Maine's solar future."