UPDATED: The Energy Commission of Malaysia (EC) has released the list of winning developers in its second Large-Scale Solar (LSS) tender round, offering roughly 563MWac of capacity.
The tender was originally only for 460MWac, but it was heavily oversubscribed. The first round of the LSS also saw more capacity awarded than was originally tendered. The selection of the bidders was based on the most competitive prices offered, which also met all the RfP requirements.
Kiran Jethwa, managing partner of one winning developer, Fumase, told PV Tech: "We had expected the tariffs to drop a bit. At the current prices, solar is competitive with some of the thermal power plants. The intermittency issue can be resolved if the costs of energy storage come down.
"The LSS program is run quite well and is helping Solar become more mainstream in Malaysia. The authorities increased the overall capacity allocation which may be good however it creates uncertainty. I am sure some of the bidders would have bid differently had they known the new overall capacity beforehand."
Nazrin Misher, business development executive of local EPC provider Maqo Group, told PV Tech that there were few surprises in the results, with most of the winners already being large and established players or consortiums. He said the shortlisted bidders now have to comply to certain requirements so that they can start to implement their projects.
The plants are due for commercial operation in the Peninsular Malaysia, Sabah and Federal Territory of Labuan in 2019/20.
Below are the lists of shortlisted bidders for the five capacity packages provided by EC:
Package P1 (1MWac to 5.99MWac) in Peninsular Malaysia:
Package P2 (6MWac to 9.99MWac) in Peninsular Malaysia
Package P3 (10MWac to 30MWac) in Peninsular Malaysia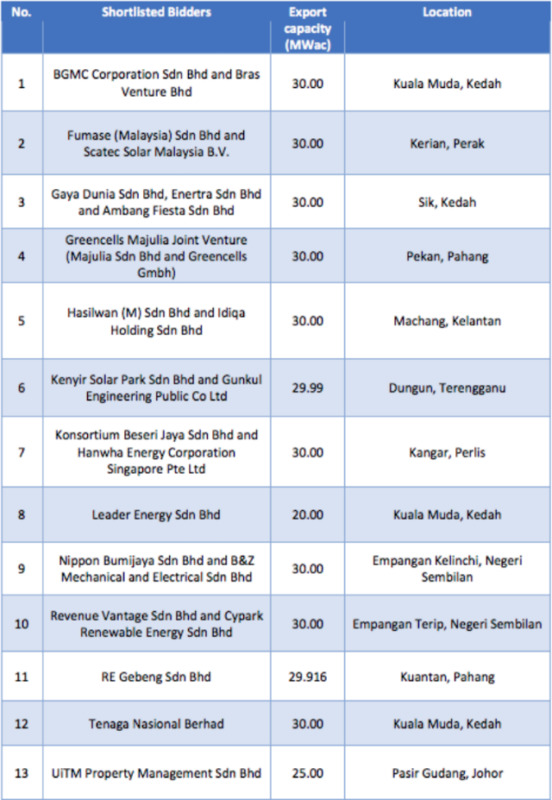 Package S1 (1MWac to 5.99MWac) in Sabah and Labuan
Package S2 (6MWac to 10MWac) in Sabah and Labuan
The results were widely expected to reach new lows for tariffs in Malaysia and the industry is hoping that the EC will come out with a third LSS auction in relatively quick succession. Projects from the first LSS auction are still under development, although some winners have already dropped out for various reasons.
PV Tech reported that utility TNB and major local developer Cypark had both won 30MW projects in this second auction earlier this month.
Article updated to include comment from Fumase.