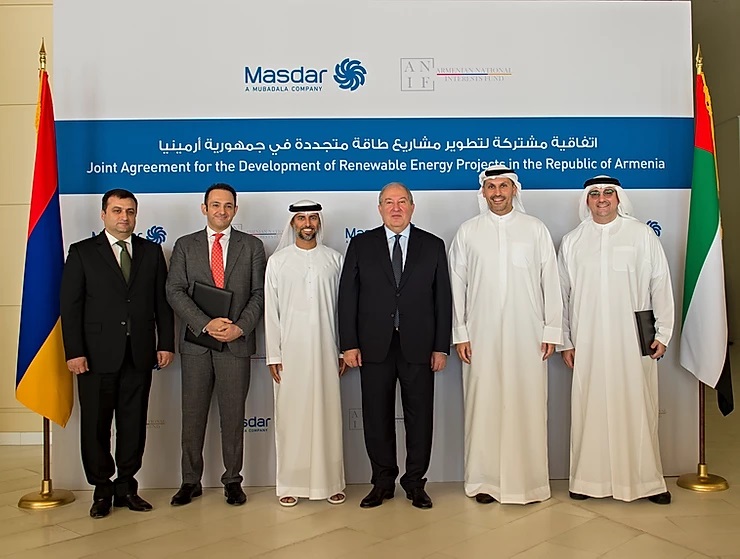 United Arab Emirates (UAE) firm Masdar has been selected to help deliver a new major solar pipeline in Armenia, a still-dormant PV market boasting relatively high irradiation potential.
Over the weekend, a deal was rubberstamped in Abu Dhabi that will see the Middle Eastern player deploy a 400MW PV pipeline in the Caucasus state, in partnership with national fund ANIF.
The joint development agreement (JDA), inked with Armenian president Armen Sarkissian in attendance, will see bifacial deployed in the three-million-inhabitant country.
According to the deal signatories, the 400MW pipeline will require investments of around US$300-320 million and start with a 200MW plant in west Armenia, set to feature two-sided PV modules.
The weekend's deal marks a step-up from the memorandum of understanding Masdar and ANIF already signed in July, which foresaw work on ground-mount (200MW) and floating PV (200MW).
The statement between Masdar and ANIF – a state-run fund that co-invests in Armenian projects alongside global financiers – sought to build a case for the country's solar potential.
According to the document, Armenia's solar irradiation levels of 1,720kWh/m2 and 200-plus rivers and lakes make the Caucasus state a sound fit with PV both on land and water.
The country has only 50MW in up-and-running solar but is eyeing significant growth in coming years, with 250MW already cleared for construction and a further 700MW under planning.
The former Soviet state – home today to a 2.8GW nuclear, hydro and thermal power energy sector – is working towards a target to source 30% of its electricity from renewables by 2025.
The deal in Armenia marks the second time, in the space of just a few days, that the UAE's solar expertise is tapped into by a foreign country.
Late last week, it emerged Zimbabwe had enlisted the help of Crown Prince Sheikh Mohammed bin Zayed Al Nahyan to install 2GW of solar and stave off the worst of a long-running power crisis.
The deal announced by Zimbabwe president Emmerson Mnangagwa foresees the roll-out of a first 1GW of solar projects, as well as the use of a major dam on Lake Kariba as an impromptu storage battery.