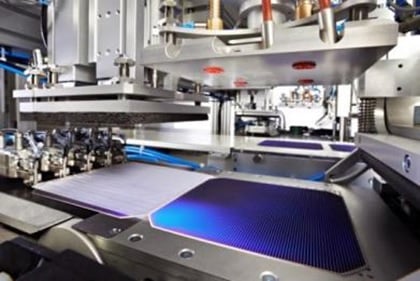 Leading PV manufacturing equipment supplier Meyer Burger has secured an order for its 'SmartWire Connection Technology' (SWCT) from an international solar module manufacturer in Southeast Asia for use with heterojunction (HJ) solar cells.
Meyer Burger said that delivery and installation of its SWCT technology was planned towards the end of 2018 and expected the commissioning and ramp-up of the 200MW solar module production line in the first half of 2019.
PV Tech has recently highlighted that Meyer Burger's SWCT technology had been adopted by new HJ entrants, transitioning from amorphous silicon thin-film module production to HJ, such as 3Sun in Italy and Hevel in Russia and previously Ecosolifer in Hungary as the technology is a low-temperature interconnect solution, which is required for HJ cells because of the use of a-Si TCO layers on the front and backside of the cell.
The technology has also been adopted by integrated c-Si PV module manufacturer REC Group, which has its wafer, cell and module manufacturing operations in Singapore.
Meyer Burger has also recently announced that Panasonic had decided to fast-track the evaluation of its SWCT technology in an effort to boost its cell and module performance.
Panasonic has a module assembly plant in Malaysia, supplied with HJ solar cells from Panasonic's dedicated solar cell plant in Japan as well as contract manufacturing for Tesla in the US.