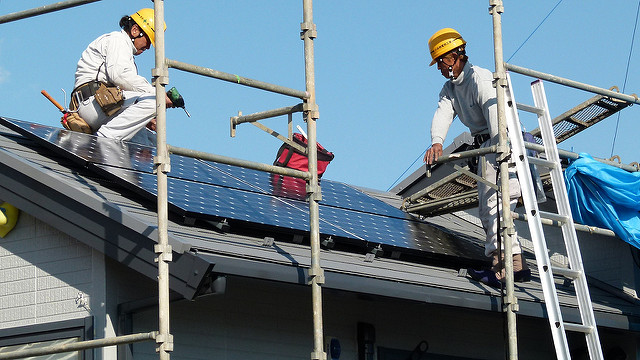 Rooftop solar customers cost non-solar ratepayers in Nevada US$36 million a year, according to the results of a cost-benefit study on solar by Energy + Environmental Economics (E3).
The US$67,000 study was commissioned by the Nevada Board of Examiners as an update to the 2014 study by the same independent contractors that then found a US$36 million benefit to non-solar ratepayers from rooftop systems rather than a cost. Identical methodology was employed in both studies, whilst using current data from NV Energy. The new report also found an additional US$15 million cost to grandfather existing net metering customers under the previous rate structure.
One of the main reasons for the extra cost burden was the decline in prices of utility-scale solar since 2014, rendering rooftop solar less cost-competitive; falling from US$100/MWh in 2014 to US$36/MWh in 2016. This decreases the renewable portfolio standard (RPS) value benefit by almost 95%, making self-generated electricity less economic, the study found, as did lower natural gas prices.
The results of the study come at a time of intense political back-and-forth between the utility and rooftop solar advocates, such as SolarCity who recently brought out their own study in collaboration with the NRDC, that found rooftop solar benefited all Nevadans, and outweighed all costs to ratepayers. In addition, the leading installer also spent nearly US$2 million backing solar advocacy group Bring Back Solar, who was unsuccessful in winning voters the right to decide on the Public Utilities Commission's (PUC) new rate structure in the upcoming November ballot.
Amidst state turmoil over new rates that cut net metering credits and hiked up fixed charges, NV Energy had attempted to ameliorate the situation by proposing grandfathering 32,000 solar users into pre-existing rates.
Whilst the results of the E3 study may be thought to be a blow to rooftop solar and net metering in the Silver State, this updated cost-benefit analysis only has so much leverage, as a PUC spokesperson confirmed to PV Tech. Indeed, the E3 study only serves an independent assessment of the situation, but the real dictator of the future of solar will be the upcoming General Rate Cases filed by the Commission and any other willing participants.
The door is still open for other stakeholders, particularly those in favour of rooftop solar, to present their case in contested proceedings. Bring Back Solar certainly has plans to subject the study to peer review. "The public deserves a rigorous and fair accounting of the costs and benefits of solar, and we will work with the PUC and other leadership to ensure the final study meets the high standards the public expects," said Chandler Sherman, spokesperson for the advocacy group, in widely reported media statements.
Public deserves better than a he-said, she-said on studies. We need a full, fair, transparent accounting of the costs and benefits of solar.

— Chandler Sherman (@CSherman48) 18 August 2016