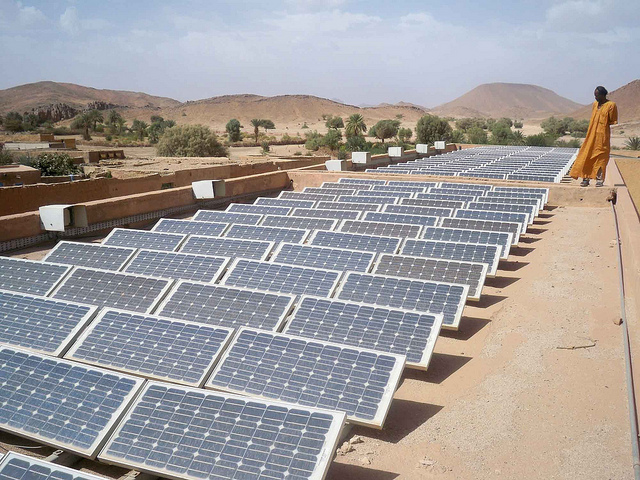 Ghana has recently added to its solar plant portfolio with a new 20MW plant developed by Chinese technology firm Beijing Xiaocheng Company (BXC). This is the first large-scale project of its kind in Ghana, and aligns itself with government incentives to increase the renewable energy output to 10% by 2020, as well as providing country-wide access to electricity by 2016.
The plant was fully-operational within six to eight months of construction and is located in Gomoa Onyandze in the Central Region, about 20km from Accra. It is situated on a 40.5-hectare piece of land and constitutes the country's largest PV installation, injecting about 20MW into the national grid through the Electricity Company of Ghana (ECG).
BXC originally invested US$30 million into building the solar plant and is also assisting the ECG to combat transmission losses and assist in Ghana's energy challenges, according to widely reported statements by Luan Ye, project manager.
The plant currently operates at a 20MW capacity but as BXC labels it a 40MW project, the company expects it will double its output in the future. This is welcome news to the country, which witnessed a prolonged power crisis that had a crippling effect on the industry. In an effort to mitigate the effects of this, the Ghanaian government announced its investment of US$230 million last year to boost its renewable energy incentives through its Scaling-up Renewable Energy Programme (SREP).
The project was initiated in 2012 by BXC Ghana; a subsidiary of BXC Beijing China under a PPA with ECG. It was solely funded by the parent company without any government financing. The new PV plant marks a significant step in Ghana's renewable energy efforts; as the country's former biggest power plant in Navrongo was just 2MW. Ghana also recently launched a 30MW PV module manufacturing plant in Kpone.