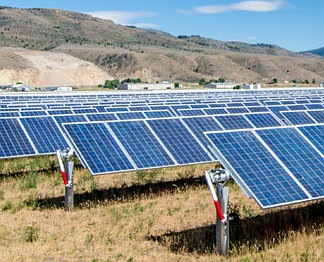 Solar tracking manufacturer NEXTracker is expanding in India by manufacturing additional structural components for its solar trackers in country and taking on Indian steel tube producer APL Apollo Tubes as another supply partner.
The Flextronics-owned US firm already has four other local steel fabricators that are supplying foundation piers to NEXTracker and its customers in India.
Its trackers delivered in India will now contain 80% local steel content by weight and volume and the firm claims that by localizing its steel pipe manufacturing it will save on logistics costs and decrease shipment times by up to 50%.
The firm had cooled local reports of its Indian manufacturing intensions back in January, claiming that it was just in an exploratory phase, but it has now gone ahead with expansion plans, albeit without specificying the locations of this manufacturing.
The firm said that most of India's 100GW by 2022 solar vision will be based on ground-mount plants, which will require steel structures. The firm, which has 20 projects in India either completed or under development, has seen demand grow rapidly and it claims that a growing percentage of developers in India now prefer single-axis trackers. The company's Hyderabad office has also doubled in size over the last year in line with increased activity in the region.
Dan Shugar, NEXTracker's CEO, said: "Our India expansion reflects our strategy to regionalize manufacturing wherever possible to better serve our customers, accelerate project velocity, reduce risk and save on logistics costs. APL Apollo is a world class steel fabricator and their dedication to delivering the highest quality products is exceptional."
Sanjay Gupta, chairman APL Apollo Tubes, said: "We are proud to be working with NEXTracker, the global leader in tracker technology, to supply our superior steel products for solar parks and power plants in India. Their product has transformed the single-axis tracker landscape not only in India but around the world."
NEXTracker has already supplied trackers to two significant projects in India, including a 105MW PV plant developed by Indian conglomerate Adani in the state of Punjab, and a 30MW solar project from Indian developer CleanMax in the state of Tamil Nadu.
Indian vertically integrated PV firm Tata Power Solar also announced a near doubling of its cell and module manufacturing capacity in Bangalore this week.