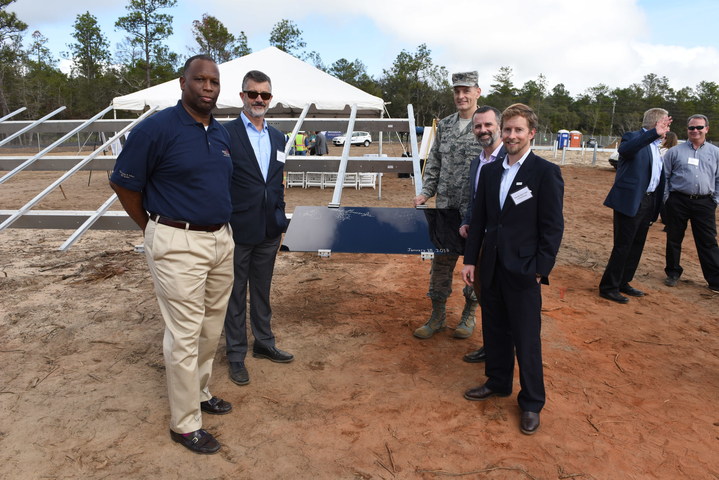 Southern Company-owned Gulf Power has teamed with Coronal Energy, powered by Panasonic, to develop a 120MW PV portfolio at a military base in Florida.
Three separate facilities will be developed and known as the Gulf Coast Solar Centre Portfolio, comprised of:
50MW NAS Pensacola's NOLF Saufley
40MW NAS Whiting Field's NOLF Holley
30MW Eglin Air Force Base
Once complete, the combined facilities will be among the Sunshine State's largest solar projects and will include around 1.5 million First Solar modules and generate enough clean electricity to power 18,000 homes annually.
Coronal Energy is constructing the three facilities in Northwest Florida. The projects broke ground in November and all are expected to become operation during summer 2017.
At an inauguration ceremony yesterday, officials from Eglin Air Force Base and the Naval Air Station (NAS) Pensacola joined executives from Gulf Power and Coronal Energy for the installation of the first two PV panels on the projects.
"These projects exemplify our commitment to leveraging strong partnerships and innovative solutions to develop large-scale solar projects that deliver clean energy to a diverse set of customers," said Jonathan Jaffrey, chairman and CEO of Coronal Energy at the ceremony. "The collaborative approach to the development of the Gulf Coast Solar Centre Portfolio represents a smarter approach to pursuing solar energy, and may serve as a model for future public/private sector renewable energy initiatives."
The energy generated by the three projects will serve Gulf Power customers across Northwest Florida.
Jim Doyle, president of Panasonic Enterprise Solutions Company, added: "Solar is the world's fastest-growing energy source. With these projects, Gulf Power – in cooperation with the Air Force and the Navy – takes a big step forward adding clean, resilient, domestic renewable energy to its portfolio for the benefit of its customers. They're showing how going solar translates to smart business and smart government, not just for residents and businesses in Florida but also across the country."