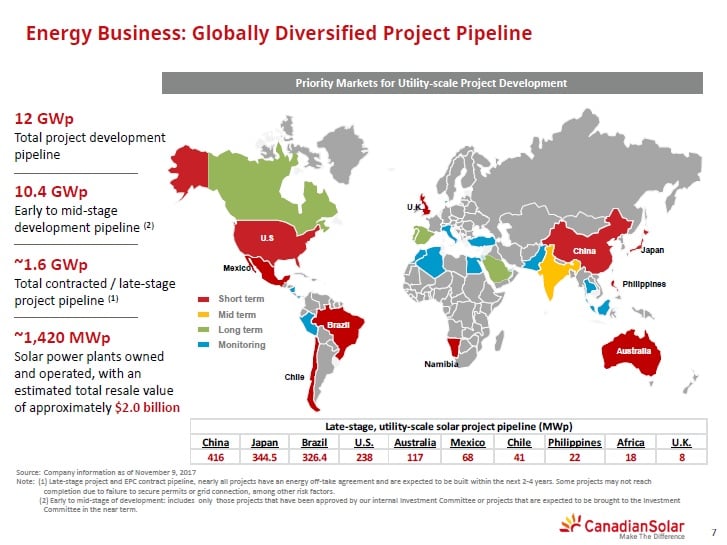 'Silicon Module Super League' (SMSL) member Canadian Solar has finally confirmed the sale of part of its PV plant portfolio in California to South Korea's largest electricity utility, Korea Electric Power Corporation (KEPCO).
The SMSL had previously been forced to lower full-year 2017 revenue guidance due to delays in selling a total of 703MWp from six solar power projects in California to two buyers.
According to the SMSL, the sale (235MWac/309 MWp) was KEPCO's largest investment in the US solar market and partnered with the Corporate Partnership Fund, a Korean private equity fund also known as COPA Fund, to make the acquisition.
"These high-quality solar assets are a strategic addition to our renewable energy holdings and will allow us to further diversify our generation portfolio," said Mr. Bong-soo Ha, executive vice president and chief global business officer, KEPCO. "We expect further cooperation with Canadian Solar and are also pleased to be working with an industry-leading developer like Recurrent Energy as we grow our presence in the attractive U.S. solar market."
Recurrent Energy, the developer of Canadian Solar's US projects and a subsidiary of the company is to continue to provide asset management services to the projects, which were completed in 2016.
The projects sold include the Astoria (100 MWac/131 MWp), Astoria 2 (75 MWac/100 MWp), and Barren Ridge (60 MWac/78 MWp), located in southern California.