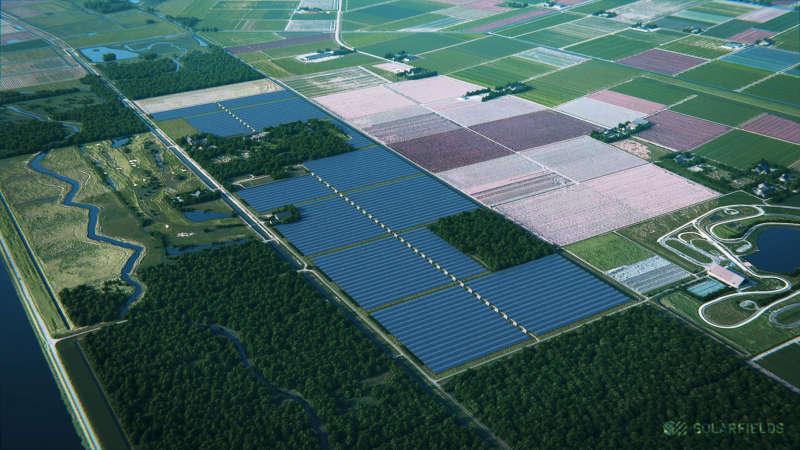 Local authorities have granted planning permission to what is being described as the Netherlands' largest PV installation to date.
Dronten municipality found this week no objection to the set-up of a 125MW PV park at a 100-hectare site in Flevoland, an island province reclaimed throughout the last century.
The complex will feature the two separate plants of Dorhout Mees and Flevonice, the respective work of developers Solarfields and IB Vogt.
According to Solarfields, both plants are expected to break ground in Q1 2021 and should incorporate, once finished, more than 335,000 panels.
At 118GWh, the duo's output will cover the electricity needs of nearly 34,000 homes, the firm estimates. The plan, according to Solarfields, is for the complex to secure government subsidies under the SDE+ programme.
The complex's planned 125MW size represents a record for Dutch solar, the developer said. An earlier claimant to the top PV spot – a Sunport project backed with a PPA with Google – was significantly smaller, targeting a peak capacity of 30MW.
The progress for the Dronten project comes at a bullish time for the broader Dutch PV industry, with IRENA figures finding a doubling of installed capacity between 2016 (2GW) and 2018 (4.15GW).
Growth to date seems to be mostly driven by SDE+ subsidies, whose last round awarded solar €3.2 billion (US$3.57 billion) of a €6 billion total (US$6.67 billion). As industry figures told PV Tech this year, success on a subsidy-free basis will take longer to materialise in a Dutch market of land scarcity and low power prices.