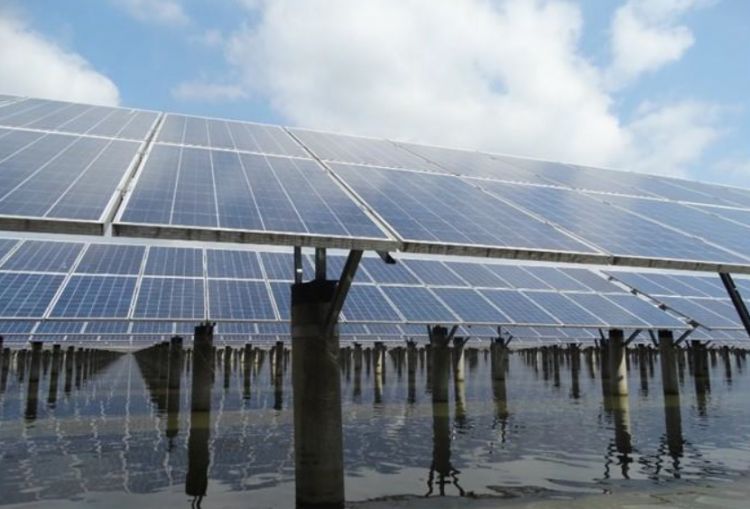 PV Tech's new two-day event PV ModuleTech 2017 – in Kuala Lumpur, Malaysia, on 7-8 November 2017 – is set to outline the key issues in new high-efficiency PV modules that will dominate utility-scale solar farms deployment globally over the period 2018-2020.
This article explains how modules from the major global suppliers are expected to improve in the next few years, and the issues that utility-scale downstream solar stakeholders (in particular project developers, EPCs, O&Ms, asset managers, and portfolio owners) need to be crucially aware of now, in order to make informed decisions on correct module supplier and technologies for sites expected to be completed in the next few years.
Changes in the module supply landscape
Choosing the supplier of modules for 5-500MW solar farms is still one of the most critical – if not the most important – decisions that is made during the build-out of utility scale solar sites that will ultimately impact on return-on-investments over a 20-30 year period.
With the solar industry moving from its early – growth phase of 10GW to 50GW annually, to levels north of 100GW per annum in the next few years, the days of relying on an academic study of bankability metrics is now firmly over.
As an example of this, companies pre-occupied with getting on someone's Tier 1 list should count with caution the number of module suppliers that were routinely on these Tier 1 lists in the past, but are now technically bankrupt and among the highest risk grouping in terms of module reliability, quality and long-term warranties.
In fact, in the past five years, the companies that dominate module supply globally have changed somewhat, both in name and in module supply quantities. This is shown in the graphic below: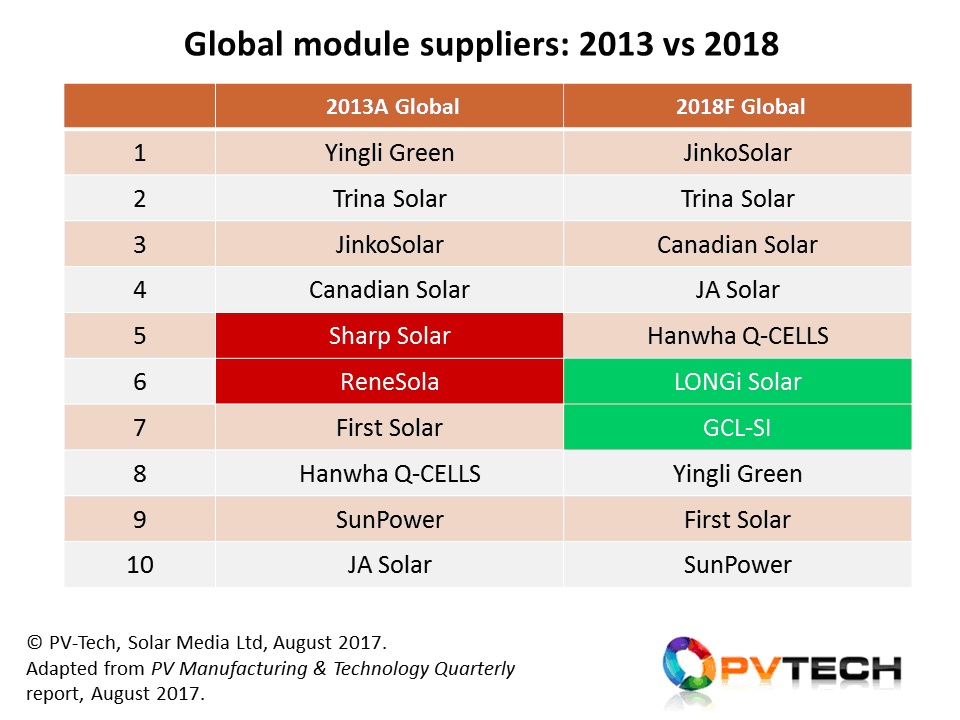 The top-7 for 2018 is effectively the Silicon Module Super League (SMSL), and this grouping was discussed extensively in a two-part blog on PV Tech last week. (Part one can be found here and part two here.)
Over the past five years, one can highlight JinkoSolar and JA Solar as companies that have changed tactics the most, placing them now in a position that is potentially different from all the other companies listed above. While coming from different places (JinkoSolar assembling modules; JA Solar making cells), the companies today probably have the most flexibility in terms of in-house cell/module capacity, location of manufacturing (China and Southeast Asia), and in terms of module technology offerings; more on this below.
Downstream channels need to understand new module technologies
If we look again some five years back, project development and planning was somewhat prescriptive, with developers able to merely specify 60-cell, 250W (p-type multi) modules (250-60), in the knowledge that final module choice by an EPC or shovel-ready buyer, could be kept open as long as possible before finalizing on module supplier choice.
Developments (at the large utility-scale level) that differed from the above situation tended to be specific to SunPower and First Solar, where the involvement of these companies extended well beyond that of simply a supplier of modules, but more often in plant design and optimization both for in-house and partnered third-party site developments.
For c-Si module supply, the main global changes from the 250-60 standard configuration included power improvements from adding busbars, or moving from a 60-cell to a 72-cell panel. Other incremental improvements helped move the 60-cell (MWp-dc) powers from 250 to 260-265W, with only a few p-type multi suppliers to utility-scale sites having volume offerings at higher levels. If panel powers closer to 300W were required for site arrangements, then standard mono designs were then used.
This pretty much is a fair summary of the majority of utility-scale solar farms build globally between 2013 and 2017, with possibly Hanwha Q-CELLS as the only (p-type) c-Si module supplier in the tables above that was routinely supplying GW-level of modules based on a new module architecture that by default had a different bill-of-materials.
This module type is, of course, PERC, and almost the entire p-type segment of the industry has been in R&D/pilot/production-optimization mode between 2015 and today. For many of these companies, high-volume supply to large utility solar farms is yet to be fulfilled.
If PERC was the only change being done in mainstream p-type module supply to the industry in 2017/2018, it would be critical for anyone relying upon modules for 20-year reliability to get the real facts on the modules and the main suppliers.
However, the landscape is much more complicated from a technology standpoint now, and in many ways, the entire downstream segment of the PV industry needs to get up to speed quickly, or the wrong choices will be made in terms of module supplier and the type of modules being used on large-scale solar farms.
High-efficiency modules: performance-capable, but quality and reliability more important
During the past few years, I have probably had as many discussions with module suppliers as I have with solar portfolio asset owners, O&Ms, EPCs and green-field project developers. Most times, these discussions occur at events that are either upstream/technology focused or downstream/financial based.
As such, you almost feel like you are talking to two sides of the solar industry that each need to know the same things, but are often poles apart in understanding the basic issues that ultimately make each company more profitable.
This disparity comes naturally from module suppliers in the industry (with the exception of a handful of companies) being trained to emphasize R&D and hero metrics for module supply, rather than what is often more mundane in terms of certification, material selection, and proven field reliability.
Asset owners tend to have a more pragmatic and technology-agnostic approach, regularly placing blame on O&Ms, defaulting to misleading Tier 1 lists, or relying too heavily on one-off factory inspection audits, rather than looking specifically at the modules on the sites they made the decision to acquire as-built.
In terms of the questions I tend to get, it is largely weighted to the investor side, and their acknowledging that they need to be far more educated on the real mass-production offerings from the module supply side, and if the stories they are being pitched from prospective module supplier partners have any credence.
In fact, many downstream companies now have technology specialists in-house, acknowledging that going deeper into module supply, materials employed, and the site design (either developer or EPC specified) is key to understand either when injecting finance into site construction or simply acquiring an as-built site.
From the investor standpoint, there appear to be two parts to the module-intelligence gathering challenge today: first, it is an understanding of basic module technology and what all the different terms mean; second, it relates to qualifying the offerings from each of the module suppliers promoting their products, and determining which are really qualified in mass production.
Developer, EPC and asset owner need-to-know module facts
When looking at optimizing utility-scale solar farms, there are probably about ten key questions to be asked when choosing module supplier and technology type procured. The list spans categories including:
• Supplier credibility
• Component (wafer/cell/module) assembly manufacturing traceability
• Bill-of-materials (both cell and module)
• Certification and field-reliability proof
• Demonstrated site return-on-investment (specific to the exact modules being offered)
With so much push on new module configurations (for example, new n-type offerings from China, PERC, bifacial), we have a situation where the market is potentially going to be awash with established and new-entrant module suppliers promoting modules where:
• Many of the materials being used in the module assembly are new or from new suppliers. In the case of PERC, this extends to new coatings/materials used at the cell production stage also.
• There is limited track record of long-term utility-scale operations, and the effect of issues such as LID to name just one of many. This substantially elevates the need to understand the test protocols and certification methods being used right now, but also serves as an action item for EPCs and developers to get a full grip on what is being designed and procured for large-scale solar farms.

Scope of PV ModuleTech now focused on explaining module suppliers and risk factors for downstream players
The timing of the PV ModuleTech 2017 conference (7-8 November 2017) therefore is now taking on a new significance, with the migration to high-efficiency modules from existing and new module suppliers now being stepped up at a pace not seen before in the PV industry.
Speakers, partner companies and panel discussions are now being targeted to ensure that the language and terminology of the key issues are presented in a way that:
• Module suppliers are showing performance metrics that really matter to ultimate site owners
• Material and equipment suppliers are explaining the crucial link between the manufacturing process for modules and long-term reliability and performance on-site
• Certification labs and test houses are covering why the focus on these for the module supply of 2017-2020 is radically different to the PV industry of the past.
However, probably the most essential part of the PV ModuleTech 2017 event will be the presentations and attendance of leading global developers, EPCs, O&Ms, asset managers and portfolio owners, and this grouping explaining clearly to the module (and related materials) supply side exactly what they need from them by way of qualified supporting data, in order to minimize upfront investments from site planning through to construction build-out processes.
This crucial link has been badly missing at PV events in the past, and PV ModuleTech should create a dedicated platform finally to bring module supply closer to site profitability, and how each side of the upstream/downstream equation ultimately can help one another in optimizing the returns from utility-scale solar sites in the future.
I will be delivering a free webinar series this week, on 30 August and 31 August 2017, titled "PV Module Supply in 2017: Leading global suppliers, performance benchmarks & maximizing investor returns". To sign up to listen to one of the free webinar timeslots, please follow this link.