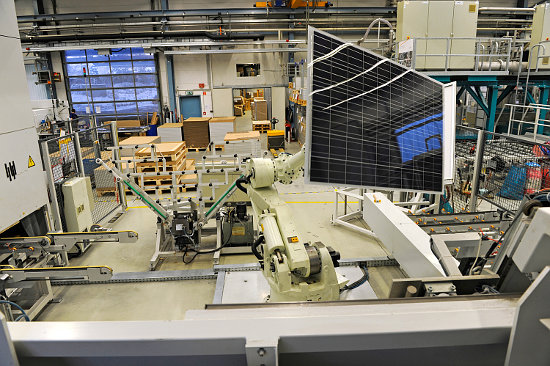 The solar centric political campaigning group EU ProSun, established by integrated PV module manufacturer, SolarWorld, has condemned China and Chinese module manufacturers for causing SolarWorld to make 500 'temporary' workers redundant at its manufacturing plants in Germany.
Milan Nitzschke, President of EU ProSun and a VP of SolarWorld said: "The EU urgently needs to enforce its antidumping and circumvention rules because Chinese manufacturers are fudging and cheating to circumvent anti-dumping measures. Their aim is simply to increase sales in Europe by all means and to push competitors out of the market."
According to EU ProSun, Chinese module producers are 'flagrantly violating European customs regulations to maximize their exports to the EU.'
"We see a similar situation in the European solar sector as we have seen in the steel, aluminium and many other sectors; how companies in market economies suffer from misguided planning in the state-run economy of China. China is playing with Europe as though it were nothing but a ping-pong ball," added Nitzschke.
The renewed call to action comes after SolarWorld announced plans to lay off around 500 'temporary' designated workers, chiefly employed at its manufacturing facilities covering ingot/wafer, solar cell and module assembly.
Overcapacity has returned to the solar industry with a vengeance, despite expected strong growth in 2016.
According to ProSun, 'The Chinese government abruptly cut off local funding of domestic solar energy installations for the rest of the year, and as a result, large quantities of overproduction of solar modules are again being dumped at prices far below manufacturing costs into Europe.'
However, it has been well known that the rush to complete downstream PV power plant projects in China ahead of a FiT (feed-in tariff) reduction at the end of June caused a sudden and large pause in new project development.
Weak demand across Europe, notably caused by UK government policies, effectively ending support for ground mount projects and a drastic cut to the residential rooftop FiT has also contributed to module price declines and overcapacity.
Since the inception of anti-dumping duties in the US and subsequently within the EU, a number of major Chinese and Taiwanese PV manufacturers have established manufacturing plants in Malaysia, Thailand and Vietnam to circumvent the anti-dumping duties.
Modules made in these countries are not covered by US or EU anti-dumping duties. Therefore several manufacturers that have been ramping new facilities outside China and Taiwan since 2015 have recently exited the EU minimum import price (MIP) agreement and can ship modules from outside China and Taiwan into the EU at market prices.
The challenge has been that market prices are plummeting fast since the end of the second quarter on overcapacity fears.
According to ProSun, 'the Chinese government is actively encouraging further expansion and the construction of new solar factories funded by the state-owned banks. Existing Chinese production capacities are more than 30% greater than total global demand for solar PV products.'
ProSun's claims of state-owned bank funding of capacity expansions are difficult to substantiate and in certain cases some of the funding has come from stock issues such as integrated monocrystalline module producer LONGi Silicon Materials. Some of the funding for new facilities in Malaysia and Thailand has included local banks.
Also difficult to substantiate is the degree of overcapacity, not just in China but on a global level. A significant number of over 250 known module manufacturers that may or may not be in operation in China have little if any exports to the US or EU.
Major capacity expansions in China by LONGi and GCL System have yet to be completed and the majority of production has been for Chinese consumption to date.
However, 'Silicon Module Super League' SMSL members such as JinkoSolar, Trina Solar, JA Solar and Canadian Solar with expected nameplate capacities by the end of 2016, with each company in the 6GW range, are the largest global suppliers along with Hanwha SolarOne. All these companies have major manufacturing operations outside China.
It is therefore hard to understand how the EU can enforce its anti-dumping and circumvention rules when many Chinese producers do not ship to the EU and key Chinese suppliers produce outside China.