The PV industry roadmap – and related metrics of technology and bankability – are now being driven by leading module supplier, JinkoSolar, with others seeking to replicate Jinko's product line options, trying to differentiate in markets that are receptive to low-cost alternatives, or focusing only on rooftop markets where volumes are lower and sales/distribution efforts are more intensive.
That a leading industry supplier should be setting trends for others to follow may seem rather obvious, but this is the first time it has happened in the PV industry. In previous growth phases, groups of companies sought to maintain a status-quo approach to technology-change, or put so much effort into being number-one for shipments that fiscal diligence was overlooked and came back to hit cash-flows and ongoing business concerns.
The article explains how the current landscape – in which one company is not only dominating supply volumes, but also driving the technology roadmap of the industry – has come about, what this means for global technology and supply offerings for the next 12-18 months, and what other companies are having to do in order to remain competitive going into 2021.
The data and analysis shown is taken from the most recent (June 2019) release of the PV Manufacturing & Technology Quarterly report. The topics and scope of the discussion is also shown to be integral to the forthcoming PV ModuleTech 2019 event in Penang, Malaysia on 22-23 October 2019.
The article also addresses some of the key issues impacting the industry during 2019, including module bankability, bifacial supply, and issues that are ultimately holding back n-type share-growth in the industry today.
JinkoSolar's multi-to-mono transition close to being complete
There have always been companies in the PV industry that chose to focus on using only mono wafers (either n-type or p-type), either through cell technology selection (HJT or IBC), or as part of a rooftop-only niche product offering to the market.
In recent years, LONGi Solar moved from being a mono ingot/wafer maker to having multi-GW cell/module capacity, and sought to create a brand image whereby mono-only was the strategy, matched with a long-term expansion roadmap that remains loyal to its mono dedication.
However, until a few years ago, multicrystalline ruled PV, with market-share levels of more than 70% typically, and even higher when filtering out non-rooftop and non-China based deployment. In fact, all the module supply leaders of the past decade (with the exception of First Solar) were multi-advocates, and saw ongoing market-leadership status being sustained by the technology type.
JinkoSolar was the first market-leader that got to number-one status (on the back of being one of the me-too multi panel suppliers), and then moved from supply-leader by volume to technology trendsetter. This is something that companies such as Sharp, Suntech, Trina Solar, Yingli Green did not achieve, in part due to erroneous investment decisions but also because the climate for technology-change was not a recognized concept within the industry then.
Indeed, while each of Sharp, Suntech, Trina and Yingli has various forms of backward integrated capacity (mainly across ingots and wafers), there was certainly no plan to collectively change all stages in order to have a new type of ingot-to-module capacity base feeding through to higher specification module supply. This is one of the things that differentiates JinkoSolar, as will be discussed in more detail below.
First, let's look at JinkoSolar's in-house cell technology changes, and compare to the industry as a whole (actual cell production). This is best done by looking at the seven-year period from 2013 to 2019, splitting out technology by c-Si/thin-film, p-type/n-type, and Al-BSF/passivation process flow variants. In the graph below Standard is Al-BSF, and Advanced is PERC.
It should be noted that while there are many other technology variants promoted by different module suppliers (half-cut cells, shingled-arrangements, bifacial, etc.), the basic cell types used for all modules should still be grouped (process-flow mandated) into the three simple segmentations outlined before.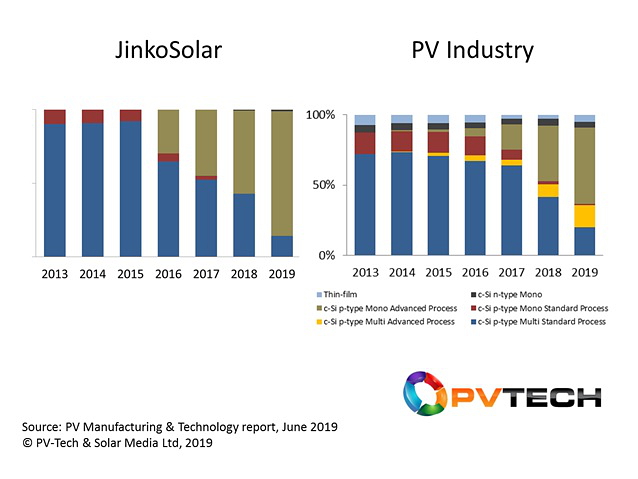 The key issue from Jinko's perspective was to make the multi-to-mono move as soon as it became clear that mono ingot production was becoming a China-based commoditization, and no longer a capacity-constrained and cost-limited low-throughput offshoot of modified semiconductor pullers using equipment made in Germany or Japan.
As soon as LONGi established its first few gigawatts of made-in-China ingot pulling capacity, the dye was cast. This was made even more evident when Zhonghuan joined in and the two companies here set up multi-GW per-annum mono puller additions, almost irrespective of what was happening in the market, with pricing or non-p-type-mono cell proponent. (It almost seems that, like the country as a whole, both companies had a 5-year plan that was not for changing.)
For every c-Si cell maker, either you could sit back and watch the technology-revolution happen (which most did) and enjoy periods when wafer pricing was attractive, or decide to be a front-runner by making the necessary move to mono.
Those that decided to change cell lines (and by default have more mono module supply options), through moving to mono-PERC and having a route today to being competitive in 2020 with bifacial mono-PERC, have been fully vindicated. However, this alone is not enough, and can be seen still as reactive in nature.
The problem with companies that made multi-to-mono moves (or indeed almost every company that made investments into n-type cell lines in the past few years) is that they are completely beholden to LONGi and Zhonghuan when it comes to wafer supply.
Many still view China-solar majors (especially those making polysilicon/wafers) as being somewhat cartel-like (different corporate entities collectively plotting what the landscape looks like to the benefit of one another): therefore, if you want to be a global module supplier and have control over your full cost structure, you cannot have something as important as wafer supply/cost/quality being outside your direct control.
Today, almost every mono-based module supplier is in this predicament. In fact, things get more complicated when the main mono-wafer supplier is itself a company seeking to be a leading global module supplier. When this set of conditions applies, normally there is not a happy outcome for all parties concerned.
Perhaps more relevant then to being a technology-leader is putting in place a c-Si value-chain (ingot-to-module) that is low-cost, high-efficiency mono-based, and this is what JinkoSolar has done in the past few years, and is the only company to make this move. The graphic below shows metrics supporting these changes for JinkoSolar, with Jinko moving towards 100% in-house mono wafer supply during 2020. As part of having a fully-controlled in-house manufacturing supply-chain, this move is highly significant, and allows Jinko to have control over issues such as wafer quality, size (dimensions), thickness and (most importantly) cost/price.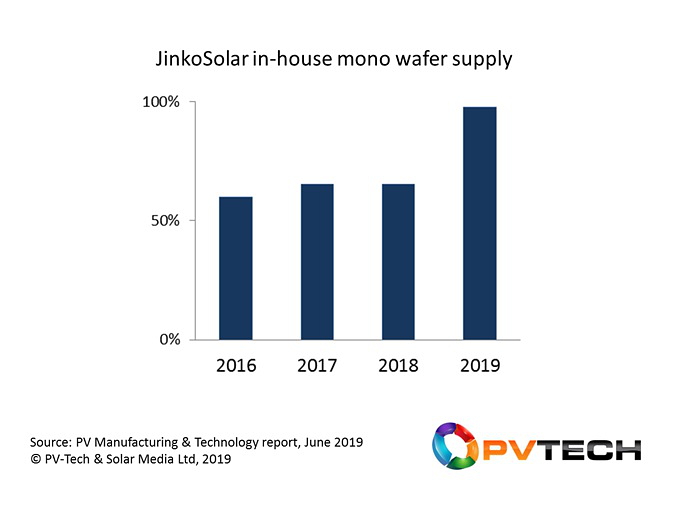 Other factors to be a leading bankable utility-scale supplier
Until now, within this article, I have not mentioned anything to do with capacity-location (origin-of-manufacture), sales/marketing channels globally, or having the foresight of wisdom to diversify supply allocations to avoid the perils of being locked into a short-term bonanza occurring on your doorstep.
Now let's explain these, and show that being a supply and technology leader in the PV industry needs to have the above issues in place and working effectively.
Manufacturing capacity location is the single most critical factor for any Chinese module supplier, in terms of being able to deal with any tariff-related issue that is at play today, or may happen in the future. Simply put, having China-only cell/module capacity (ingot/wafer is not relevant) is a fundamental roadblock in terms of being a global module supplier. There are options of course, in terms of supplying to China and other made-in-China open markets, as shown most aptly today through the strategy of Risen Energy. Otherwise, Chinese-based companies are left to be part-producers and part third-party customers of the Southeast Asia OEM engine.
It is no coincidence that Jinko, and JA Solar and Canadian Solar in particular, have been at the forefront of Southeast Asia owned cell/module facilities, with Jinko being the only company to have a specific cell-and-module owned strategy (as opposed to still relying on OEM cell or module supply channels, or focusing mainly on either cell or module capacity overseas).
Sales/marketing acumen is directly related to having a successful diversified module channel outlet that allows strong market-share allocations to be achieved in every key utility-scale region of the PV industry. Historically, this has been one of the hardest challenges for all Asian-based module suppliers, not just Chinese.
Being brand-recognized globally (especially for non-residential PV deployment) is something that most Japanese and Korean companies (with the exception of Hanwha Q-CELLS) largely failed to achieve, and only a small number of Chinese companies have come close also.
Only Trina Solar, Canadian Solar, JA Solar and JinkoSolar have managed this, with Jinko and Canadian today being the front-runners. Others are left to win business (at least for major utility-scale projects) by aligning with parent-owned project-financing (such as Jetion), putting cash up-front with local JV partners or funding vehicles (such as BYD and GCL-SI for example), or playing in cut-throat markets that most wish to avoid at all costs (such as India).
While every Chinese module company has spoken about wanting to be a global player, and seen as a quality supplier while investing heavily in technology, only four companies have managed this: Jinko, JA Solar, Canadian and Trina.
However, only Jinko has taken this to a non-Chinese based extreme, by basically setting out a goal a few years ago to get Chinese market shipments to single-digit percentage levels at all costs. China has over 100 module suppliers today that have no option but to sell domestically; this is not a good market to be reliant on while global-stage credibility is the ultimate goal.
Does Jinko now hold to key to n-type as a viable contender?
Following through the rationale that the leading module supplier is the technology trend-setter today, it would therefore make sense that any major changes to module technology type would be driven mainly by this company.
This frames nicely the dilemma within the industry over the past few years, where we have companies with limited market-share, heritage in manufacturing, and global strategies being the ones advocating the not-insignificant move from p-type to n-type as a mainstream contender.
The parallels to the a-Si/uc-Si and CIS/CIGS investments a decade ago are evident, with many of the companies announcing n-type investments (this time largely China based) have little or no in-house expertise, and are relying almost entirely on know-how of equipment suppliers. The China example for n-type is even more precarious when the equipment suppliers of choice are themselves China located.
Similar to a-Si/uc-Si and CIS/CIGS thin-film variants, there is no doubt that n-type cells can be made in mass production and high-volume. The problem though is not one of efficiency potential (as it was in part for a-Si and CIGS), but cost and ease-of-manufacture. Indeed, the question of in-house technology-ownership is now more pronounced than ever before in the PV industry; a fact made clear by Jinko's move to have in-house control of ingot/wafer and cell technology leadership and not dependent on third-party wafer or cell suppliers.
If n-type is to challenge p-type for non-residential/small-rooftop applications, then a global market-share leader has to prioritize the change; this is not happening today other than marketing-related press releases to convey R&D profiles to the outside world.
It may simply be the case that, if Jinko and others (JA Solar, Canadian, LONGi) choose to ignore n-type, and focus purely on a continued efficiency/cost roadmap for p-type mono PERC bifacial variants, then n-type ends up moving from niche (today) to firmly-on-the-backburner (next 2-3 years).
In contrast to previous thin-film differentiated investments of the past however, n-type cannot be discounted, as it still offers the only route to higher cell efficiencies. But the best technology is not necessarily the market champion (think Betamax and VHS video recorder analogy here).
PV deployment is an LCOE/return-on-investment based proposition, and module costs are now a small part of site capex with other factors (mono-facial versus bifacial) way more important today compared to p-type or n-type module offerings. End-markets are being created on a subsidy-free basis also, without the requirement to make any radical technology-driven change in GW-scale manufacturing plants. GW-scale module suppliers are also trying to navigate still-changing trade-based conditions, while holding gross-margins at acceptable double-digit levels.
Logic would therefore support the continued focus on p-type, and this is what we are seeing today. However, if Jinko (or one or two of the other top-5 module suppliers) were to change plans, things would move very quickly as others rushed to stay competitive. But with scales of manufacturing now at the 10GW-level, the barrier-to-entry from any disruptive offering is way higher than it was in the days when GW-scale was the de-facto measure of global supply leadership.
Anyone needing to know exactly what is really happening in technology today – across the top-100 leading global module suppliers – can access this in PV-Tech's PV Manufacturing & Technology Quarterly report, though this link.
Ranking bankable module suppliers must have a robust ranking metric system
The evolution of the PV industry in 2018/2019 is also highlighting some other major gaps in bankable module supply for investor-driven projects. These type of projects are now the driving force of PV (utility-solar), but the industry is still using rather misleading metrics to rank module suppliers as credible and reliable.
Many companies are still using Tier-1 lists. However, there are typically 35-40 companies 'claiming' to be 'Tier-1-status'. But, for utility projects globally, there are rarely no more than 10 companies (max.) ever considered as bankable. So something is not quite right here it would seem.
Essentially, the Tier-1 lists use quantitative judgements based on somewhat tentative qualifiers, and often lack any systematic methodology that is explained clearly to the industry as whole. Indeed, some Tier-1 lists show the companies by some sort of manufacturing qualifier, such as Annual Module Capacity, often rounded to the nearest GW or 100MW band. Is this nameplate or effective, in-house used or OEM-assigned? Is this using in-house cells or outsourced? In fact, are the numbers even real?
At the forthcoming PV ModuleTech 2019 event in Penang, on 22-23 October 2019, researchers from PV-Tech will be outlining in a series of talks a new ranking methodology that will finally provide utility solar investors with a robust tracking system, upon which to make risk-free investments when choosing module supplier and technology-type deployed. More on this, on PV-Tech, in the coming months.
PV ModuleTech 2019: the must-attend event for global developers, EPCs and asset owners
During the past few years, PV ModuleTech has become firmly established as the leading global event to understand which module suppliers are going to be dominating the global utility-scale deployment stats over the next couple of years.
Only the leading module suppliers are on-stage outlining product availability, volumes on offer to different global regions, and the module technologies that are optimum for each market and site application. Supporting these talks are the leading module materials and equipment makers, providing key indicators for module assembly enhancements likely to flow into mass production next year and how these improvements will increase module performance, quality and reliability.
The other main company category of speakers comes from the important segment that includes factory auditors, independent engineers, and test/inspection/certification labs. The speakers here are often the ones that satisfy due-diligence needs of investors.
In addition to the request from many of the past attendees for a new and robust module supplier/technology ranking system, the other big request for PV ModuleTech this year is to have more detailed presentations and discussions on bifacial modules. Bifacial modules are not a novelty offering anymore, and there is a strong need now for a fully commercial-oriented discussion platform, as opposed to the research-institute led forums that were important to introduce the basics to the industry as a whole.
There are still many ways to participate in PV ModuleTech 2019; please get in touch with us using the contact information at the link here.