At the inaugural PV ModuleTech 2017 in Kuala Lumpur, it became clear that PERC (Passivated Emitter Rear Cell) module technology is fast becoming the industry standard and bifacial modules are no longer seen as a niche product, however, both technologies were scrutinised from the perspective of bankability and quality assurance studies throughout the event.
The words 'PERC' and 'bifacial' were repeated multiple times during the two days in Malaysia, reflecting a steady shift in industry focus.
There is a need for advanced testing of these emerging technologies to allow investors, developers and EPCs to get to grips with the real advantages and risks. Finlay Colville, head of market research at Solar Media, said that until recently the PV module technology had not significantly changed for a number of years and he still speaks to developers who don't know of anything beyond standard 260W multicrystalline aluminium BSF (Back Sise Field) modules, which they have deployed in huge numbers. However, these players are now beginning to ask how bifacial modules and PERC can benefit them. For this, they require clear data and assurance from both manufacturers and the range of third-party bodies examining these new technologies.
For example, when it comes to PERC, developers have to grapple not just with light-induced degradation (LID), but with light and elevated Temperatures Induced Degradation (LeTID) which can occur in multi and mono p-type PERC modules. A number of presentations covered the LeTID issue in depth. For example, a Hanwha Q CELLS study found that LeTID could hit performance over three years by up to 8% (Cyprus) and 3% (Germany).
Lab vs outdoors
There is also a tension between 'real world' data, achieved through outdoor testing over months and years, versus experiments in the lab. The suitability of accelerated conditions testing was a hot topic, and as PV Tech reported from day one of the conference, a representative from one of the world's largest developers stressed that financiers, who really drive project development, are looking for more than five years of field data. Thus in the absence of this field data, manufacturers with new technologies need to carry out as many multiple tests, assurances and simulations with independent parties as possible to give the finance community confidence.
Jenya Meydbray, VP of solar technology at Cypress Creek Renewables, a US-based company that has developed more than 5GW of solar projects, said: "We are very open to new technology […] and we are willing to take risks on 2MW of new stuff to start getting field experience with it, but the manufacturer probably has to participate in some way depending on what the specific risk is."
Throughout PV ModuleTech, presentations showed a number of different testing methods, ranging from temperature tests to First Solar demonstrating the effects of dropping a hand tool from a height of one metre onto various module architectures.

25 years
Having visibility and traceability of one's bill of materials (BOM) was also in the spotlight. One of the key takeaways was that the entire value chain needs to come together to ensure quality and reliability. For example, Lou Trippel, vice president, product management at First Solar, said that module manufacturers tend to be the first stakeholder called up and blamed when a PV project starts to underperform. He then showed a number of images including mounting structures broken to the point where modules were engulfed in flooding and even a picture of a bush growing freely on top of a solar array.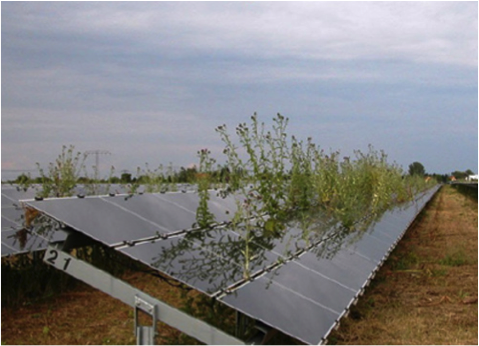 These were extreme examples, but the point made was that the EPC players, installers and operators have just as much responsibility in ensuring a successful project for 25 years. This was indeed one of the aims of PV ModuleTech 2017, to bring together all players across the value chain to learn about the requirments of each party. It was also a platform for those in the middle ground, the third-party testers, engineers representing banks, and quality assurance houses to show how they test, what they look for, and how emerging module technologies are performing in simulation at present.
Colville added: "Variation in quality control is massive."
Frederic Dross of DNV GL also noted an "asymmetry of information" out in the market which can create mistrust, hence the need for the middlemen to provide unbiased data.
One of the values of PV ModuleTech was indeed that it had manufacturers, buyers and independent assessors all under one roof with the ability to scrutinise the new module technologies that are deemed most likely to go mainstream in the near future.
Bankability vs new tech
Delegates did raise concern about whether some of the testing regimes were not conducive to progressing innovation into the mainstream.
George Touloupas, Clean Energy Associates, asked: "Is bankability an instrument to block the introduction of new technologies into large deployment, maybe not by intention but by effect, and if it is not, how can a new technology get through this filter."
Ralph Romero, senior managing director at Black & Veatch, said that his firm, for example, works with start-ups and new entrants at an early stage offering workshops to identify as early as possible what requirements they will need in order to pass these bankability studies. They unpick the nuances of the independent assessment and then develop a roadmap to be successful from a bankability viewpoint.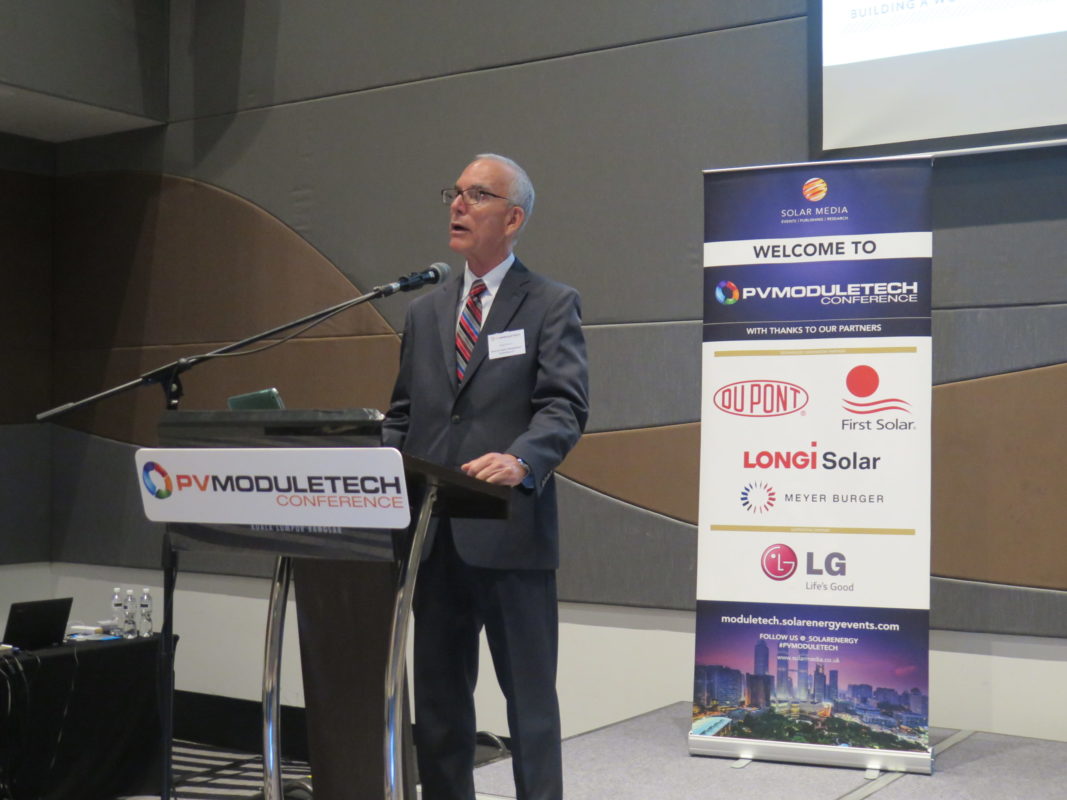 PERC PERC PERC
Adding to the general perception that PERC is becoming standard, Zhu Qiangzhong of LONGi Solar said: "We think that the PERC and bi-PERC is coming. […] By 2020 modules with mono-cells will take up half of the whole capacity and most of the modules will be PERC."
'Bifacial believers'
Many different claims were made about the possible energy yield improvements brought about by bifacial modules. Concerns that there needs to be a more standardised figure to help the industry compare bifacial with monofacial modules were brushed aside given the huge range of factors that affect bifacial performance, including height of installation and the albedo of the ground surface.
We heard several times that bifacial modules combined with trackers was a highly successful solution, providing significant boosts to module and plant yields. The industry has wondered for sometime whether trackers could add actually add value to bifacial modules given the importance of reflections hitting the backside of the modules.
Lim Cheong Boon of Trina Solar said: "Bifacial plus tracker is a win win combination for our customers."
Similarly, Radovan Kopecek of ISC Konstanz said that bifacial with trackers could give even more than 40% advantages to the system.
However, Colville added the caveat that EPCs and developers need to prepare for a significant change in project layout.
He said: "You have to completely rethink the way you've been designing solar parks for the last five years. There's those that are about to do that very quickly and understand all the factors and those that are just going to be literally caught at a certain point two years, 18 months down the line not even knowing what's coming round the corner."
India
PV ModuleTech closed with presentations from Indian manufacturers Adani and Indosolar, offering a new way of perceiving cell and module production in India. They presented the transition from 'Make in India' to 'Made in India', offering up the idea of India's manufacturers possibly having a new strength in exporting, particularly with some of the trade cases looming worldwide, with Section 201 in the US and anti-dumping investigations in India.
Offering a downstream perspective on the Indian solar market, Colville added: "India is probably the most stable long-term growth market I've ever seen in the solar industry and that's because it is a prime minister who wants it to happen, genuinely wants it to happen. and there's a need almost more than anywhere else in the world. It's a question of the rate of deployment and infrastructure and so on."
Biggest Investor concerns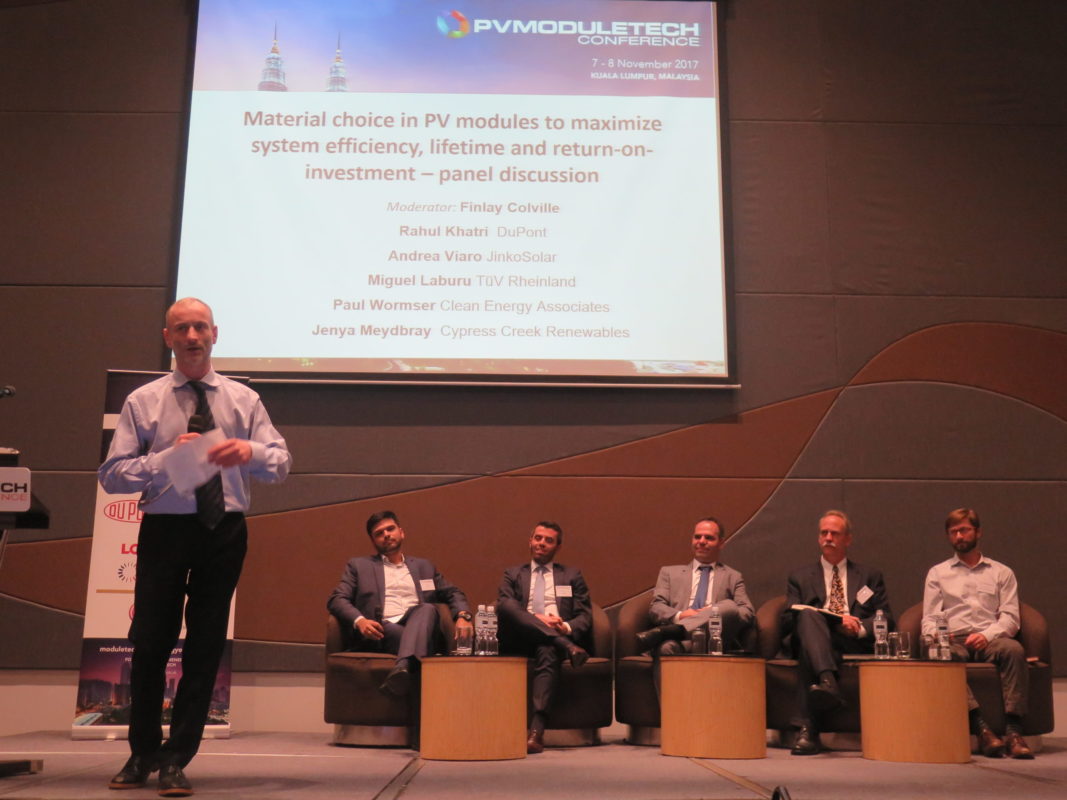 To wrap up a panel discussion on lifetime and return-on-investment, Colville asked what the speakers felt was the biggest concern aired by investors:
Rahul Khatri, technical specialist at E.I. DuPont India, said: "The biggest concern we have heard in India is whether the plant would work for 25 years or maybe 20 years and secondly is the kind of risks that are not controlled in terms of Distribution company reliability, whether they will pay you on time."
Andrea Viaro, head of technical service, EU, JinkoSolar, said: "Reliability. The fact that the normal IEC standards evaluate very well the infant mortality of modules but there is no way to practically estimate a 20 years' lifetime of modules. From the customers point of view would be nice to have a reliable estimation of the real performance of the modules in the very long term."
Miguel Laburu, business field manager, TÜV Rheinland Singapore, said: "Banks and investors; what they are looking for is reduced uncertainty so they can really calculate what is the actual performance of the power plant in 25 years so they can really bring back to investors or to the owner of the pension fund what they have promised."
Paul Wormser, vice president of client solutions at CEA, said: "Today it's Trump and that could have implications that go well beyond the US market, and I think in 25 years, it's going to be how do I decommission this?"
Jenya Meydbray, VP of solar technology at Cypress Creek Renewables, said: "It's risk, in that of all the things, reliability, performance, there's never going to be a happy area where we're comfortable even with aluminium BSF 72-cell poly with SMA central inverters and fixed tilt racking and a plain vanilla system. If it's plain vanilla then all the developers are going to get more aggressive with what they are trying to push. There's always going to be a natural tension between the developers pushing and what the banks are willing to accept."