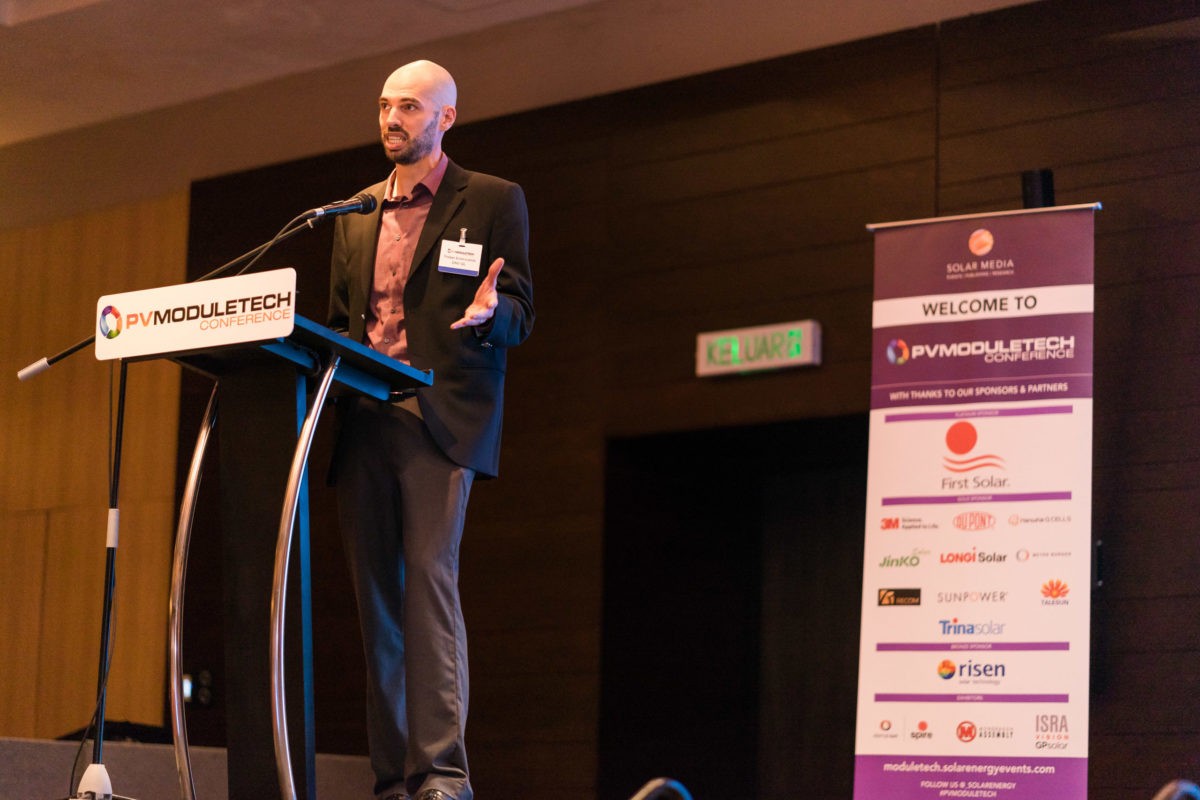 PV Tech caught up with Tristan Erion-Lorico, Head of PV Module Business, Laboratory Services, at quality assurance and risk management company, DNV GL, to discuss extended testing of bifacial modules and third-party, outdoor trials using single-axis trackers on 1500V.
At the PV ModuleTech conference you talked about the importance of making bifacial technology bankable. In what way is DNV-GL working on this?
Tristan Erion-Lorico: First off, we run the DNV GL module Product Qualification Program (PQP), which is a series of extended reliability and performance tests used to see how a module performs. We've seen today that module warranties have some faults, and that IEC and UL testing and certification are not sufficient for the full 25-year lifetime of a module, so we are taking some of those tests and reworking or extending them to try to get something more representative of the long lifetime of the module that investors and developers are expecting.
We work directly with the module purchasing community, banks and developers – small and large – as well as the EPCs, and we ask them what they need to help them de-risk their module purchases. From that we created the PQP. When manufacturers sign up their products get tested and the reports are shared with the downstream to help distinguish high quality bills of material (BOM) versus lesser quality ones. We already have more than 300 downstream partners worldwide that are freely taking advantage of the PQP to make data-driven purchasing decisions. They can then specify a tried and tested BOM in their module purchasing agreement.
We have started PQP projects on bifacial modules this year, the results of which will help manufacturers show the reliability of these new products.
How do you expect the PQP to evolve in the future, particularly with the arrival of new technologies?
We are working with the downstream and finding out what issues are most concerning to them and then collaborating with universities and research institutions to help determine what tests will address those issues. For example we are looking at Light and elevated Temperature Induced Degradation (LeTID) testing, which is a fairly hot topic. There's no standard test out there that's acting as a gate to determine if modules are susceptible to LeTID or not so we are doing some experiments to determine what a test like that would look like and then implementing that into our next version of the PQP coming up in 2019.
There is a lot of talk from the IEC working groups on LeTID but the standards process is slow. If this new test is not part of the certification tests for many years, that's perhaps doing a disservice to the industry and the banks and developers. They need to know if the modules they are buying are LeTID susceptible so we are looking at having a test that will help determine that.
Do you have any advice for developers who might be deploying right now in areas where LeTID is expected to be a bigger issue?
Part of it is risk tolerance. It's a potential issue with PERC and advanced cells, so it could apply to bifacial cells of certain designs, but it's apparently not an issue with BSF cells, so if developers are risk-averse they will probably hold off on those newer cell types. For now they can start by at least talking to manufacturers and saying: "I've heard of this LeTID issue, how are you testing it?" We've seen some manufacturers at this conference show how they are doing LeTID testing and how are they controlling it in their cell production lines to see that it's not an issue. That's a good first step.
Starting in 2019, many module purchasers will start saying that they don't want to purchase modules that weren't tested by DNV GL to determine LeTID susceptibility.
You also mentioned DNV GL's outdoor bifacial study. How are you setting that up?
We asked the downstream players what their system design would look like if they deployed bifacial modules and they gave us some different criteria, but the common elements were single-axis trackers at 1500V and they wanted a low ground coverage ratio (GCR). They also wanted us to look at different albedos.
So we are putting together a year-long test based on that feedback. It's at our outdoor lab at PVUSA, which is one of the oldest outdoor test labs for PV modules. We are using single-axis trackers at 0.35 GCR across two different albedos. It will feature four different module manufacturers comparing their monofacial products and their bifacial products with each other.
We are using trackers from NEXTracker and modules from LONGi, Astronergy, Hanwha and Trina. We are also looking at having four more module designs/manufacturers participate with a smaller number of samples. Those will be announced shortly.
Similar tests are being carried out by developers and tracker manufacturers at huge 100MW+ sites, where they are adding a small block of bifacial to conduct their own tests, but then keeping that data internal, because it's a competitive advantage for them. I believe this is the first test of its kind at 1500V at an independent lab, where the data will be shared with the industry to help determine the bankable bifacial gains.
We have also recently been awarded with a DOE grant to extend this outdoor study to bifacial energy modelling validation. We will be using PVsyst and other simulation software and comparing the modelled energy with our outdoor results. This will provide the industry with more confidence that the models are accurate for bifacial sites.