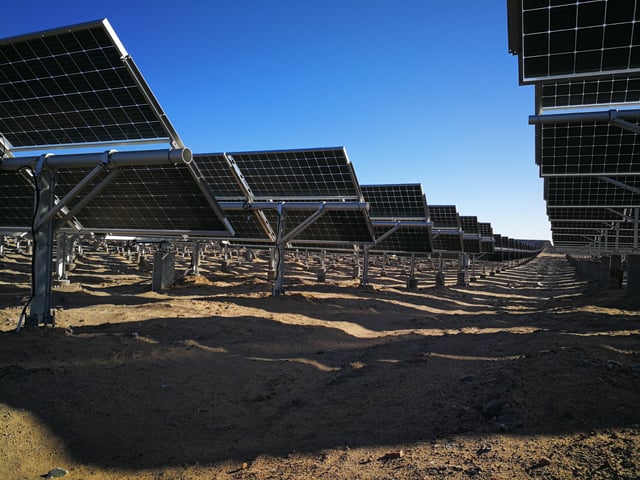 PV-Tech will reveal all PV module suppliers with PV ModuleTech Bankability Ratings in the 'A' and 'B' classes (premium and second-tier rating categories) at the forthcoming PV ModuleTech 2019 meeting in Penang, Malaysia on 22-23 October 2019, in addition to the Bankability Ratings of almost all companies included today on the numerous tier-1-type lists that routinely get cited on social media platforms.
In particular, the PV ModuleTech 2019 event – featuring a 45-minute opening talk I will deliver – will show the ratings of the 14 module suppliers that score PV ModuleTech Bankability Ratings of AA, A, BBB, BB, and B. (Recall that there are no PV module suppliers, per the current Q3'19 ratings release, that achieve the highest AAA-Rating score.)
The PV ModuleTech conferences have become a key part of the industry's events calendar, during the past few years. The focus has always been on identifying module quality, reliability and performance metrics, specifically for the benefit of downstream stakeholders such as developers, EPCs and investors. Most leading global utility-scale modules suppliers attend the event each year and deliver technical-led presentations; almost all credible global third-party due-diligence related companies also have high profile participation.
The forthcoming event – on 22-23 October 2019 in Penang – will see the PV ModuleTech conference take on an even greater role within the PV industry now, as the go-to forum to understand what makes a company AA-Rated today, and why so few other module suppliers score in the second-tier 'B' grade categories.
This article outlines why attending PV ModuleTech 2019 could be among the two most useful days of travel you are likely to make over the next 12 months, especially if you are pondering how to maximize investment returns by aligning with the most bankable PV module supplier for your new-build site(s) in 2020.
The new benchmarking tool for developers, EPCs and investors
One of the main reasons for explaining in detail the factors that contribute to the overall PV ModuleTech Bankability scores and ratings, was to be as transparent as possible in terms of the model built up by the PV-Tech market research team. It also afforded the opportunity to illustrate the many positive validation steps that were undertaken to show alignment with module supplier activity now, and at any point in the past.
In fact, the reason I divided up the explanation into six articles on PV-Tech was to show that each individual term (supply/shipment, capacity, technology, manufacturing, finance and bankability) was in itself a useful means of benchmarking companies to see their respective strengths and weaknesses.
For example, why a PV module supplier has a rating of CCC may be due to several factors, such as low shipment volumes, poor financial stability, or in part a combination of both. Therefore, when doing benchmarking of like-for-like rated module suppliers, it is extremely useful to be able to benchmark each of the factors making up the overall bankability score/rating.
Indeed, this type of peer-to-peer benchmarking facility is now embedded in the overall PV ModuleTech Bankability output analysis. And since the entire ratings systems is quantifiable numbers-driven, one can easily set input conditions to compare many different facets of competitive module suppliers. I will explain this now briefly, with some examples and graphics.
Last week, I revealed during a series of PV-Tech webinars the four companies that were the clear top-performing PV ModuleTech Bankability AA-Rated module suppliers: JinkoSolar, Canadian Solar, First Solar and LONGi Solar.
Let's assume now that a bank/lender decides to short-list this select group of PV module suppliers for a forthcoming 400MW project somewhere in the world. Aside from then calling upon third-party bodies to undertake factory audits, reliability tests or certification studies, wouldn't it be great if one could start to compare the strengths and weaknesses of these four AA-Rated module suppliers for any of the six key bankability factors, either now or any quarter going back several years?
Visual representation is key here, and in this context, we have developed a number of gauge charts (better known as speedometers) where one can input any module supplier names, choose the parameter to compare, and then pull down any quarter (from end Q2'19, going back several years) or year-end as a timeline.
The first example here shows two of the AA-Rated modules suppliers, comparing just their Financial Scores (F) for Q2'19: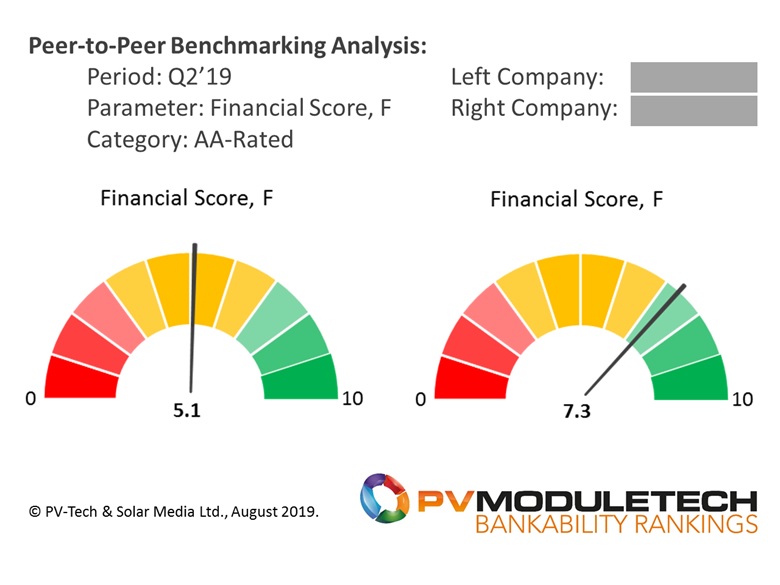 And here is one further gauge-chart representation, comparing two of the A-Rated module suppliers (with the period of comparison set to Q4'18 purely as an example). Similar to above, I have anonymized the company names, although revealing them now would in fact be simply fascinating!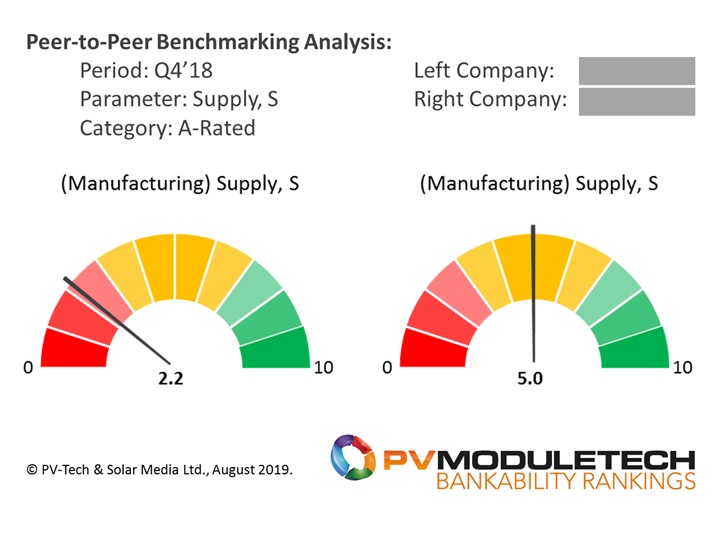 One further type of peer benchmarking can be done by looking at the performance metrics for an individual company, and comparing to best-performer and averages from within a peer group.
This turns out to be another highly visual aid, as it allows individual company comparison to a chosen peer group. One such example is shown below now.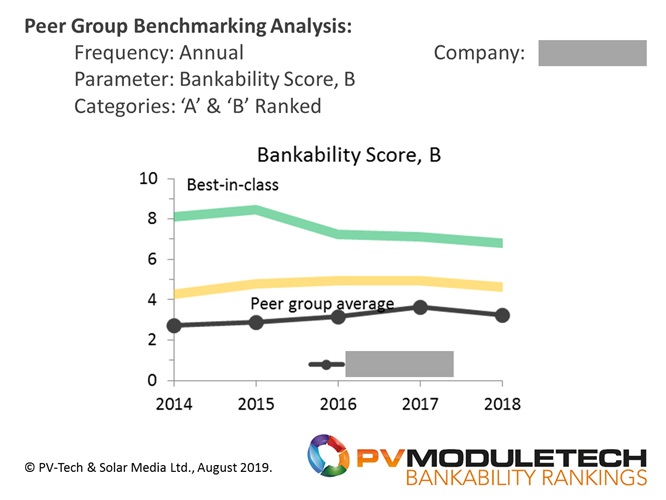 During the PV ModuleTech 2019 meeting, I will be showing various graphics like this, during my talk; also, if time permits, I should be able to do interactive peer-to-peer visualizations live on stage, based on audience requests.
Ultimately of course, the key is being able to look at any of the graphics, and know intuitively that this is what has been observed in the market in the past and is occurring today – and explaining why. This involves knowing a great deal about the operations of different module suppliers (tactically and strategically) across technology, manufacturing, shipment and key ratios from each company's audited accounts.
One of the most interesting types of peer-to-peer benchmarking occurs when looking at current market-leaders (2018/2019) with those from a few years ago (2013/2014) and working out where the new market leaders have excelled and where the former ones have underperformed leading to their ultimate demise. It allows us to get an idea which companies are potentially making the same mistakes as those before, almost in real time.
Other key companies and speakers at PV ModuleTech 2019
The latest agenda for the forthcoming PV ModuleTech 2019 event in Penang, Malaysia on 22-23 October 2019, can be downloaded here.
The topics and speakers can be seen to complete the wish-list for bankability assessment and due-diligence for all developers, EPCs and asset owners that demand the highest visibility when deciding module suppliers to short-list for large-scale solar deployment over the next few years.
Interestingly, during the first day of PV ModuleTech 2019, three of the four AA-Rated PV module suppliers will be speaking: First Solar, LONGi Solar and JinkoSolar.
A number of other module suppliers – each seeking to be in the same category at our exclusive AA-Rated grouping – are also speaking over the two days, including: Risen Energy, Talesun, Q CELLS, Jinergy and Seraphim. Each of these is also a multi-GW module supplier with strong global deployment footprint or aspirations.
The other major category speaking at the event is coming from the third-party auditors, certification bodies, reliability test labs, and test/inspection companies. The list here covers almost all aspects of third-party due-diligence: Clean Energy Associates, STS, PV Evolution Labs (PVEL), RETC, PI Berlin, and Kiwa Asia.
Other leading bankable module suppliers, and third-party agencies, will be revealed in the coming weeks, leading up to the event in Penang on 22-23 October 2019.
For those looking to learn which 14 companies have 'A' and 'B' class ratings today – and where all the other so-called tier-1 labelled companies rank – information on how to attend PV ModuleTech 2019 can be found here.
Next up on the PV ModuleTech 2019 Bankability analysis on PV-Tech
Next week, I will provide greater clarity on one of the most common questions I got following the webinars last week on PV-Tech: how do you assess companies that are not public?
I had been fully expecting this question, but wanted to keep the explanation separate from the original series of articles I wrote on PV-Tech over the past few weeks.
This took a great deal of time to find an accurate and validated process, and involved a huge deal of number-crunching and sanity-checking; looking at methods others had proposed in the past from a sector-agnostic standpoint; seeking a methodology that can actually be used and does not require the (impossible) task of any private company (anywhere in the world) willingly sending over their audited accounts at any point in asking at any given current quarter!
I will outline the approach next week in full detail and show that it is possible to get to +/- 15% accuracy from a benchmarking perspective, when seeking to rank both public and privately held PV module suppliers today, using just a few numbers from across income statements and balance-sheets.
For those that emailed me or contacted me through social media platforms after the webinar, this is my belated reply-to-all now! And to most others' next question: no, the analysis was not specific to public-listed companies. It just turns out that the only four AA-Rated firms are public-listed, which may or may not offer any conclusions of worth!