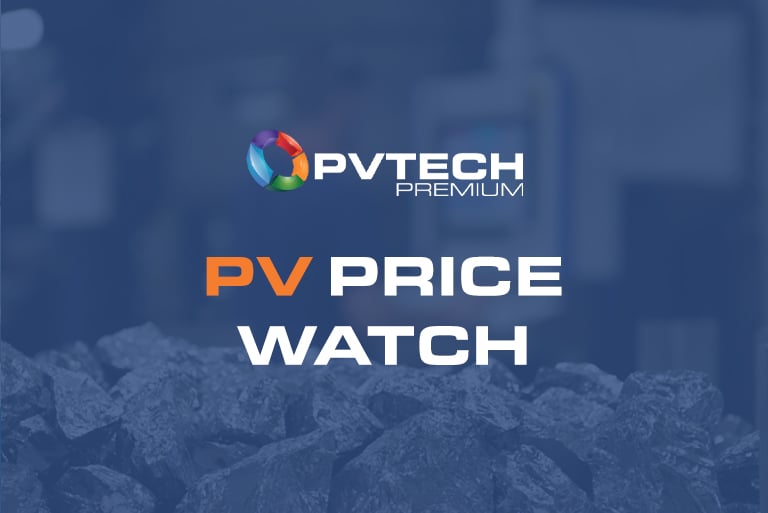 Bank of China Securities has issued a research report which stated that the PV industry chain price has stopped rising and may even drop in the future.
Since the end of the Chinese new year holiday, the spot quotation of silicon material has continued to rise sharply. According to InfoLink Consulting, some mono-dense poly manufacturers quoted as high as RMB240-260/kg (US$34.59-37.47), with an average price of about RMB230/kg. There were several reasons for the phenomenon, including the recovery of activation in silicon wafer link that increased the demand for raw materials, and some manufacturers kept quotations at a high level as they were reluctant to sell.
As of 22 February, top silicon material companies were more willing to sign orders and clear inventory. Therefore, hesitation in selling at an early stage gradually weakened, causing the prices to start declining. Mainstream quotations came to the range of RMB200-230/kg.
According to data from the Silicon Industry Branch, China's mono-recharging chip price ranged between RMB222-248/kg, with an average price of RMB242/kg, and the week-on-week fluctuation remained unchanged. Mono-dense poly ranged between RMB220-246/kg, with the average transaction price at RMB240/kg, and the week-on-week fluctuation remained flat.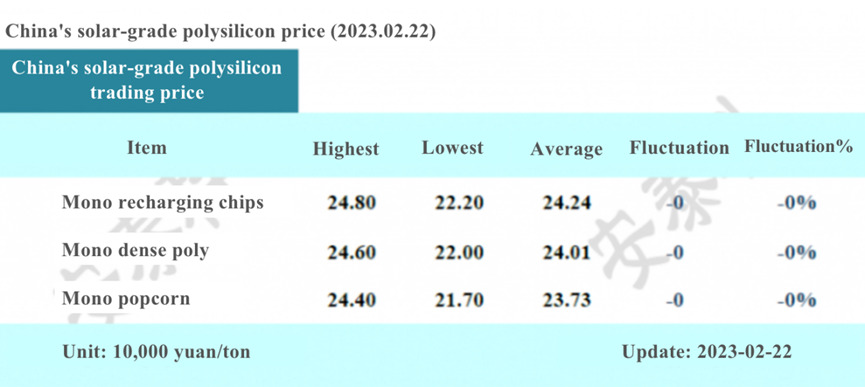 Price monitoring from the Silicon Industry Branch showed that the silicon wafer price rose slightly as of 23 February. M10 mono wafer (182mm/150μm) was RMB6.22-6.25/piece, with an average transaction price increasing to RMB6.23/piece. The week-on-week fluctuation was 0.16%.
G12 mono wafer (210mm/150μm) was RMB8-8.2/piece, with an average transaction price remaining at RMB8.2/piece. The week-on-week fluctuation was flat.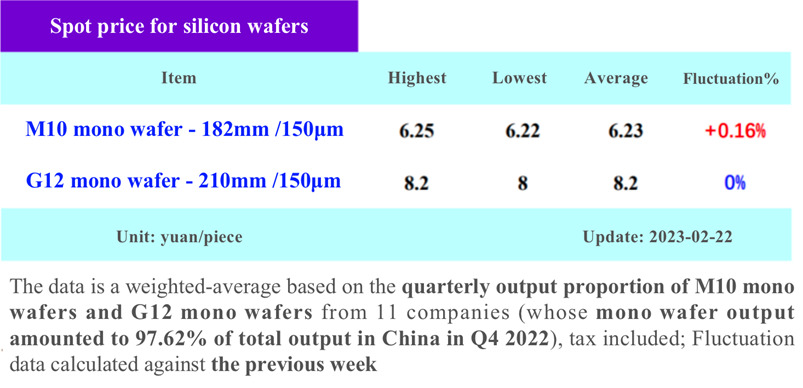 Cell prices continued to drop as mainstream quotations came down to RMB1.08/W, decreasing by 3.57% month-on-month. Module prices also began to fall but did not drop as significantly as upstream silicon material prices. At present, execution prices of signed orders remained between RMB1.7-1.75/W.
Bank of China Securities believed that with the outcome of periodical price combat in the silicon material link and the continuous release of new production capacity, silicon material prices would remain steady before a decline. Driven by the decreasing industrial chain prices, an increase in the internal rate of return of power plants will promote the further release of demand in the PV industry.
Supply of quartz sand remains tight, top suppliers are planning for price raise
The supply of quartz sand has been somewhat tight. Apart from several top players, wafer companies were affected by the limited supply, and quartz sand prices also continued to climb.
According to Shanghai Metals Market data, the current price of long-term inner-layer quartz orders was about RMB80,000-90,000/ton, and that of loose orders was about RMB120,000/ton with some traders offering RMB170,000/ton. In addition, China's leading suppliers planned to increase their high-purity quartz sand quotations in March significantly.
The agency said that the flexibility in the supply of quartz sand would not change the fact that it is in short supply, and the wafer link was expected to benefit from this situation throughout 2023 and profit beyond anticipation. In addition, differentiated supply guarantees would cause a cost gap, where companies with better security may be able to upscale their market share with price and cost advantages.