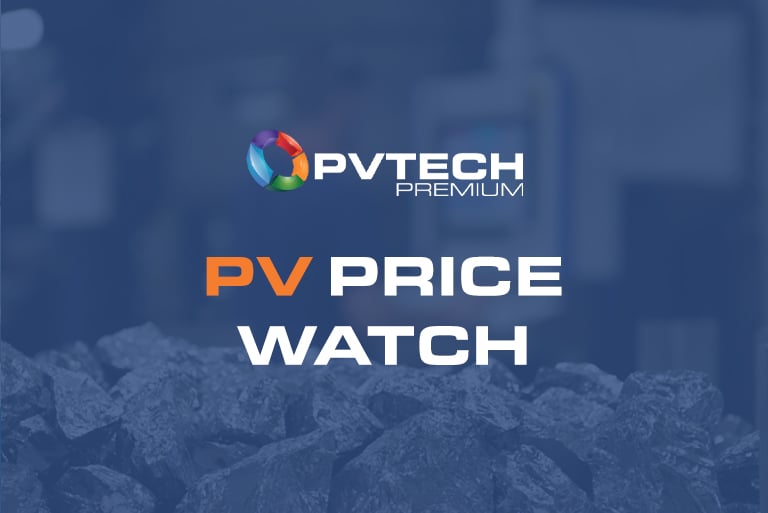 On 8 February 2023, the Silicon Industry Branch of China Nonferrous Metals Industry Association updated the latest weekly silicon material prices, which rose to a higher level again.
According to the public information, China's mono recharging chip prices last week were RMB220,000-249,000 (US$32,231-36,480) per ton, with the average transaction price at RMB242,300 per ton, a week-on-week increase of 11.40%.
Mono dense poly prices were RMB218,000-247,000 per ton, with the average transaction price at RMB239,900 per ton, a week-on-week rise of 11.48%.
The Silicon Industry Branch said that silicon material prices continued to climb last week, seeing a weekly growth of about 11%.
Mainstream transaction prices of mono recharging chips were RMB230,000-245,000 per ton, with the gap between the highest and the lowest prices narrowing slightly.
However, the transaction prices of first- and second-tier enterprises are still differentiated. The cheapest mono recharging chip is RMB220,000 per ton, while the highest is about RMB250,000 per ton.
More than 10 companies sealed new orders, indicating that the market is becoming significantly more active. Most companies receiving new orders have arranged them until mid-February.
The Silicon Industry Branch said that the main reasons for the continued price rise and the large trading volume last week include the relatively low operating rate of wafer companies.
Short supply bolstered the sharp increase in wafer prices, which is higher than the cost of its raw material – polysilicon. As a result, rising silicon prices are more tolerable to the wafer companies.
Previously the operating rate of wafer companies remained very low, and the inventory has been used. Therefore, the increase in operating rate is inevitable as the wafer price offers a considerable profit considering the short supply in the market. As a result, the actual transaction volume of silicon materials increased significantly last week.
Looking back at the first week after Chinese new year, silicon material prices have already risen sharply. Compared with the previous two weeks, various types of silicon materials in China rose by about 31%, attracting significant attention.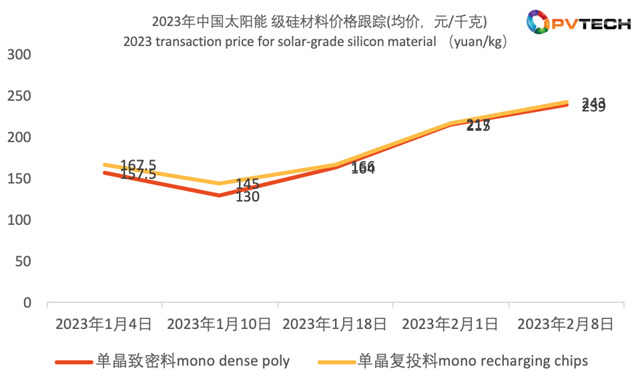 In addition, closely following the trend of silicon materials, wafers and cells also showed a rapid rebound after a rapid decline.
On 4 February, TCL Zhonghuan announced an update to its silicon wafer prices, with various sizes rising sharply. 150μm p-type 210 and 182 wafers were RMB8.2 per piece and RMB6.22 per piece, respectively, up by RMB1.1 and RMB0.82 from prices on 23 December.
The week before last, following the upstream wafer rally, transaction prices of cells increased accordingly. The mainstream prices came to about RMB1.00-1.03/Watt.
On Monday 6 February, module manufacturers reflected that mainstream cell companies also announced a price increase, reaching RMB1.15-1.2/Watt.
Within the supply chain, the upstream price trend passed on to the downstream, and even module prices showed signs of a rebound. Currently, some module manufacturers quoted from RMB1.65/Watt to RMB1.7-1.75/Watt, and even approaching RMB1.8/Watt.
Research firm Infolink said that since the supply chain is still volatile, prices in February and March are expected to temporarily stabilise at RMB1.75-1.8/Watt.
| | | |
| --- | --- | --- |
| Module prices (RMB/Watt) | Price range | Average price |
| Monofacial mono PERC module-166mm | 1.72-1.77 | 1.75 |
| Monofacial mono PERC module-182mm | 1.76-1.80 | 1.78 |
| Monofacial mono PERC module-210mm | 1.77-1.81 | 1.79 |
| Bifacial mono PERC module-166mm | 1.73-1.78 | 1.76 |
| Bifacial mono PERC module-182mm | 1.75-1.81 | 1.78 |
| Bifacial mono PERC module-210mm | 1.78-1.82 | 1.80 |
7 February price tracking from Shanghai Metals Market.
The Silicon Industry Branch said that according to the upstream and downstream production schedule, Q1 supply and demand of silicon materials are expected to be relatively balanced. Under the condition that the downstream operating rate is raised to a normal level and procurement is normal, silicon material prices can basically be stable.
According to the analysis of third-party institutions, the current fluctuations do not affect the price trend of the whole year, and there is still room for a subsequent decline in the cost of the industry chain. The overall price trend of the PV industry chain in 2023 is expected to decline significantly, reducing the cost of PV power generation, thereby improving the internal return rate of power plants.