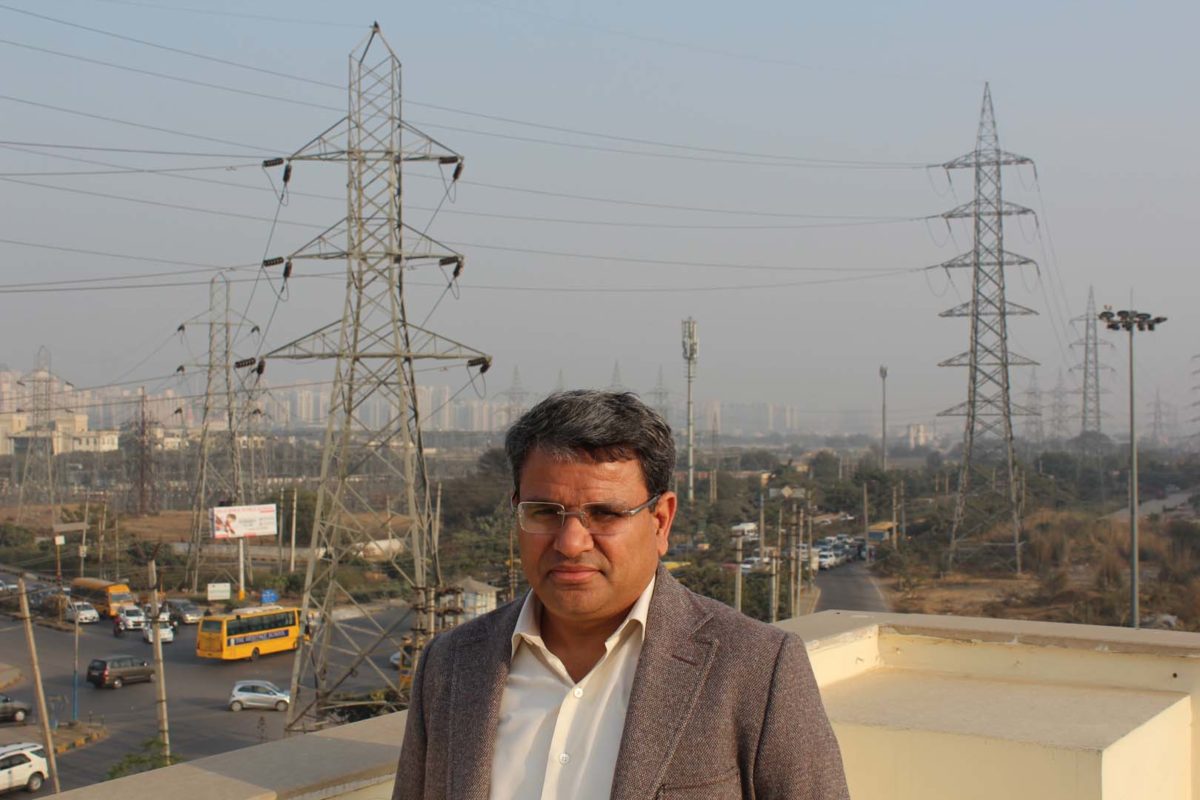 Plenty of naysayers have warned about unrealistic bidding and various delays damaging the Indian solar sector, but the head of ACME Solar, one of the largest developers India, approaching 1GW of installed capacity, has a very positive outlook on the industry's future. PV Tech caught up Manoj Kumar Upadhyay, the founder, chairman and managing director of ACME Group at the company offices in Gurgaon, New Delhi, to discuss delayed PPAs, transmission infrastructure, the approaching Goods and Services Tax (GST) Bill and a unique point of view on India's Ultra Mega solar power parks.
Have the recent low bids been as ill-founded as some commentators suggest?
Upadhyay: The price is coming down because of three major changes in the industry, not because people are being more aggressive. For example, our original projects had financing for 13 years, but now project financing is happening for 18-19 years. So if you increase the denominator, the tariff will go down. Lenders are getting more comfortable with renewables. Until recently they were apprehensive, but now they can see the performance of solar in India.
Secondly, for that reason we have also started getting very competitive rates of interest. Right now in India cost of capital is 10.5%. Meanwhile, the third driver of low tariffs is the price of global solar panels coming down.
Developers have not bid aggressively. It has been very natural. For all the prices quoted in the market in the last 18 months since reverse auctions came in, people bid with full understanding. Some players simply have have access to better information about future trends than others.
Is there still room for foreign players or will Indian firms continue to dominate as they have done in the last six months?
It is a large market. India will auction close to 12-15GW every year so there is room for everyone whether Indian investor or foreign investor.
It is a question of who is at what stage. You will see a pattern also. Some companies are aggressive in some quarters to build their capacity and when their capacity is full they won't participate for a while. You will also find that companies are only participating in certain months, in certain areas, with certain utilities. For example, ACME is more focused right now on the southern areas, while others are focused more on the East. There is enough scope for everyone.
Moreover, while solar was originally driven by the Renewable Purchase Obligation (RPO), now the price has come down close to grid parity, so people have started buying solar as a substitute for peaking power. It has reached a level where it is the cheapest source of energy at the consumption end.
This is all positive news but is curtailment of solar about to become a major issue?
You will have a different answer from different people, but curtailment is not a general problem.
If you set up PV projects where there is little power consumption, for example in large solar parks in the deserts of Rajasthan where solar irradiation is very high, and you bring the power north or east, you will face the capacity constraints of the transmission line. It is better to install solar at the consumption end, which compensates very well for losses during transmission, even with worse irradiation.
Furthermore, solar is not good for building transmission infrastructure because you only use this infrastructure 25% of the time, so the cost is very high.
The government is looking into this and there are two approaches. Land is cheap and available in the desert, but building smaller plants close to demand, which I call 'neighbourhood plants', will add much more capacity than setting up these Ultra Mega solar power projects. 10MW-50MW is the sweet spot for solar.
You don't need to make a 1GW park. That is is very risky. Imagine you have a transient cloud passing over. It will create havoc in the grid. It will switch off the plant, then switch it on, and the grid will collapse.
But right now we are at a very initial stage. Curtailment may not be affecting the national grid level, but when we add this variability close to 15% to 30% of the energy mix, then this will start creating a problem.
Occasionally stories arise of delays in signing PPAs for tendered projects. Is this a real issue?
This is only an issue in states which auction solar capacity first and only then calculate the subsidy they need, based on the lowest bids, after which they seek government approval. It then takes time to sign the PPA and you are stuck. This happens in Jharkhand and Haryana for example.
However, other states wait for the subsidy to be approved and only then go through the bidding process. This is one reason why we are focusing on the south as well as federal bidding for tenders from Solar Energy Corporation of India (SECI) and NTPC.
The Goods and Service Tax (GST) Bill could come into force this summer. Should the industry be nervous?
We have taken the GST issue up with the ministry an the government. We still do not know what the tariff will be and what the additional GST would be on solar. I don't know if the government will give any exemption to renewables.
Still, we don't want to create a hurdle for the government. If they want to standardise the tax structure in India, we welcome it.
However, our previous bids did not have the consideration of GST in them. Fortunately our PPA clearly identifies that if within 25 years there is change in law, regulation or tax structure, it will be passed through. So we are trying to work with the government on the mechanism of this pass through in order to make it transparent.
Even in the new tenders, the government has been saying that whatever adverse effects come from the GST, these will be passed through. Whereas before only the PPA included this. We convinced the government that foreign investors are afraid that the tender documents do not include this pass throgh, so the government agreed to add it to the tender. Thus, GST is not too much of a worry for developers.
On a separate note, the recent demonetisation phenomenon only delayed a few land purchases by a few days, but it will help developers by allowing payments to farmers and for stamp duty through wire transfers, instead of carrying the burden of having to pay in cash.
Solar is one of the best sectors in India, and right now most of the investment happening in this industry is faster than any other. Renewable energy is still preferred by investors so we are in the right area. Our government is also looking to meet the deadline of 30% renewables by 2030. All these actions are pushing this sector for faster growth.
Upadhyay has also recently explained the high levels of interest seen in India's first major grid-scale solar-plus-storage tender. SECI's tender for two projects of 50MW solar with 5MW/2.5MWh battery-based energy storage saw a total of 13 developers submit initial stage bids.