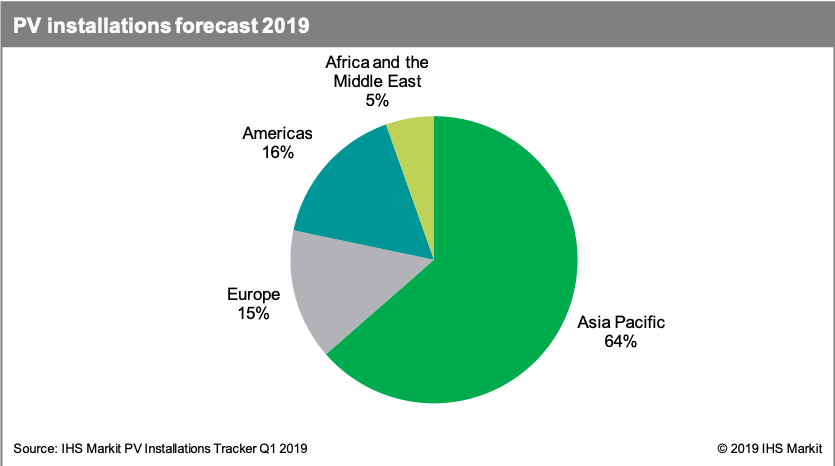 PV installations in the US and Europe will gather steam in 2019 while China will slow down as the global industry returns to double-digit growth rates, according to IHS Markit.
In its latest update, the analytics firm predicted 129GW of solar will be installed worldwide in 2019, a 25% growth rate, up from the close-to-10% recorded in 2018.
The projections for 2019 – an upwards revision of IHS Markit's forecasts last December of 123GW installations, 18% growth this year – produce an uneven picture across the various global PV regions.
Uncertain times ahead for China and India
Asia-Pacific, for one, is expected by IHS Markit to dominate installations (see graph above) but the outlook will vary across countries.
For instance, China could register growth rates of only 2% this year – mainly via installations in H2 2019 – after managing to add 45GW in 2018, according to IHS Markit.
The country, said research and analysis manager Josefin Berg, faces a "highly uncertain outlook" as developers wait for news on whether there will be a new PV support scheme.
"Plans to focus policy more on unsubsidised PV systems could slow near-term deployment, unless strict construction deadlines are imposed to spur 2019 demand," Berg noted.
The uncertainty will extend to India, IHS Markit believes. The combination of lower auction prices and more expensive components is sparking auction delays, the firm said, adding: "[This] could shake up the future Indian solar PV market."
A "booming" US beyond 2019
Meanwhile, IHS Markit's data painted a brighter picture for non-Chinese PV markets, with combined capacity set to grow by 43% in 2019.
The US in particular will witness growing momentum as developers hurry to wrap up projects before investment tax credits (ITC) are phased out this year-end.
However, Berg pointed out that the ITC scheme's requirement for 5% of project investments to be delayed until around the end of 2019 will ensure a PV "boom" in the years afterwards.
According to the estimates, another region to face an auspicious 2019 is Europe in its post-MIP era: the continent will install over 19GW of PV this year, up from 12GW in 2018. Spain's "revived" utility-scale market will make it a hotspot in 2019, IHS Markit added.
See here to access IHS Markit's PV Installations Tracker – Q1 2019