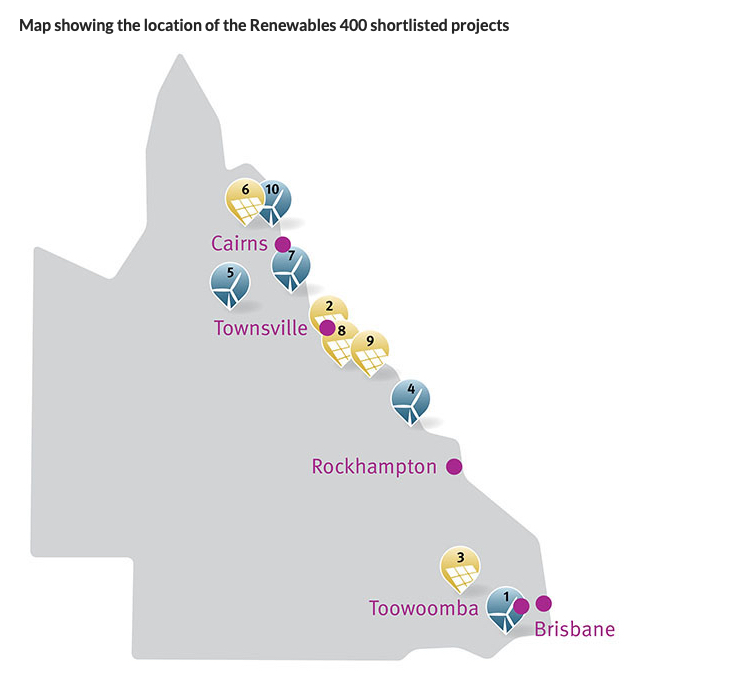 A list of 10 proposed projects have been selected for 'Renewables 400', a state government push to deploy 400MW of renewable energy generation capacity with 100MW of energy storage in Queensland, Australia.
The tender is part of the AU$1.16 billion (US$0.81 billion) Powering Queensland Plan, which the government of state Premier Annastacia Palaszczuk rolled out to help stabilise electricity prices, reach 50% renewable energy by 2030 and diversify energy sources, drive economic growth and support local jobs.
Expressions of interest have been rolling in since the 'Renewables 400' was launched in late 2017 by Palasczcuk to "huge interest", as sister publication Energy-Storage.news reported at the time.
A reverse auction has been held to narrow down a field of more than 100 applications to just 10. From here, the shortlisted projects will submit bids to government-owned corporation CleanCo, which will manage the bidding process to "provide the next wave of large-scale renewable energy'," the state government said.
The 10 selected projects include two standalone wind farms, five solar-plus-storage projects and three others which integrate more than one generation source.
See here to browse the full list of winners as published on sister title Energy-Storage.news