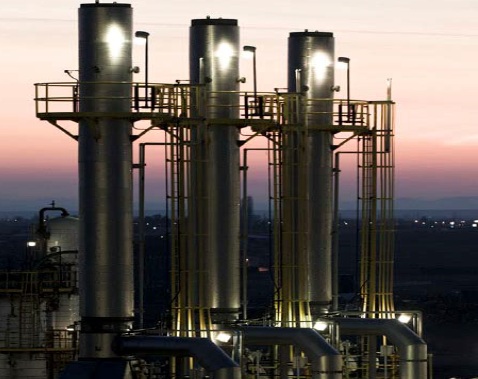 REC Silicon said it would restart FBR polysilicon production at its Moses Lake facility in the US this month, with full-production planned to be resumed in June, 2016.
The company had previously said the shutdown was due to high polysilicon inventory levels and its cash position, on the back of the ongoing anti-dumping duties placed on US-based polysilicon into China as part of the wider solar trade war.
Tore Torvund, REC Silicon, CEO said: "We have reduced our inventories and market conditions have improved to the point to enable us to restart production in Moses Lake, with FBR cash costs near US$10/kg. Further, the maintenance work that has been completed during the curtailment period should allow us to run the FBR unit as well as Silane III and IV for two years without an extended outage."
On a global basis, polysilicon had been in oversupply for several years but tight supply exists in China, due to the limited access polysilicon producers in the US (Hemlock, REC Silicon and SunEdison) have to the largest market after high anti-dumping duties were imposed and shipment loopholes closed.
REC Silicon noted in its first quarter 2016 financial report that it expected around an extra 17,000MT of polysilicon to come on stream in 2016, compared to 72,000MT claimed in 2015, which has primarily been absorbed by global downstream PV installation growth.
The company also noted in the filing that the potential shortage of solar wafer could lead to more stable polysilicon consumption and the return of price elasticity to polysilicon markets. However, low prices would continue to cause liquidity issues for higher-cost producers and could lead to further curtailment of production in 2016.
REC Silicon also noted that capital expenditures would be limited to around US$11 million in 2016, around US$5 million lower than previously guided, due primarily to the completion of R&D activities to commercialize the second generation FBR technology (FBR-B).
Financials
REC Silicon reported first quarter revenue of US$68.8 million, compared to US$74.9 million in the previous quarter. EBITDA was negative US$13.4 million compared to negative US$29.6 million in the previous quarter, due to lower production costs on the shutdown of its Moses Lake facility.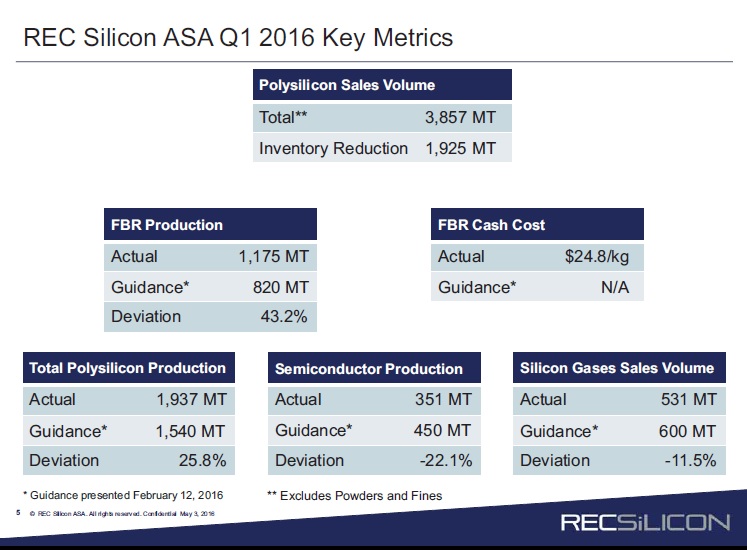 First quarter polysilicon production was 1,937MT, but FBR cash costs increased significantly to US$24.8/kg for the quarter, on low production utilisation.
The company noted that the average solar grade polysilicon sales price during the quarter increased 6% from the previous quarter.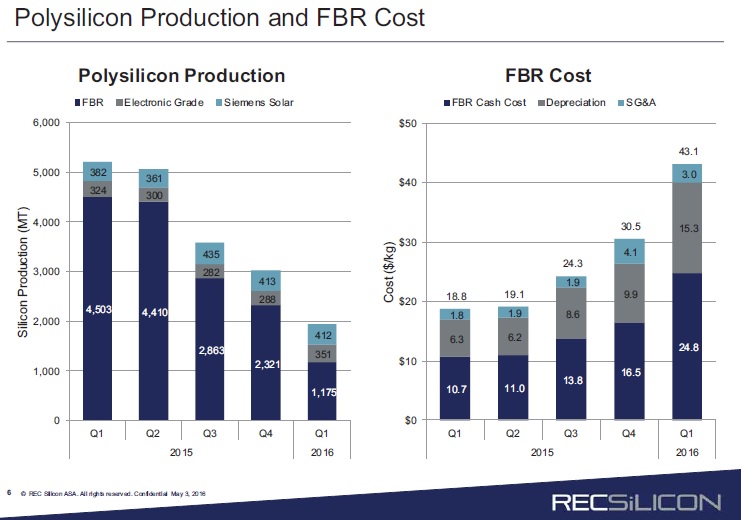 Finished goods inventory decreased by 1,925MT during the first quarter, compared to a 131MT inventory reduction in the previous quarter. Further inventory reduction was said to be expected in the second quarter of 2016, ahead of the restart of polysilicon production at Moses Lake.