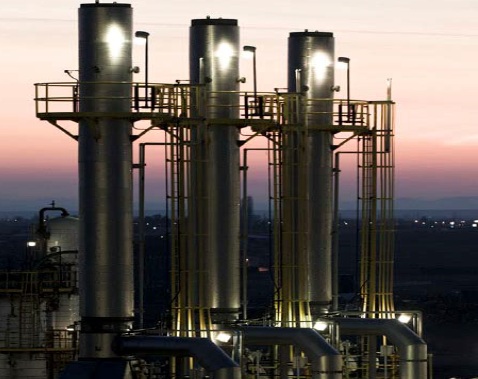 Polysilicon producer REC Silicon's strategy to win customers outside China via discounted pricing on its FBR granular polysilicon is set to continue after Chinese anti-dumping duties are dropped and when its joint venture FBR (B) facility in China starts production in the second-half of 2017.
REC Silicon management highlighted in its second quarter conference call that its forced attention on supplying ingot/wafer producers outside China by offering around a 25% price discount to the non-China spot market prices had been successful and six out of seven new customers in the last year had qualified its granular polysilicon and were increasing purchasing quantities. The seventh customer was close to switching ingot processes to using granular with chunk polysilicon.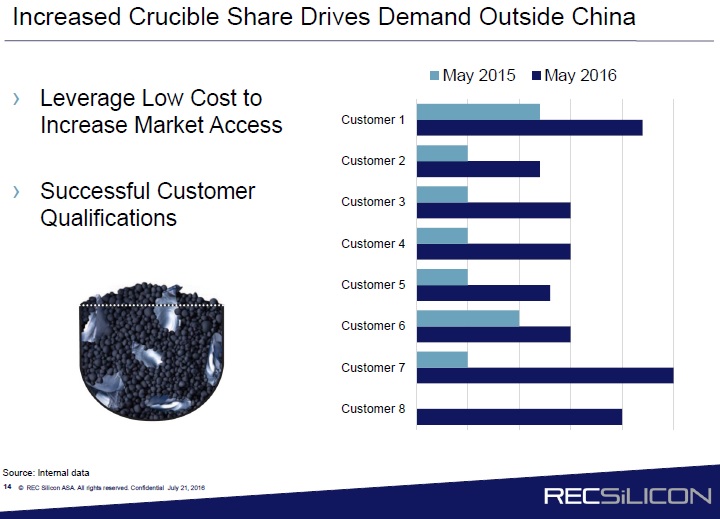 REC Silicon, Hemlock Semiconductor and SunEdison had effectively been prevented from selling polysilicon into the largest market due to the US and China trade wars, initiated by SolarWorld due to high import tariffs and loopholes closed by Chinese authorities.
REC Silicon was forced to stop FBR production as inventory built and losses mounted. The company chose to break into the roughly 20% of ingot/wafer production operating outside China to survive, while working through inventory.
The company noted that its inventory overhang had now been depleted and production had restarted in late May, 2016.
New customer concerns recently surfaced over the possibility SolarWorld would be forced to ask the US Commerce Department to cancel anti-dumping duties on solar products made in China and Taiwan. This recent development was due to a US court ruling in favour of Hemlock Semiconductor over a supply contract the producer had with SolarWorld was not honoured, which could lead to the PV module manufacturer potentially being having to pay over US$700 million. Hemlock Semiconductor had offered a deal to SolarWorld that would mean the total amount owed would be dropped if the US anti dumping duties were cancelled, enabling the Chinese authorities to drop duties on US-made polysilicon.
According to Tore Torvund President & CEO of REC Silicon, any positive change to the anti-dumping duties, which could also happen should SolarWorld go bankrupt, would not result in any of its new customers having to pay prevailing spot prices or experience supply constraints.
Torvund highlighted that discounted pricing would remain in place, while inferring that the new JV facility in China would cater for other customers, growing its market overall as production ramped in the second half of 2017.
Only FBR producer still standing
As the pioneer of FBR technology, Torvund also noted that with SunEdison entering Chapter 11 bankruptcy, which included its JV facility in South Korea, coupled to claiming China-based GCL-Poly has stopped FBR trails, REC Silicon was the only low-cost (FBR-based polysilicon) producer still standing and that around eight polysilicon plants had closed in total also driven by production costs being higher than ASPs. With limited new Siemens (chunk) capacity coming online (Wacker) its overall market position and potentially business outlook had therefore improved.
Management noted that balanced global polysilicon supply had led to a recent rise in spot market ASPs, while REC Silicon experienced a lower level (9.7%) of ASP increase due to its discounted pricing strategy.
Financials
REC Silicon reported second quarter 2016 revenue of US$71.1 million, compared to US$68.8 million in the previous quarter. The company also reported a second quarter cash balance of US$91.3 million after posting a negative EBITDA of US$14.3 million, compared to a loss of US$13.4 million in the previous quarter.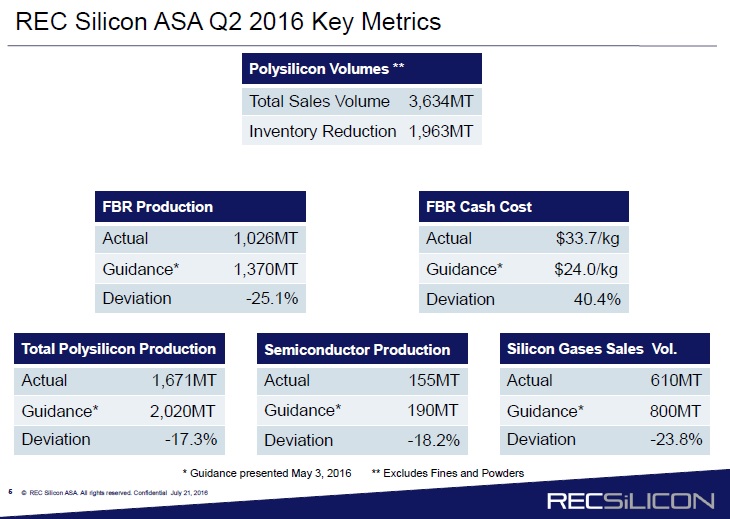 Polysilicon sales in the quarter were 3,634MT, down from 3,857MT in the previous quarter, though were claimed to be in line with company expectations. Finished goods inventory decreased by 1,963MT during the second quarter, compared to a 1,925MT inventory reduction in the previous quarter.
"Because sales were in line with expectations, inventory was reduced to desired levels and we were able to restart production in Moses Lake. With greater utilization of the company's FBR production assets, REC Silicon will be able to realize an industry leading cash cost by Q4 of this year. Further, during the first half of this year we have successfully improved the financial stability of the company as evidenced by the current cash balance and the repayment of USD 21 million of the company's debt," stated Torvund.
Polysilicon production guidance
REC Silicon said it expected total polysilicon production in the third quarter to reach around 4,490MT and 5,520MT in the fourth quarter. Total polysilicon production was expected to reach 13,618MT in 2016.
FBR polysilicon production was expected to reach 3,830MT in the third quarter and 4,710MT in the fourth quarter. Total 2016 production of FBR polysilicon was expected to reach 10,741MT.
Increased capacity utilisation rates would drive overall FBR polysilicon production cash costs down to US$10.4/kg in the fourth quarter of 2016.