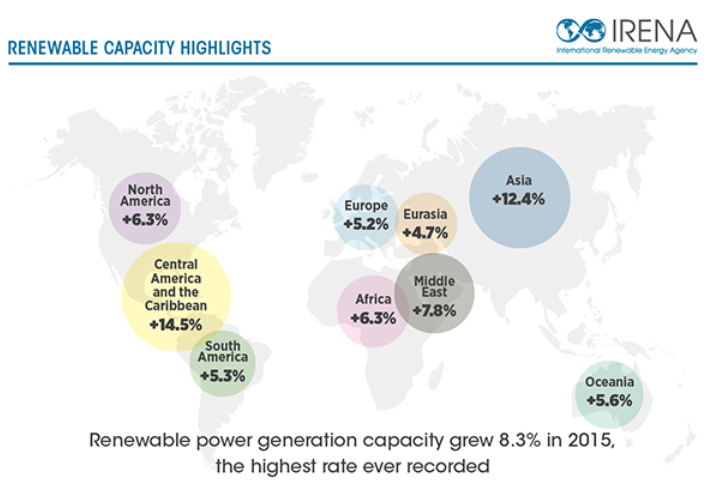 Global solar capacity grew by 47GW (26%) during 2015 as a result of module prices dropping by as much as 80% over the same period, according to the latest data from the International Renewable Energy Agency (IRENA).
At the end of 2014, solar deployments worldwide stood at nearly 180GW and this grew to 227GW during the course of last year.
IRENA's 'Renewable Capacity Statistics 2016' found that the highest regional increase in solar deployment was the 48% growth in Asia with 15GW in China and 10GW in Japan. Meanwhile North America's 8GW saw it surpass European installations for the first time, which stood at 7.6GW.
In the emerging markets, Oceania saw a 1GW solar increase and Africa had 0.9GW installed. Elsewhere, South American solar grew by 517MW over 2015, meanwhile Central America and the Carribean went up by 577MW.
At the end of 2015, Europe accounted for 43% (98GW) of global capacity, with 40% (88GW) in Asia, and 13% (30GW) in North America.
The report also found that renewable generation capacity saw its highest annual growth rate by adding 152GW (8.3%) over 2015. There were 1,985GW of renewable energy generation capacity worldwide as of the end of 2015.
At year end, hydropower accounted for the largest share of the global total renewable power generation:
Hydro 1,209GW
Wind 432GW
Solar 227GW
Bioenergy 104GW
Geothermal 13GW
Marine energy 500MW
IRENA director-general Adnan Amin said: "Renewable energy deployment continues to surge in markets around the globe, even in an era of low oil and gas prices. Falling costs for renewable energy technologies, and a host of economic, social and environmental drivers are favoring renewables over conventional power sources.
"This impressive growth, coupled with a record US$286 billion invested in renewables in 2015, sends a strong signal to investors and policymakers that renewable energy is now the preferred option for new power generation capacity around the world."
This article has been revised to say that solar capacity grew 26% during 2015.