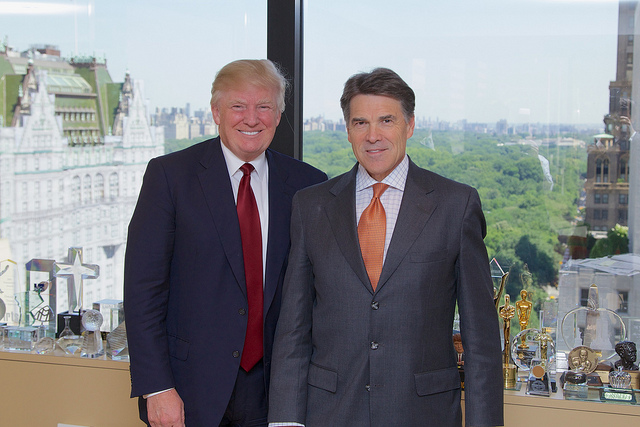 Former Texas governor Rick Perry, secretary of energy nominee to head the very department he suggested should be scrapped, said in his Senate confirmation hearing yesterday that he regretted making that recommendation.
Further concessions from the hearing included Perry stating that he believes anthropogenic global warming is real, but that US efforts to mitigate this should not cost American jobs.
"I believe the climate is changing. I believe some of it is naturally occurring, but some of it is also caused by man-made activity. The question is how do we address it in a thoughtful way that doesn't compromise economic growth, the affordability of energy or American jobs," Perry said.
The slight admission is a significant one for Perry, who recently divested himself of any energy company investment ties, including his position on the Dakota Access Pipeline Company board. Perry had previously dubbed climate change as "a contrived phony mess".
In addition to address previous flippant statements, Perry also told the Senate Energy Committee that he doesn't want to raise the cost of energy. A good start, but a mere 24 hours before his hearing, various reports surfaced that Perry fundamentally misunderstood the role of energy secretary; believing it involved acting as an ambassador for the US oil and gas industry.
A role he might have been well-suited for; having served as governor of Texas for 15 years; one of the richest oil states in the nation.
What energy secretary does entail however primarily revolves around allocating the annual US$30 billion budget towards safeguarding America's nuclear arsenal and R&D. Former energy secretary Ernest Moniz was a nuclear physicist. A day before Perry's hearing, Moniz tweeted that the energy department is "at its core, a science and technology agency".
The Energy Department is, at its core, a science and technology agency. My advice for future agency leadership: https://t.co/EsR95Lhsy8 pic.twitter.com/gtfqNYNL7h

— Sec. Ernest Moniz (@EnergySecMoniz) 18 January 2017
The 66-year-old promised to "protect" climate scientists should be assume the leading energy role in the country. Concerns arose after the American Energy Alliance (the Washington-based group heading Trump's energy transition team) went on a DOE "witch hunt" last month, after distributing surveys asking for the names of all employees involved in climate work.
Perry insisted several times that he "didn't approve" of the questionnaire and has no need for such information. "I didn't approve it, I don't approve it, I didn't need the information, I don't want that information," he said. "That's not how I manage."
"I am going to protect the men and women of the scientific community from anyone who would attack them," Perry said in response to a question asking whether he would cut the DOE's climate science budget.
Whilst the learning curve will be steep for Perry, the hearing aided in his education of the role.
"This confirmation process has been extremely informative and beneficial for me," he said. Perry is also reported to have met with Moniz to discuss the wide-reaching ambit of energy secretary.