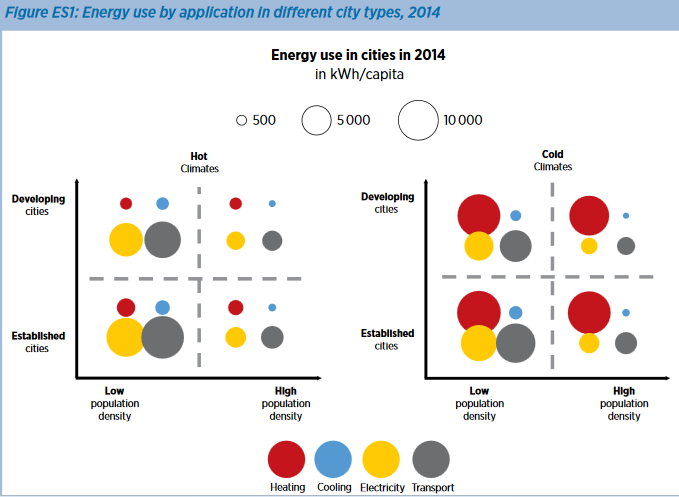 Rooftop solar will play a crucial role in supplying electricity to the world's burgeoning city populations due to the ease of retrofitting PV onto established buildings, according to the latest report from International Renewable Energy Agency (IRENA).
The 'Renewable Energy in Cities' study noted that installed rooftop solar PV could rise to 580GW under a major paradigm shift for household energy consumption. Combined with energy storage and electric vehicles, PV will help consumers produce their own electricity and reduce risks related to shortages, blackouts and volatility in electricity prices.
The rooftop boom was evident between 2010 and 2014 when rooftop solar power capacity more than tripled worldwide, from 30GW to 100GW, enough to cover the electricity demand of roughly the equivalent of 30 million households.
Renewable energy implementation in cities is key becasue they account for 65% of global energy use and 70% of man-made carbon emissions. While new buildings can have efficiencies designed into them, established cities must rely on retrofits to bring in renewables and heat pumps and rooftop solar PV will be the key drivers.
Rooftop policy in action
IRENA cited breakthroughs such as San Francisco becoming the first major US city to require all new buildings to install rooftop solar. Similarly, California requires new builds to set aside 15% of roof space to be "solar ready", in other words a space that is clear and unshaded.
Elsewhere, Australia's Adelaide has launched a solar leasing initiative to reduce the upfront cost of installing solar systems, targeted at lower income households.
Tokyo also plans to install 1GW of rooftop systems by 2024, including 22MW of PV on metropolis-owned buildings and facilities by 2020.
Yesterday, consultancy firm Bridge to India revealed that India had surpassed 1GW of rooftop solar installations by more than doubling its entire installed capacity in one year and the sector is expected to grow faster than the already surging utility-scale sector within the next five years. Grid parity has also been reached across the majority of C&I solar consumers in India.
Adnan Amin, IRENA director general, said: "Cities can play a transformative role in leading the world to a clean and sustainable energy future. We have to rethink the entire urban energy landscape, which requires rigorous planning and holistic decision-making. Renewable energy, combined with energy efficiency, will power the future growth of cities. We must ensure this transition happens as soon as possible."