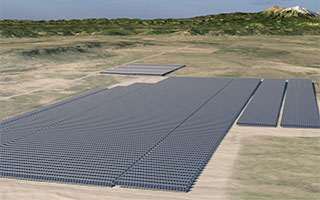 Invenergy bags financing for 160MW Georgia solar project
10 January: Invenergy has completed construction financing for its largest solar project, the 160MW Southern Oak Solar project, located in Mitchell County, Georgia.
In May 2018, Invenergy and Georgia Power announced a power purchase agreement (PPA) for the electricity generated by Southern Oak Solar through 2049. This agreement is part of the utility's Renewable Energy Development Initiative (REDI), which is designed to advance the growth of renewable energy goals across the state of Georgia.
Construction on Southern Oak Solar began in September 2018, and solar panels for the project are being provided by LONGi Solar Technology (U.S.) Inc. Other major partners on the project include RES (Renewable Energy Systems), who will construct the project, and NEXTracker which will supply single-axis trackers.
The facility is scheduled to begin commercial operation by year-end 2019 and will create more than 400 jobs during construction.
Juwi and Tri-State partner on 100MW solar project in Colorado
11 January: Utility cooperative Tri-State Generation and Transmission Association and juwi Inc are to build a 100MW solar project in Colorado.
The Spanish Peaks Solar Project is Tri-State's second utility-scale solar project with juwi, the US subsidiary of Germany-based renewable energy company juwi AG. The project is adjacent to the 30MW San Isabel Solar Project in Las Animas County, Colorado, which was developed by juwi and began producing power for Tri-State in 2016.
Tri-State, a wholesale cooperative power supplier owned by 43 member electric cooperatives and public power districts, will purchase the entire output of the project over the 15-year term of Tri-State's power purchase contract. The project includes more than 300,000 modules on single-axis trackers and serves the energy needs of 28,000 rural homes.
Construction of the Spanish Peaks Solar Project is expected to begin in 2022, supporting 150 jobs during the peak construction period. The project is anticipated to be completed in 2023.
Encavis buys 15MW solar plant in the Netherlands
14 January: Hamburg-based solar and wind park operator Encavis has acquired a 14MW solar park in the Netherlands.
Three solar parks acquired in 2018 have also been completed and connected to the Dutch power grid. This gives Encavis an active generation capacity of more than 100MW in the Netherlands.
Acquired in January 2019, the "Zierikzee" solar park in the province of Zeeland has a generation capacity of 14.1MW and was connected to the power grid at the end of 2018.