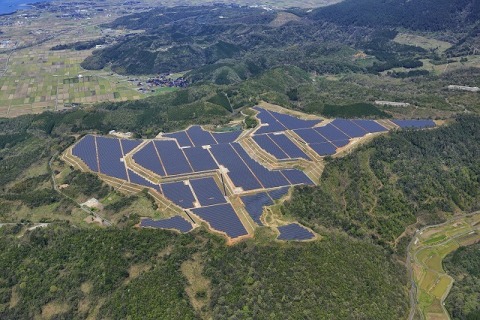 Kyocera completes 29.2MW PV project in Japan
14 May: Kyocera TCL Solar has completed construction on a 29.2MW utility-scale solar power plant in Yonago City, Tottori Prefecture, Japan.
The PV modules were installed on land that was originally set aside for a golf course, but was subsequently abandoned. This stands as Kyocera TCL Solar's largest PV project.
The solar installation features 108,504 Kyocera PV modules that will generate an estimated 36,080 MWh annually, enough electricity to power around 12,000 typical households. All electricity generated at the plant will be sold to local utility, Chugoku Electric Power Co.
Canadian Solar to develop its first project in South Korea
14 May: PV project developer Canadian Solar has acquired rights to develop an 8MW PV project in Gangwon Province, South Korea, which will stand as the company's first project in the country.
Construction on the project is expected to begin in early 2019.
While this will be Canadian Solar's first project in South Korea, the PV market within the country is not new to the company. Canadian Solar Korea Branch was established back in 2008, with the branch holding the top spot among foreign module makers in South Korea for 10 years in a row.
Dr. Shawn Qu, chairman and CEO of Canadian Solar, said: "The Korean Government has recently increased its solar capacity installation target to 36.5GW from 5.7GW in order to generate 20% of electricity from renewable energy sources by 2030.
"With our high efficiency and high quality module supply capabilities and global solar project development experience, Canadian Solar is ready to support our Korean partners and customers to meet their 2030 solar energy target."
Ruigrok to install 7.5MW rooftop PV project
May 11: Ruigrok Flowerbulbs, one of the largest flowerbulb producers in Europe, started up a new PV program that will see the company develop a 7.5MW rooftop system to help with daily operations.
As part of the initiative, Ruigrok is installing 2,600 PV panels on warehouse roofs, which will generate 7.5MW of power on an annual basis.
By installing these panels, Ruigrok will make itself self-sufficient for the majority of its energy needs. The rooftop project is expected to be online by July 2018 to tap its ideal potential during the summer months.