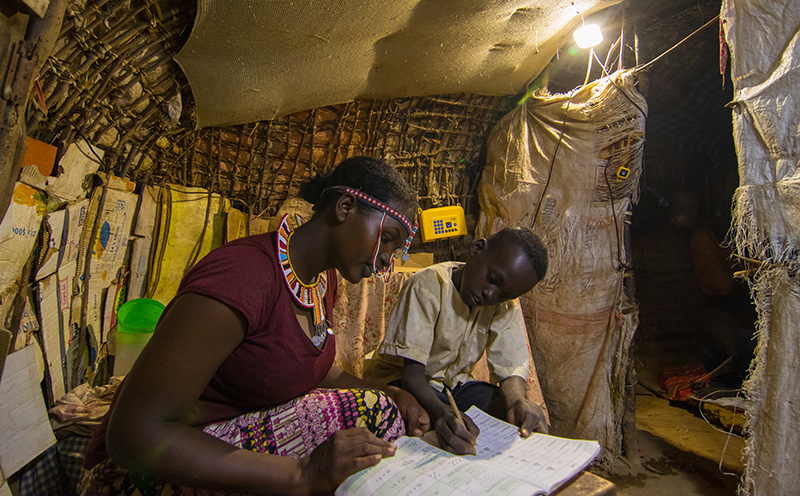 Tata installs solar system at Mumbai cricket stadium
30 August: Indian PV manufacturer and EPC Tata Power Solar, a subsidiary of Tata Power, has commissioned an 820.8kWp rooftop solar project at Cricket Club of India, Mumbai.
Devendra Fadnavis, chief minister of Maharashtra attended the inauguration of the stadium.
The installation of the solar rooftop project will lead to 25% of savings in the power consumption costs at the stadium
Ashish Khanna, president, Tata Power (Renewables), said: "After executing the world's largest rooftop in a single location and India's largest carport at Cochin International Airport, Tata Power Solar has installed the world's largest rooftop in a Cricket Stadium at CCI Mumbai, in a record period of 100 days."
Tata Power Solar has been ranked number EPC rooftop solar player consistently for four years by consultancy firm Bridge to India.
Azuri and Unilever partner in Kenya to offer pay-as-you-go solar home lighting
30 August: Pay-as-you-go (PAYG) solar home systems provider Azuri Technologies and consumer goods firm Unilever Kenya are partnering to offer off-grid solar home solutions across Kenya.
The announcement comes as part of the arrival of UK prime minister Theresa May and UK business leaders, including Azuri CEO Simon Bransfield-Garth, in Kenya for a state visit to boost trade ties.
Under the terms of the deal, Azuri's Quad solar home lighting system will be co-branded with the Unilever Sunlight washing powder brand and offered through Unilever's distribution network, which in Kenya is some 67,000 smallholder traders. The Unilever distribution network will complement Azuri's existing partners, Raj Ushanga House and Mobicom.
"The partnership with Azuri will help deliver life-changing solar technology to off-grid communities and provide Unilever customers and traders with the benefits of modern energy. Solar power is proven to support the local and wider economy and further supports Unilever's commitment to the UN Sustainable Development Goals," said Justin Apsey, MD East Africa at Unilever.
BayWa r.e opens renewable energy control centre to support Asia Pacific
30 August: Clean energy developer BayWa r.e. has opened a new central control room in Bangkok to cater for a significant increase in wind and solar energy projects that the firm is now managing within the Asia Pacific region, while offering a round-the-clock service.
BayWa r.e. is currently overseeing 5,190MW of renewable power, which is set to rise by a further 220MW as more projects come online in Asia and Australia at the end of the year.
Marc Niem, MD of BayWa r.e. Operation Services GmbH, said: "Our new operations centre will provide the very best monitoring, security and management services for our customers located in the Asia Pacific region. We will be closer to the operators, service technicians, grid operators and their third parties, enabling us to provide better maintenance, shorten our reaction time and improve analysis to achieve the very best performance for our customers' solar and wind plants.
"Ultimately, it will ensure that every renewable energy project is achieving optimum efficiency wherever it is in the world."
Located in the Indochina time zone, the new control room will be better suited to its customers throughout the Asia Pacific region. The new centre will work side by side with BayWa r.e.'s main control centre in Munich, Germany.
Last month, BayWa r.e announced it has teamed up with asset intelligence company PowerHub, to digitalize its operation and bring greater transparency and standardisation to its clients across the globe.