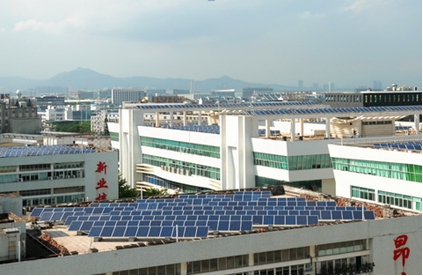 South Korean capital Seoul plans to invest US$1.55 billion in a solar plan which aims to install 1GW of PV generation capacity by 2022, according to local sources.
"Solar City Seoul" will involve the undertaking of seven initiatives then subdivided into 59 separate projects.
One key element of the plan is to oversee the increase of miniature solar generators on household rooftops and verandas from around 30,000 up to one million.
In 2104, 3,000 households in Seoul had been fitted with miniature generators. This number increased to 18,000 in 2017.
Ahn Hyeong-jun, head of Seoul's energy policy team, said, "If you combine that rate of increase in demand with the number of new apartments required to install panels by the Seoul Housing and Communities Corporation and with a distribution plan for each apartment complex, that number is achievable."
Solar panels will be installed at Gwanghwamun Plaza, World Cup Park, Gwangjin Bridge and Magok District with intention to develop these areas into either solar energy landmarks or solar energy special districts.
Seoul's solar energy citizens' fund's first round was launched in 2015. The city will also be introducing a citizens' fund for mid and large-scale solar generation (around 1MW) in cooperation with finance companies.
Small-scale generation (100kW) projects will have a community fund to combine highly profitable facilities with smaller investors.
Choi Seung-guk, executive director of the Sun and Wind Energy Cooperative, said, "Since these projects are absolutely dependent on civic participation, we hope to see more policies for supporting energy cooperatives and specific plans for civic participation by next year".
For the initial phase of the project the city will be focusing on using schools and buildings occupied by religious organisations such as Won Buddhists and the Catholic Church, for promotional and distribution purposes.
Seoul's previous strategies include reducing energy consumption, its Eco-Mileage System and enhancing buildings energy efficiency, estimated to have reduced oil demand by 3.66 million tons, or equivalent to the total energy produced by two nuclear reactors, every year since 2012.
Current plans follow the trend of other major global cities or states such as New York and London; in 2014 New York's Governor Andrew Cuomo committed US$1 billion to install 3GW of solar by 2023. Solar in New York has increased 795% in five years; installing 64,936 projects representing 744MW at the end of 2016, according to the New York State Energy Research and Development Authority (NYSERDA). Meanwhile London's City Hall is aiming to produce 100MW of power by solar in London by 2030, doubling the capitals current levels of installed generation capacity. London Mayor Sadiq Khan is also taking solar initiative and included solar plans in the environmental plan for London with reverse solar auctions for homeowners and community energy schemes. All new developments in London are to be zero carbon by 2019.