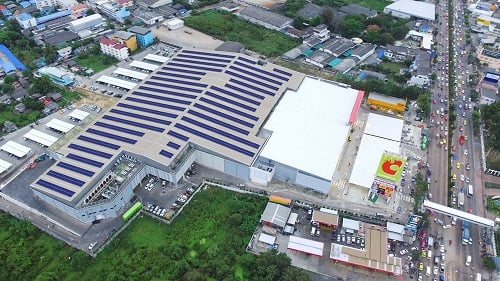 Sharp Corporation, through its Thailand subsidiary company Sharp Solar Solution Asia, has signed off on an agreement to develop rooftop PV projects for Big C, one of Thailand's largest hypermarket retailers, through Impact Solar.
The rooftop solar PV portfolio will be developed in 16 Big C stores — generating a total capacity of 16MW. Construction will commence in July 2017, with the goal of the 16 projects starting commercial operations from December 2017 to March 2019.
In addition, Big C and Sharp are currently discussing ways to expand this project with additional installation of solar systems of up to 11MW in total to help save electricity in stores and warehouses.
These projects will be financed by the Japanese Ministry of Environment's Joint Crediting Mechanism. The annual power generation from these 16 projects is expected to be 21,675MWh, ultimately aiming to reduce approximately 6,913 tons of greenhouse gas emissions per year.
"Energy consumption has risen rapidly in Thailand, and it has become a challenge to diversify energy resources and reduce damage to the environment and to seek alternate sources other than the current fossil fuels such as oil and natural gas," Sharp said in an online release.