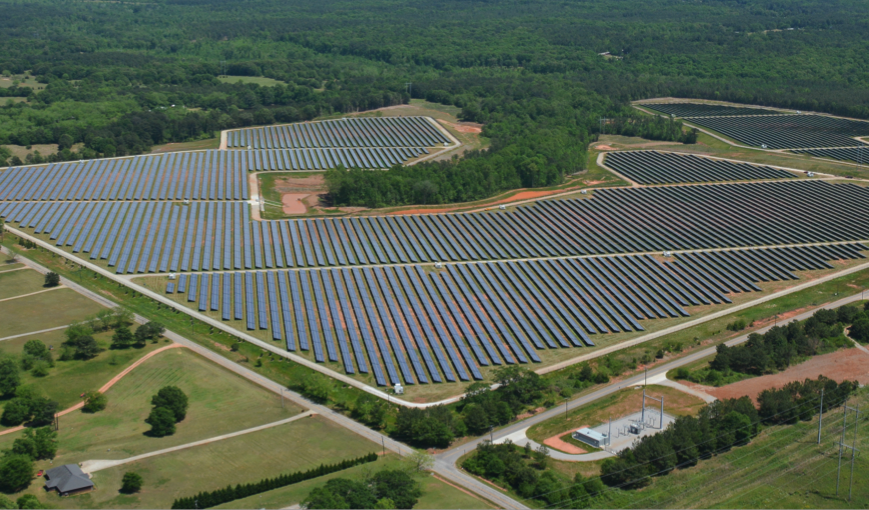 US solar developer Silicon Ranch is to develop a new 107MW solar farm to power Facebook's data centre in Newton County, Georgia.
That site will build on more than 200MW of solar developments linked to the data centre, which have been described as on track.
Walton Electric Membership Corporation (Walton EMC), the consumer-owned utility who Facebook originally tasked with powering the data centre, turned to Shell-backed Silicon Ranch to fund, construct, own and operate the 107MWac facility, dubbed Snipesville II.
While component manufacturers have not been disclosed, the project will see some 350,000 modules attached to single-axis trackers.
Snipesville II will build on a separate, 102.5MWac project in Early County, Georgia, which forms part of the 200MW solar commitment. That project uses modules shipped straight from Hanwha Q CELLS' manufacturing facility in the state.
Silicon Ranch is to also implement its bespoke land management approach at the site. Billed as 'Regenerative Energy', Silicon Ranch's approach uses grazing animals, native plants and wildlife habitats to enhance biodiversity and improve soil quality during the asset's lifetime.
The project is slated to come online in 2021, and its generation will also produce "substantial revenue" to support Jeff Davis County's school system, Walton EMC said.
Facebook announced the construction of a new data centre – its ninth such facility in the US – last March, appointing Walton EMC as its power supplier and tasking them with providing it solely with renewable electricity. Urvi Parekh, head of renewable energy at Facebook, said the investment would help the social media company reach its target of deriving 100% of its power demand from renewables, while further strengthening Georgia's solar market.
Ronnie Lee, chief executive at Walton EMC, meanwhile said it had turned once again to Silicon Ranch given its status as a "proven performer".
O&G major Shell acquired a minority stake in Tennessee-headquartered Silicon Ranch at the start of last year, heralding its reintroduction to the international solar market. The firm's co-founder and CEO Reagan Farr said this latest development was a continuation of its "substantial investments" in rural Georgia.
To date, Silicon Ranch has developed more than 1GW of solar across Georgia.