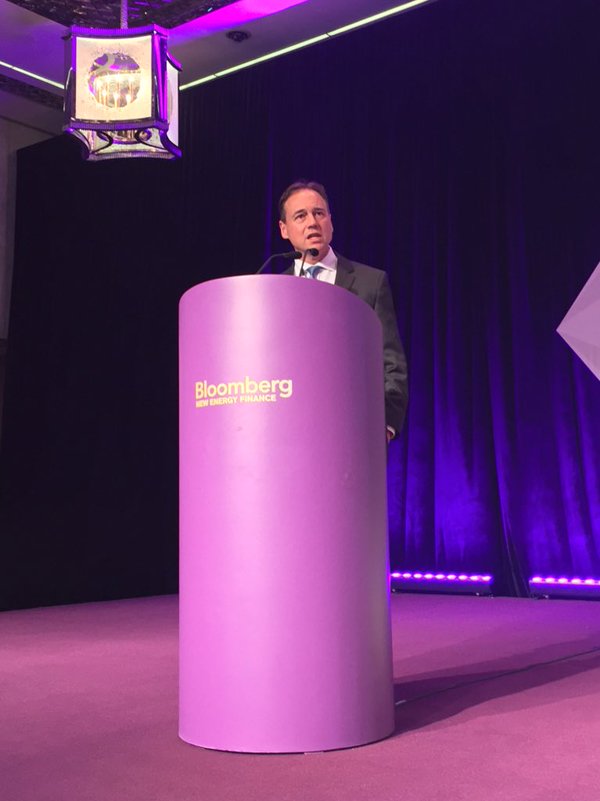 Australia's environment minister Greg Hunt has hinted that his government has a new "positive agenda" in support for renewables, while speaking at the Bloomberg New Energy Finance 'Future of Energy Conference' in Shanghai, China, today.
Renewables investment and deployment stalled under former prime minister Tony Abbott's reign, with new figures from the Clean Energy Finance Corporation (CEFC) today showing that there was a 34% drop in investments in large-scale renewable energy projects in 2014/15. CEFC is a government body aiming to mobilise capital investment in Australia's clean energy sector.
Many stakeholders, including the CEFC, have blamed the infamous 15-month wait for a decision on reducing the country's Renewable Energy Target (RET) under Abbott's reign as a major barrier to investor confidence.
While the recent arrival of incumbent prime minister Malcolm Turnbull renewed hope in the sector, until now there has been little rhetoric in support of renewables.
However, at the Shanghai conference, Hunt said: "Today I want to focus on the positive agenda that the Australia has in place to harness energy innovation, support renewables and reduce emissions."
Hunt cited his recent formation of the Office of Climate Change and Renewables Innovation within the Department of the Environment, which concentrates around AU$15 billion (US$10.8 billion) of incentives in clean technologies, innovation and emissions reduction. He also pinpointed a particular focus on solar energy and energy storage.
As opposed to Abbott, who had threatened to disband the CEFC, Hunt also praised CEFC's collaboration with the Australian Renewable Energy Agency to support the deployment of large-scale solar with a package of AU$350 million.
The promising signs of new government support for renewables come the day after the CEFC released its Annual report 2014/15, which showed that its overall investments in clean energy were down by 31% in a year, from around AU$4.6 billion (US$3.3 billion) in 2013/14 to just AU$3.17 billion last year. This included energy efficiency technologies, private equity and public markets. Research and development took the biggest hit with a 91% drop in investment.
Large-scale renewable energy (>10MW) investment dropped 34% from AU$1.135 billion to AU$750 million. However, AU$544 million (73%) of these investments in 2014/15 took place in the final quarter. Before this period, investments were down 82% compared with the same period in the previous year.
CEFC chair Jillian Broadbent said: "Investment opportunities in utility-scale renewable energy projects should recover in the coming years with stable policy settings and clear parameters from government."
She said that uncertainty regarding the RET had negatively impacted investment in utility-scale projects with an agreement to reduce the target from 41,650GWh to 33,000GWh by 2020 only reached in June this year. After June, the CEFC saw some renewed interest among large-scale renewable energy developers, but issues remain for longer-dated projects that require some certainty of an RET after 2020.
The annual report also stated: "The downturn in the large-scale renewable energy market throughout the financial year resulted in few projects seeking large-scale project finance involving the CEFC."
Broadbent said that CEFC's focus on energy efficiency in response to lower utility-scale demand was at odds with the global trend, which had seen an all-time record year of around US$320 billion of investment in clean energy.
CEFC listed a number of policy changes and reviews that had affected or disrupted its investments in Australia's renewables in 2014/15:
Green and white papers on the future of the energy sector and the Emissions Reduction Fund
Termination of carbon pricing legislation
Termination of Energy Efficiency Opportunities legislation
Legislation to reduce the RET
Reduction and re-phasing of funding to ARENA
However, despite a decline in direct government support, small-scale PV investments stayed relatively flat with the previous year's AU$2.139 billion investment dropping by just 2% to AU$2.095 billion.
In August the number of small-scale PV installations on residential rooftops in Australia approached 1.5 million.