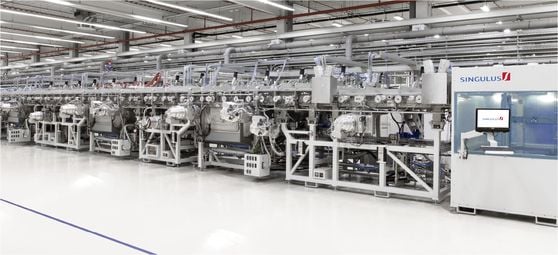 Specialist PV manufacturing equipment supplier Singulus Technologies said it had issued new shares valued at around €8 million to provide liquidity for supplying CIGS thin-film production equipment orders and the development of heterojunction (HJ) solar cell processing tools after securing an (MOU) with Golden Concord Holdings, majority share holder in GCL-Poly and GCL System.
Dr.- Ing. Stefan Rinck, Chief Executive Officer of Singulas said: "The capital increase for cash marks the successful conclusion of the company's financial restructuring. We will invest the funds from the capital increase mainly in financing growth in the solar area as well as for research and development work to advance the new business areas.
We have achieved an important success in clinching the major contract for CIGS production machinery. We are working on other projects in the field of thin-film solar technology; in particular, we also aim to create new product solutions to tap the growth in the field of crystalline high-performance solar cells (heterojunction)," added Rink.