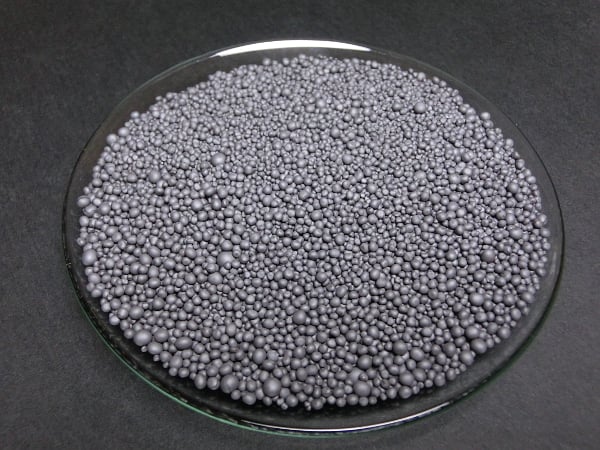 SiTec, a subsidiary of centrotherm photovoltaics said it was developing a highly efficient technology called 'Genesis' that when perfected would reduce monosilane fluid-bed reactor (FBR) polysilicon production capital and operating costs by approximately 45% each, compared to legacy FBR decomposition processes.
Problem
Legacy FBR processes typically fluidize reaction beds by blowing a mixture of monosilane gas (diluted to 5% to 20% concentration in hydrogen recycle) up through a bed of small silicon particles ranging in size from 75 to 3,000 microns. The feed gases lift and fluidize the bed. Decomposition and particle growth occur when monosilane gas contacts hot granules in the bed. Resultant epitaxial growth increases particle size until sufficiently large to be harvested. However, previous attempts to increase hydraulic fluid bed reactor productivity by operating at high pressure and high monosilane feed concentration have resulted in excessively high rates of dust formation and unacceptably low yield.
Solution
SiTec's Gensis technology fluidizes the granular reaction bed by mechanically induced vibration as opposed to gas induced (a.k.a., "hydraulic") fluidization used by legacy processes. SiTec calls its development 'vibrationally fluidized bed reaction' or 'VFBR' for short. Coupled with SiTec's proprietary monosilane process technology, known as 'STAR' (SiTec Applied Research), SiTec forecasts polysilicon plant investment and energy consumption will be reduced by approximately 35% each compared to legacy FBR processes. SiTec forecasts cash cost substantially below 10USD/kg polysilicon and could be reduced to 7USD/kg polysilicon (for a 10,000 MTA green-field plant) in China. SiTec expects that capital cost can be substantially reduced up to 30% (for a 10,000 MTA green-field plant) compared to legacy monosilane/FBR polysilicon or refined TCS/Siemens plants. The net present value for a 10,000MTA polysilicon plant in China using Genesis technology, compared to legacy monosilane/FBR and legacy refined TCS/Siemens polysilicon plants, is forecasted at US$365 million to US$700 million US respectively.
Applications
High-volume, low-cost FBR polysilicon production.
Platform
Genesis reaction rates are expected to be fast due to the reactor designed to run at high temperature (in the range of 600C to 700C) and pressure (up to 20 BARG), and with 100% monosilane in feed gas to the reactor. These high temperatures, pressures, and feed composition make for fast reaction rate and economical, highly efficient, small-sized reactors. Genesis lab work shows dust formation in the range of 1% or less. Seeds formed in the Genesis reactor tend to stay in the bed because exit gas velocity is very low – only 1/50th as high as in a legacy FBR. In comparison, the high exit gas velocity in a legacy FBR can blow a substantial fraction of seed particles smaller than 100 microns out of the bed necessitating the installation of costly ex-situ seed generation and recycle facilities.
Availability
Commercial availability in September 2017 onwards.