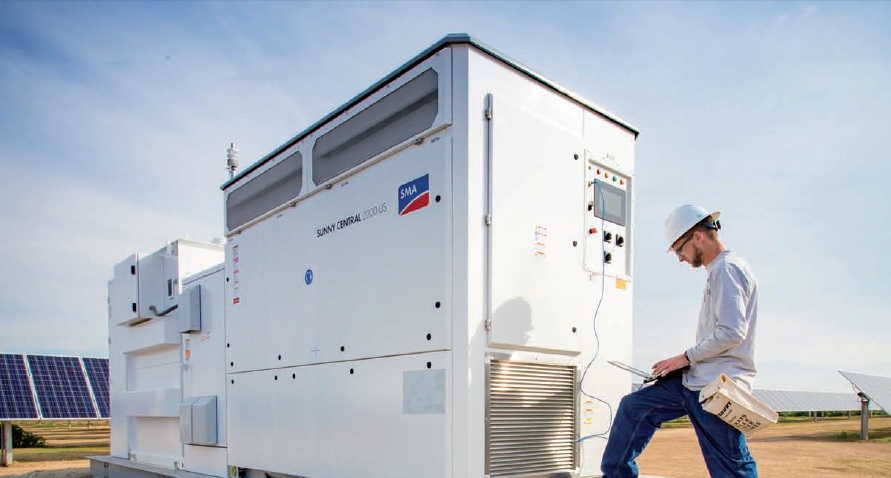 Major PV inverter manufacturer SMA Solar Technology has once again reiterated sales and earnings guidance for 2018, after reporting first half year results but has become increasingly bearish on the global solar market, while its solar product order backlog takes a dive.

SMA Solar highlighted the sudden Chinese government policy changes towards PV installations at the end of May, 2018 noting that the caps on the utility-scale and Distributed Generation (DG) sectors would significantly reduce overall global install demand and lead to further inverter company consolidation and further downward pressure on inverter product prices.
In reporting first quarter 2018 financial results, SMA Solar said back in early May that it expected global solar installations to reach around 109GW, a 7% increase over 2017. The sudden caps in China subsequently led to the company forecasting global installs to fall to 83GW in 2018, a 24% forecast decline. Overall, the picture painted by SMA Solar was that global PV installations would not recover to 2017 levels (102GW) until 2020 (103GW).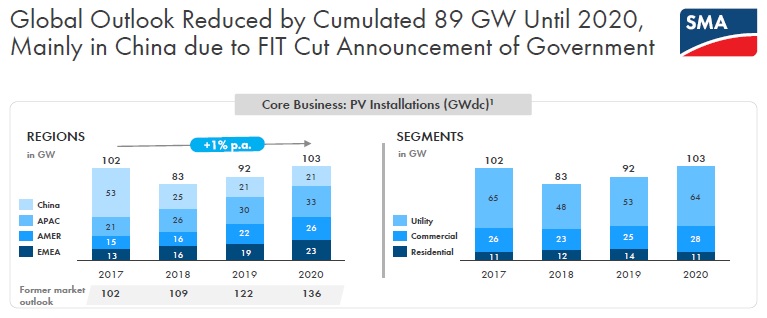 Recently, GTM Research reported in its latest 'Global Solar Demand Monitor' that it expected the market to decline to 85.2GW in 2018, on the back of the China caps. The sudden caps are expected to lead lowest quarterly level of global PV demand since 2015, in the third quarter.
According to SMA Solar, the biggest impact in the demand decline is expected to be on China. SMA Solar forecasts that only 25GW will be installed in China this year.
According to GTM Research demand in China will decline to 28.8GW, down from an initial annual forecast of 48.2GW.
However, as PV Tech has recently highlighted, official China PV installations figures for the first half of 2018, reached 24.3GW. This would indicate that SMA Solar is only expecting around 700MW of installations in China in the second half of the year, while GTM Research expects just 5GW installed in the same time period.
It should be noted that the China caps did not include two crucial policy programs, 'Top Runner' and 'Poverty Alleviation.' These could account for around 10GW of installations in the second half of the year.
In a recent PV Tech exclusive interview with Rongfang Yin, vice president of Trina Solar Group, the second largest 'Silicon Module Super League' (SMSL) member, Yin highlighted demand in China was still higher than many expected.
"There has been a lot of discussion within the industry on this and many expect PV installations to total around 30GW this year. In my opinion given the different markets including residential in my view we are looking at a 35GW to 37GW market," commented Yin.
In complete contrast to the SMA Solar and GTM Research gloom, SolarPower Europe recently revised its 2018 forecast to take the changes in China into consideration. The trade body expects global installs to increase 3.5% over 2017, reaching 102.6GW. Part of the reason for the optimism is its forecast was that 9 countries in 2017 were gigawatt plus markets but that would increase to 14 countries in 2018.
The association also projects growth to continue for the coming five years with the addition of another 621.7GW by 2022.
However, SMA Solar's CEO, Pierre-Pascal Urbon noted that its own gloomy forecast would technically impact the company.
"Because of this, the SMA Managing Board is expecting the market accessible to SMA to increase by only 7% annually to EUR7.6 billion by 2020." The company had previously guided the accessible market to increase by €9.2 billion (US$10.5 billion).
Product order backlog issues
Also of note in SMA Solar's first half year financials was the sudden and spectacular fall in its product order backlog.
The company reported that its product order backlog had declined around 33%, compared to the prior year period and stood at €186.5 million at the end of the reporting period.
According to PV Tech's analysis, first quarter 2018 product order backlog stood at €256.3 million, therefore a 27.5% decline, quarter-on-quarter.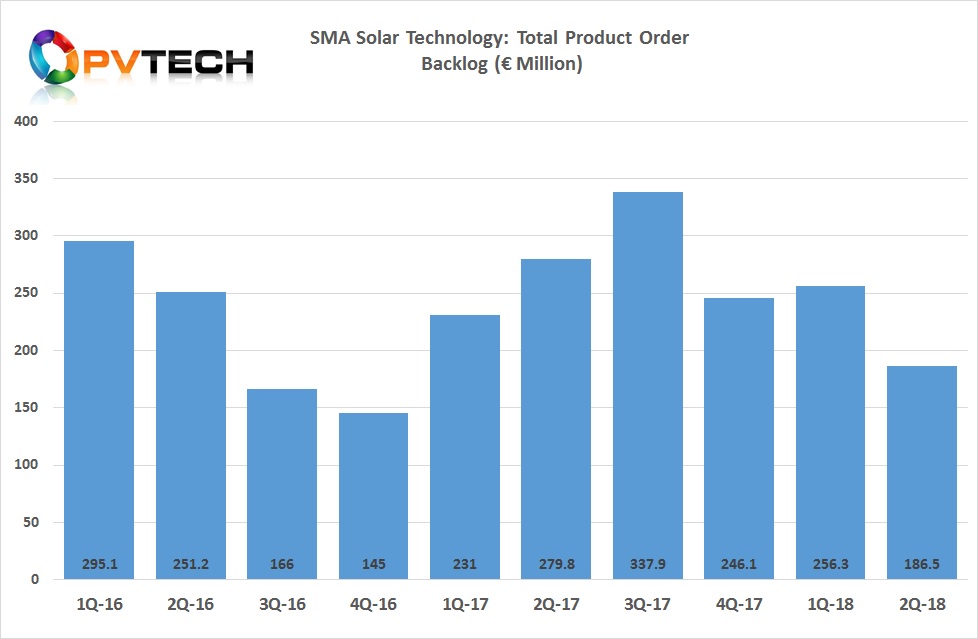 The company said that the 33% decline was due to a number a key factors, such as its ability to reduce inverter product delivery times but also due to market uncertainty in the key US market after a series of import duties had been imposed. Not least, the impact on demand and selling prices in China contributed to the fall in order backlog as well as expected new product introductions planned by SMA Solar.
However, SMA Solar noted that product order backlog levels are not expected to change much in the third quarter of 2018, although noted that a 'slight' increase was expected.
Financials
SMA Solar reported first half 2018 revenue of €394.6 million, up 3.5% from the prior year period. On a quarterly basis, according to PV Tech's analysis, SMA Solar's revenue reached €212 million in the second quarter of 2018, up from €182.5 million in the previous quarter, up 16%, quarter-on-quarter.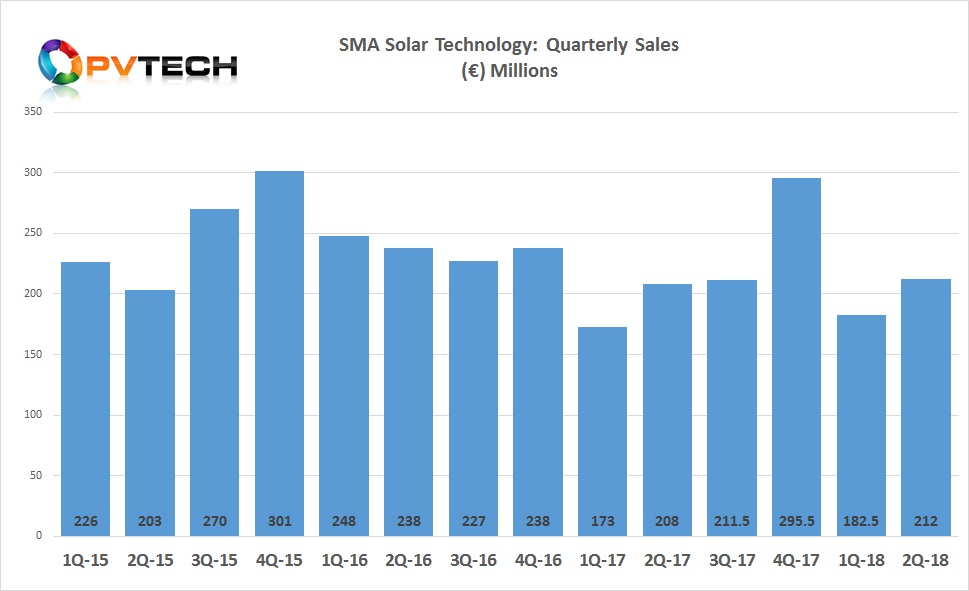 Total inverter shipments (sold) in the reporting period were 4.3GW, up 12% year-on-year. On a quarterly basis, inverter shipments increased to over 2.46GW, compared to over 1.84GW in the first quarter of 2018, more than a 33% increase.
All three key inverter business segments reported higher revenue, quarter-on-quarter. This was led by utility sales of €84 million, commercial sales of €75 million and residential sales of €44 million.
The sales increase was attributable to demand in Europe, the Middle East and Africa (EMEA) as well as Asia-Pacific (APAC).
However, SMA Solar's storage segment only had sales of €9 million in the second quarter, compared to €20 million in the first quarter of 2018.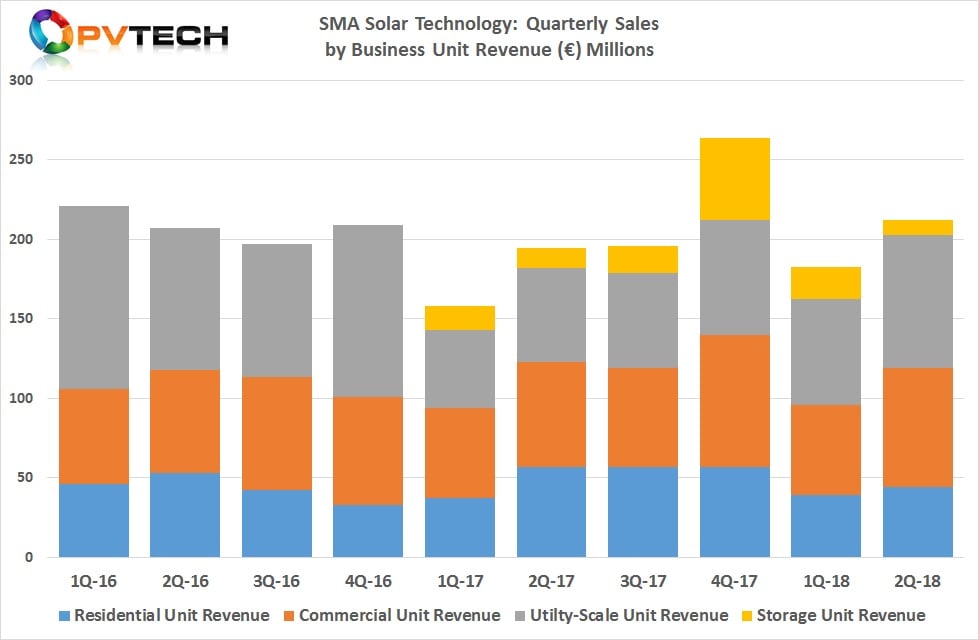 SMA Solar reported first half year EBITDA of €40.9 million and an EBITDA margin of 18%, compared to 16% in the prior year period. However, part of the earnings improvement was attributed to lowering its product warranty claims provision, said to be due to the implementation of a quality management program.